It's time to sum up 2022. It was another busy and successful year for us. We launched several of our proprietary products, were both exhibitors and guests at prestigious events, and expanded our team with great specialists who will certainly contribute to the development of BitBag.
From this place, we would like to thank all our employees, partners, and clients for another year of successful cooperation. However, we believe that it is just the beginning! Getting to the point, we invite you to read the summary of the current year in a nutshell!
Integrations and products
This year was very satisfying in terms of completed integrations and released products. We are glad that we have the opportunity to contribute to the development of the eCommerce industry and thus expand the skills of our programmers, which translates into creating projects of the highest quality and customer satisfaction.
OpenMarketplace by BitBag
One of the most significant projects we released this year was the release of BitBag OpenMarketplace – the first intuitive, powerful, and scalable open source Multi-Vendor Marketplace platform.
The choice fell on the Multi-Vendor Marketplace solution because it is repeatedly mentioned as one of the most important trends in eCommerce. We wanted the product we created to meet the most advanced digital commerce needs.
BitBag OpenMarketplace is a highly efficient and extensible solution based on the PHP programming language, the Symfony framework, and the Sylius platform. This solution allows anyone to create and launch a fully customized marketplace with various features and capabilities.
With the OpenMarketplace platform, you can create a marketplace with features such as vendor management, payment processing, analytics, and more. Additionally, the platform enables sellers to manage their own stores, create digital products, and manage their own inventory. With the OpenMarketplace platform, you can create a powerful online marketplace that works for you and your customers.
OpenMarketplace covers:
Vendors registration & management
Headless support
Conversations between the vendor and the administrator
Adding listings
Management of listings, orders, and shipping
Sylius-Vue Storefront 2 integration
We had been a partner of Sylius and Vue Storefront for a long time. That is why we came up with the idea of ​​creating a PWA solution dedicated to the Sylius platform. Work on integration began in 2018. It was initially a commercial project, which was later made available as an open-source plugin. The first version of the plugin was REST-based, while the current version (that was completed this year) – SyliusVueStorefront2Plugin, has become agnostic.
As a result, we created Sylius PWA, which combines the best features of a website and a mobile application. The integration was carried out via the API using GraphQL. This combination increases performance and gives more freedom than REST architecture's first version.
The complete integration consists of 2 plugins (backend + frontend):
The SyliusVueStorefront2Plugin provides the basic activities performed by Sylius, such as:
Users login
Browsing the product catalog with basic filtering
Ordering
Use of promotional codes
Who should benefit from this integration?
The Sylius PWA solution should be used by anyone who wants to adapt their online business to users' current needs with minimal financial outlay. PWA implementation is much faster and cheaper than creating a separate mobile application.
Integrations with shipping service providers for Shopware
In 2020, we joined the Shopware community as Shopware Business Partner. Since then, we have been trying to improve, develop and promote this eCommerce solution, especially in the Polish market. Therefore, we undertook to create integration with the most popular shipping providers in Poland. Two of them are already available in the Shopware store (Inpost and OrlenPaczka), and more will appear soon (at this moment, they are available on our GitHub as a self-hosted version).
After several months of intensive work, we released the following integrations:
Events
This year, we had the pleasure of exhibiting at several prestigious events related to the eCommerce industry and technologies and organizing several smaller developer community meetings.
At these events, we had the opportunity to meet eCommerce professionals, entrepreneurs, and developers from all over the world. We presented our products and services, discussed how our solutions could help them succeed in their business, discussed current challenges in the eCommerce industry, shared best practices, and even explored potential collaboration opportunities. We also learned about the latest trends in eCommerce and gained valuable insight into the industry.
We are always happy when we have a chance to meet interesting and inspiring people from the industry. Certainly, after such events, we have a head full of ideas for further company development and new projects.
E-Commerce Berlin Expo 2022
The E-commerce Berlin Expo is an event focused on the eCommerce industry, which has been held regularly since 2016. Every year, it attracts dozens of international exhibitors and thousands of participants. It is a great opportunity to meet experts in various fields of eCommerce from different countries. The fair is also an ideal place to exchange ideas and establish new business contacts.
This year, the event took place on May 5, in Berlin, and BitBag had the pleasure of being one of the exhibitors.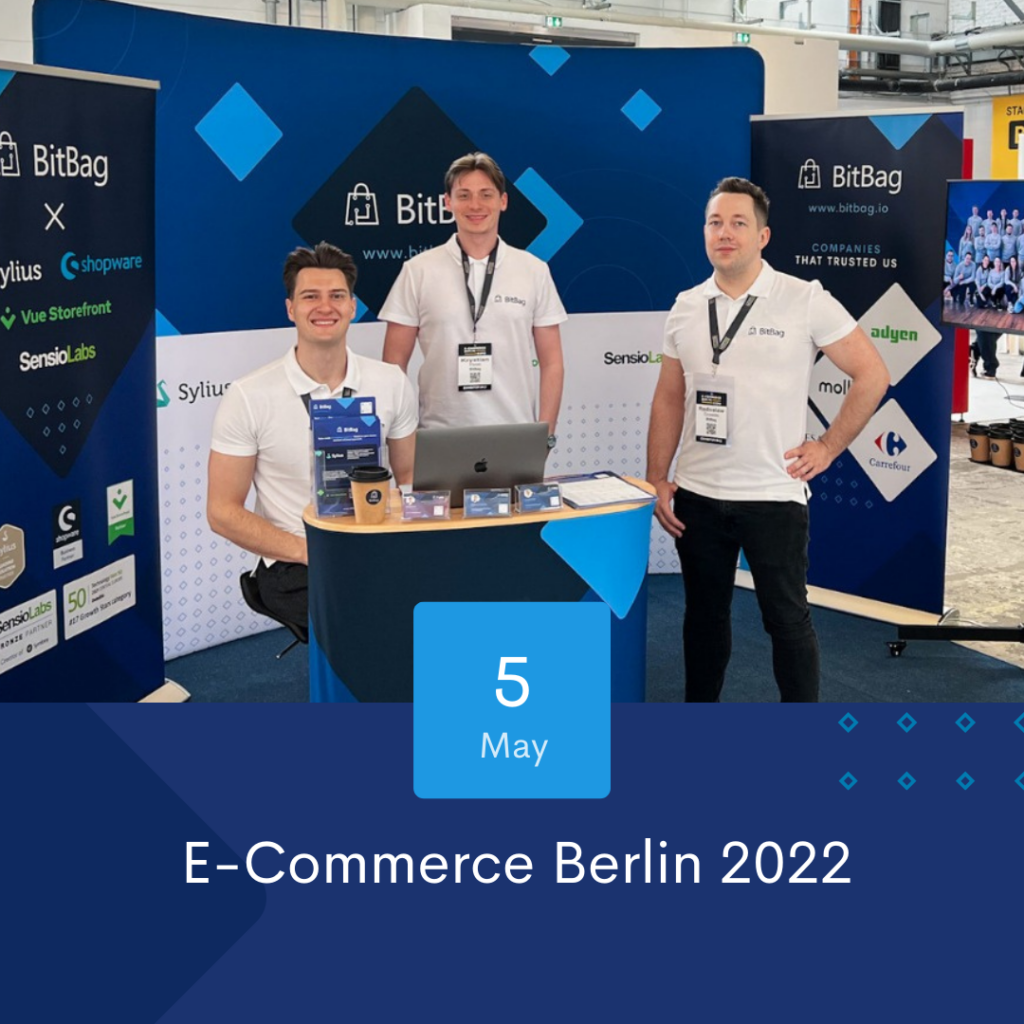 Shopware United Days PL
On June 13, the second edition of the conference dedicated to Shopware – its development and plans for the Polish market took place.
As partners, eCommerce enthusiasts, and fans of new solutions in the eCommerce market, we decided to visit Kraków and personally take part in the event, and it was worth it! This year, organizers focused on two main thematic areas: B2B and cross-border trade.
All the presentations were great resources for anyone who wanted to learn more about the opportunities Shopware offers. The conference was a great success, with many attendees expressing their enthusiasm for the Shopware platform and eagerness to participate in its development.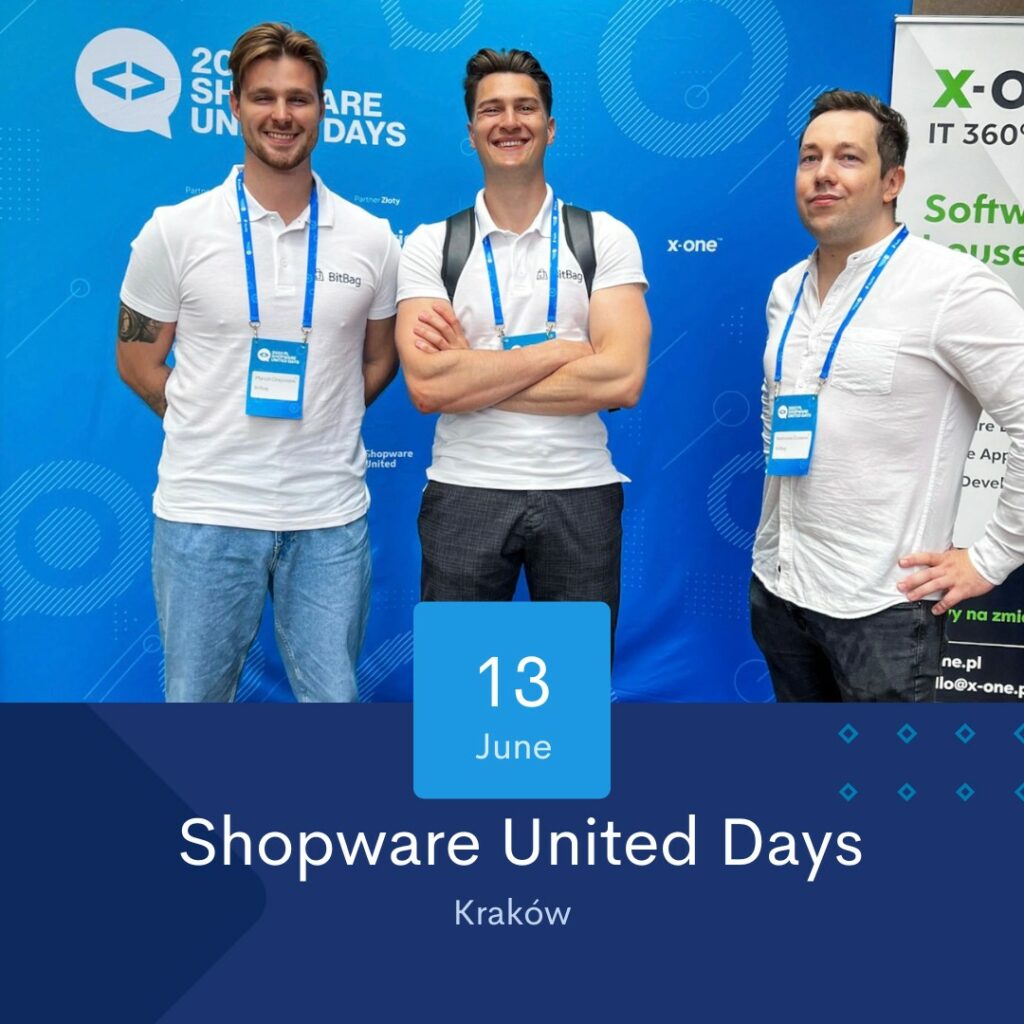 PHPers Summit
This year, BitBag became the Gold Sponsor of the PHPers Summit. It is the largest PHP conference in Poland, which this year was held on June 25 in Poznań.
PHPers conferences gather more and more participants and exhibitors every year. It is a great opportunity to be up-to-date with news from the PHP world and the opportunity to present themselves to potential employees. There are many exciting sessions and workshops during the event, and the whole Summit is crowned with an afterparty, during which participants have the great opportunity to network.
During the conference, we conducted two discussion panels on changes in PHP over the years and good practices in creating applications and libraries.
In addition, we organized two smaller meetings of PHPers in Bydgoszcz and Opole. PHPers is nothing more than open and free meetings for PHP developers and architects (but not only) who want to broaden their horizons and hear about good practices of using PHP.
Next year we intend to continue this series of meetings because we always enjoy meeting people who share our passion!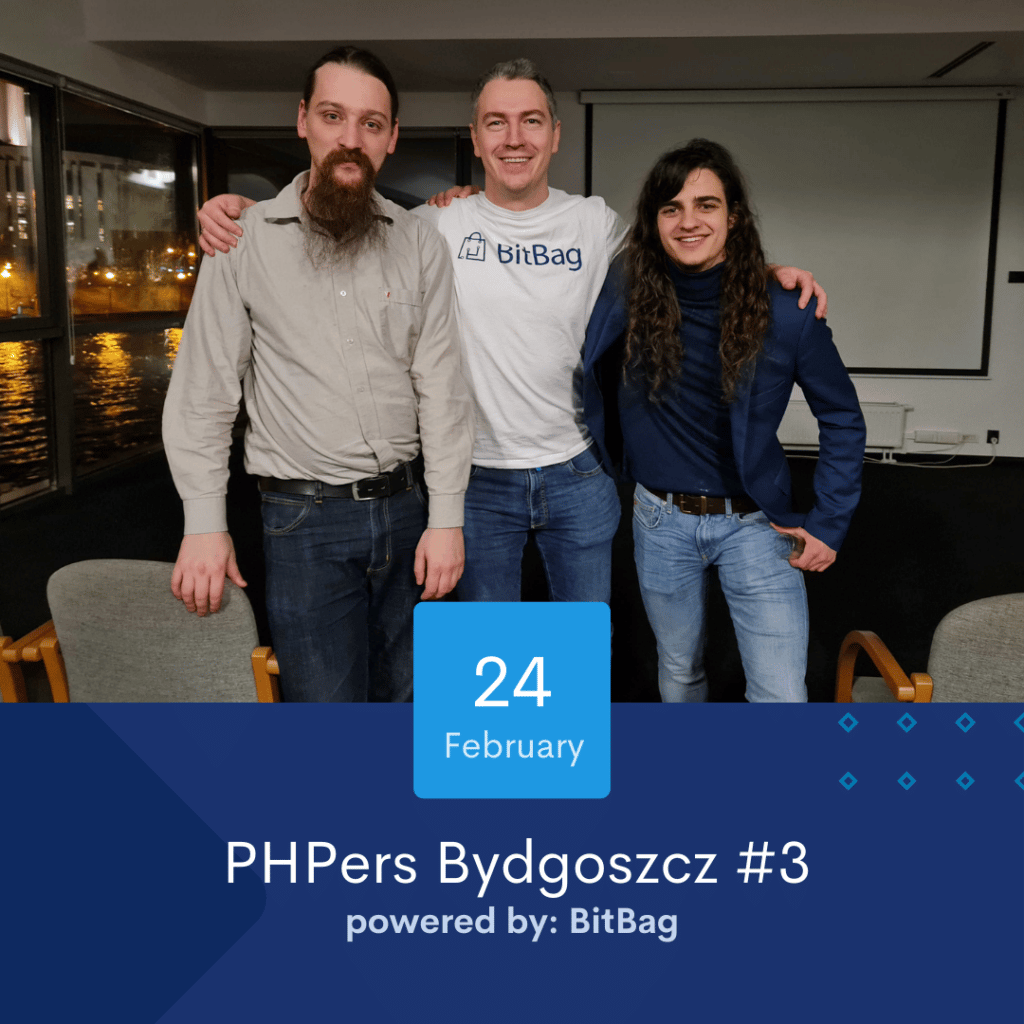 SyliusCon
On October 27, SylisuCon took place in Łódź. We had the pleasure of being the Golden Sponsor of the event and one of the exhibitors.
It was the first-ever conference fully DEDICATED TO SYLIUS. During the event, we had the pleasure of meeting people from all over the world who, like us, belong to the Sylius community. It was a very inspiring event, filled with interesting presentations and conversations.
As a Sylius Leading Partner, we are glad that this technology is becoming more and more recognizable among eCommerce platforms and has a growing interest in the industry.
It was the first Sylius conference, but we are sure it will not be the last!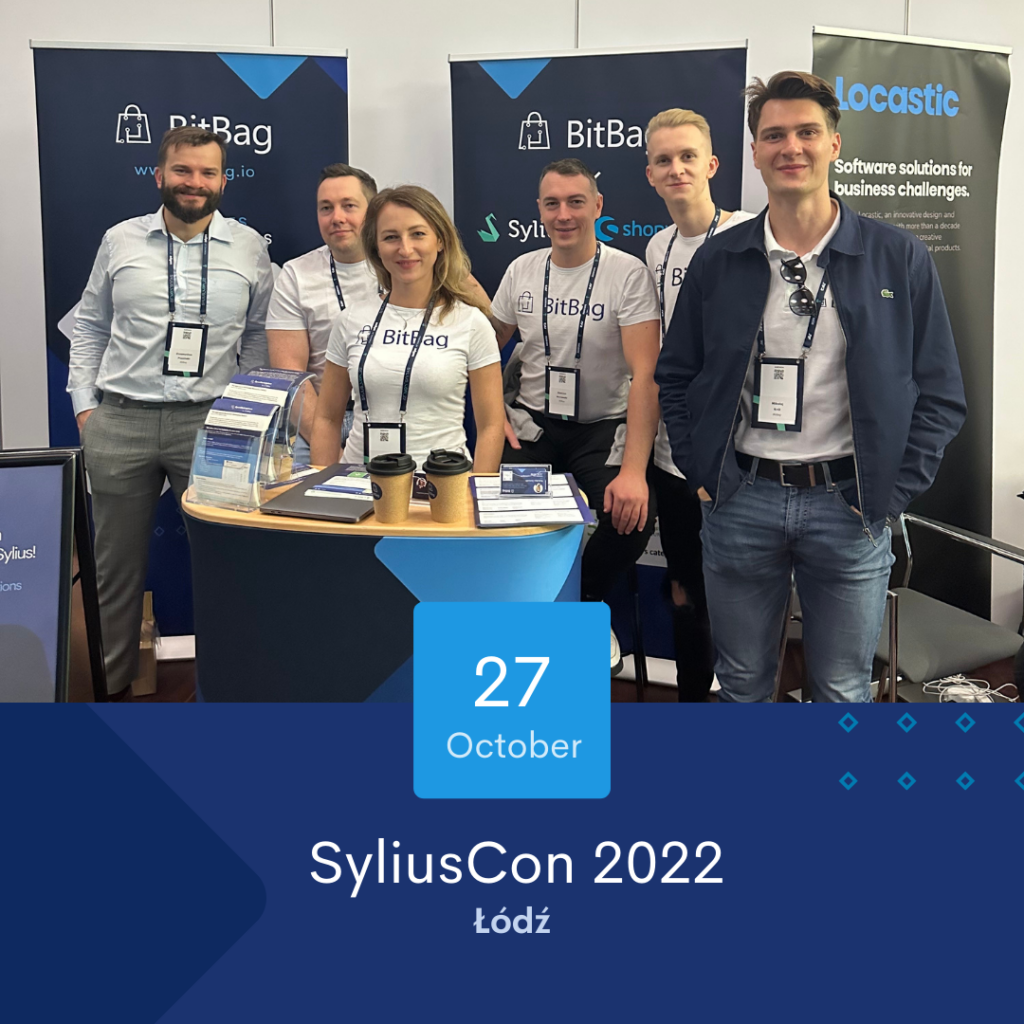 E-commerce Poland Expo
In October, we were also at the eCommerce Expo in Warsaw. It is one of the largest events in the eCommerce industry, which has already attracted hundreds of speakers and thousands of participants. It is a great opportunity to establish new valuable business contacts, present your services/products, acquire potential customers and listen to expert presentations.
We are pleased to announce that we will be one of the exhibitors in the spring edition of the eCommerce Poland Expo, together with Shopware. We are very happy and can't wait. See you in spring!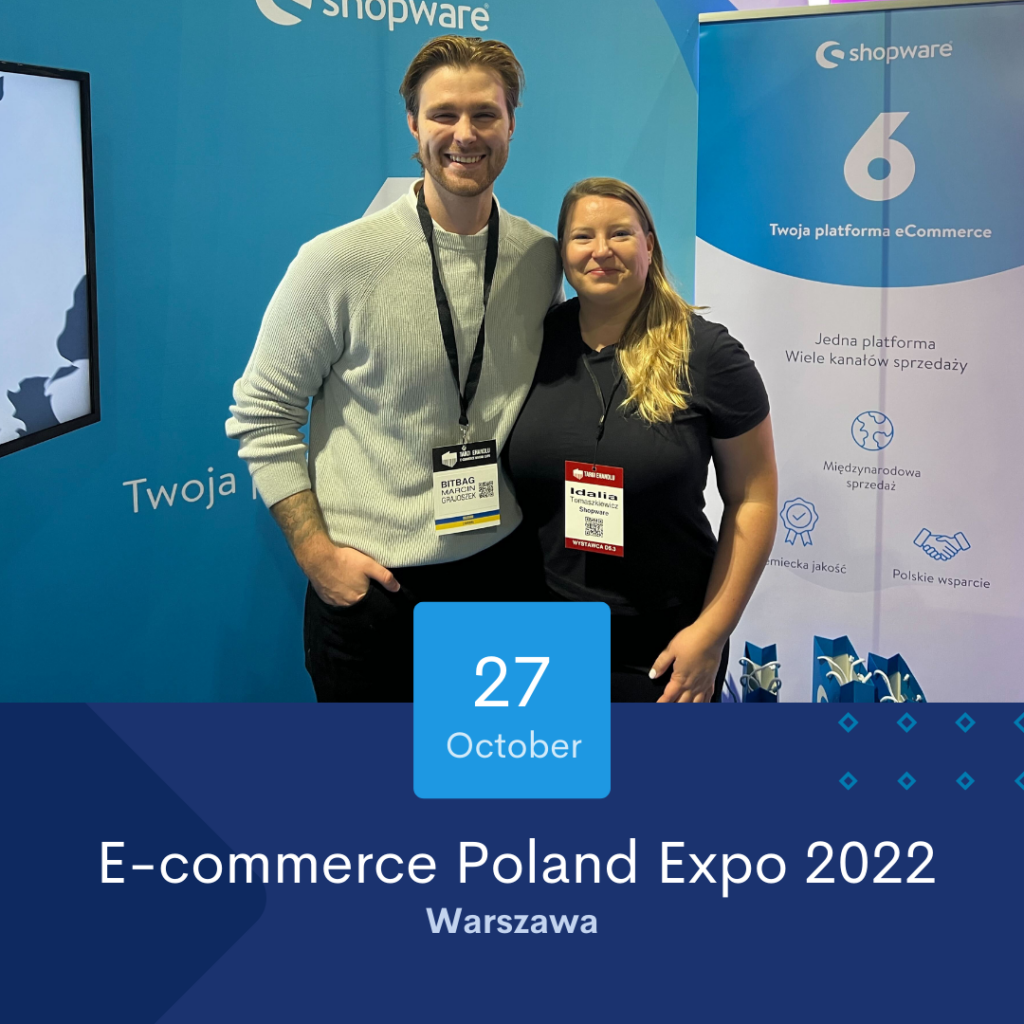 Sylius Polish Community Meetup
This year, we also had the pleasure of organizing the first Sylius Polish Community Meetup, which took place on December 1 in Wrocław. The event gathered almost 50 people related to or interested in Sylius. During the meetup, apart from us, representatives of companies such as Sylius and Adyen introduced their presentations on the development of the platform and more. At the end of the event, there was a networking session with great pizza and beer, during which there were conversations on topics related to Sylius and more. It was the perfect opportunity to get to know the supplier and associates and network with the community.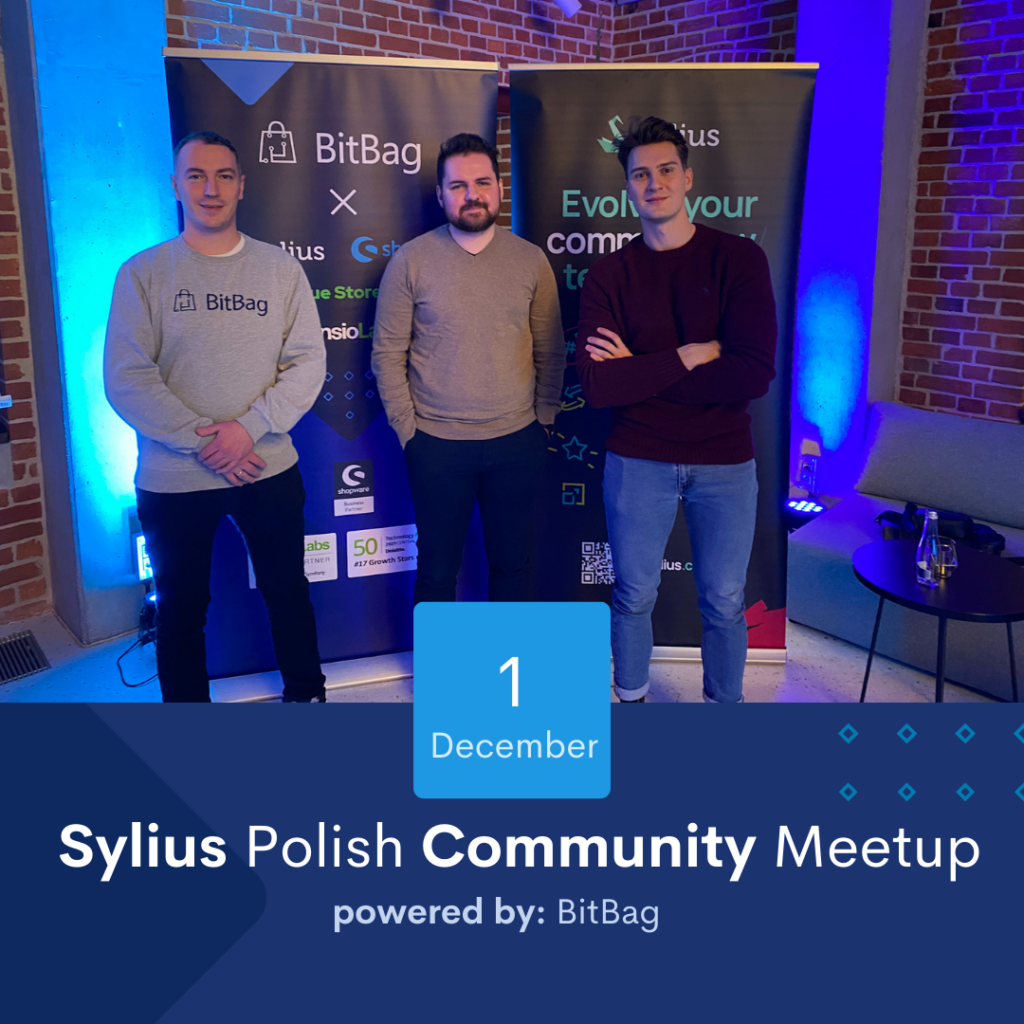 Partnership
First of all, we would like to thank our current partners, Sylius, Shopware, and SensioLabs, for their cooperation, which is getting stronger every year thanks to joint marketing and sales activities and the creation of new solutions for eCommerce.
The success of any partnership lies in its ability to bring together diverse ideas and experiences that can be used to create innovative solutions. By working together, we can leverage each other's strengths and combine them to create something new and powerful.
We are extremely proud of our partnerships with these companies and look forward to even more joint projects in the future. We are certain that our collaboration will continue to help us provide the best solutions for our clients and create new opportunities for everyone involved.
This year, two new partners joined our group, such as:
Adyen, a Dutch payment service provider (PSP) that offers merchants online services for accepting electronic payments. The company's services are designed to help merchants increase their sales by providing a unified payment platform that can be used by a wide range of customers.
We created a payment plugin for the Sylius platform, which handles 11 payment methods, including Apple and Google Pay which is sure to attract buyers who appreciate quick and easy payment. Thanks to the drop-in solution, we have enabled the seller to easily configure the system with all the necessary Adyen payment methods. We have also not forgotten about returns-we used an existing plugin to cover them.
Ergonode is an open-source PIM system with many years of experience in the industry. It helps entrepreneurs in digital transformation and responds to their needs.
The mission behind this PIM system is simple – to make managing thousands of products as simple and convenient as possible. Bearing in mind user experience, it focuses on design, performance, and ergonomics. It enables users to create, supervise and distribute product information to multiple channels simultaneously using a convenient solution.
As we mentioned at the beginning of this blog, we have created Sylius-Vue Storefront 2 integration. This has made our partnership with Vue Storefront even stronger, which we are pleased about. We are excited to see how our Storefront 2 integration will help our customers to create even better shopping experiences. We are confident that with the help of this integration, eCommerce business owners will be able to take their stores to the next level and provide their customers with an even better online shopping experience.
If you have questions about our Sylius-Vue Storefront 2 integration, feel free to contact our team. We are here to help make sure that you get the most out of the integration.
Projects
In 2022, we continued to work on projects we already knew well. An example is one of the largest platforms in the luxury fashion industry, which operates on the global market and which we have been developing and maintaining for a long time.
We have also established cooperation with new clients, e.g. from the grocery industry, specifically a company offering supplements, food for athletes, vegan products, protein sweets, shakes, etc.).
This year, we also completed a project for one of the Polish industrial companies offering the highest quality bearings, guides, tools, including heaters and pullers, lubricating oils, and many other products on the global market.
The main problem in the project was the technical debt, which we solved by creating a new store based on the Sylius platform and adding the necessary integrations and plugins.
In addition to the above-mentioned eCommerce sectors, we are also working on projects for companies in the service, furniture, automotive and optical industries.
Learn more about our projects, visit the case studies page >>
Employment
At the beginning of the year, we set a goal that we want to expand our team with new, talented, high-skilled developers, thanks to whom we will be able to implement even more new projects and create our own products and eCommerce integrations.
The goal has been achieved! Our team grew, and we welcomed new members with diverse backgrounds, experiences, and perspectives. We worked together to create a culture of collaboration, trust, and inclusivity. We strived to create a workplace where all people can thrive and reach their full potential. Over the last few months, we have conducted nearly 80 recruitment interviews, and 30 great developers who have successfully passed several recruitment stages have found employment with us.
Focusing on quality, not quantity, definitely worked and brought the expected results.
We are constantly recruiting new people to the BitBag Academy. More and more young, ambitious people graduate from the academy and acquire the knowledge and skills necessary to start a career in IT. Many of them find employment with us as an intern/junior PHP developer.
This year we hired 10 graduates of the BitBag Academy.
Remote work
Despite remote work at BitBag, we make sure that our team has the opportunity to get to know each other and establish good relationships. At least once a year, we organize a few-day trip for the whole team, during which employees can integrate through common conversations, games, and other attractions.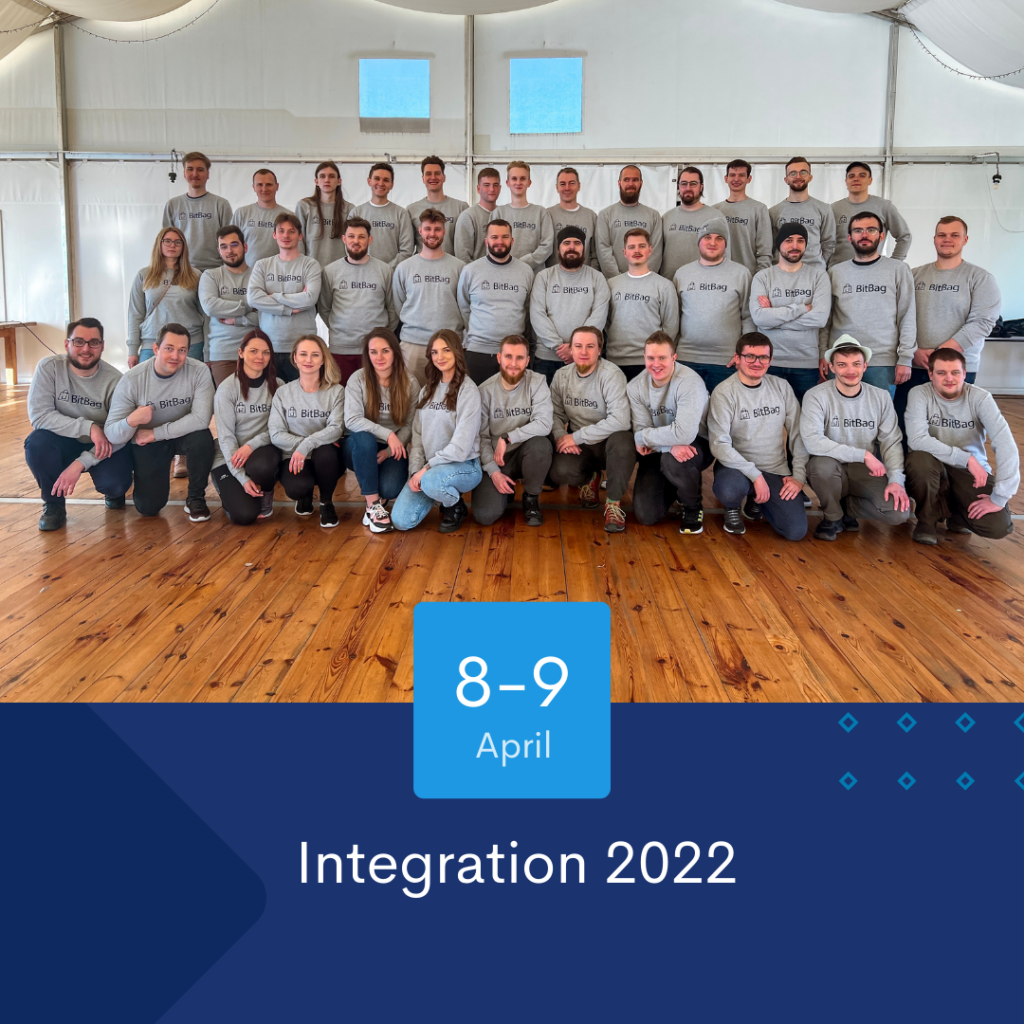 This year, however, we decided to organize additional smaller local integration events. Teams were free to decide how they wanted to spend their time. The choice fell on the escape room, game room, and dinners in a good restaurant. At BitBag, we know those good team relations translate into work efficiency. In conclusion, we prioritize keeping our remote team members connected to the rest of the team. We use a combination of in-person meetings and online events to ensure that everyone feels included and has the opportunity to get to know each other.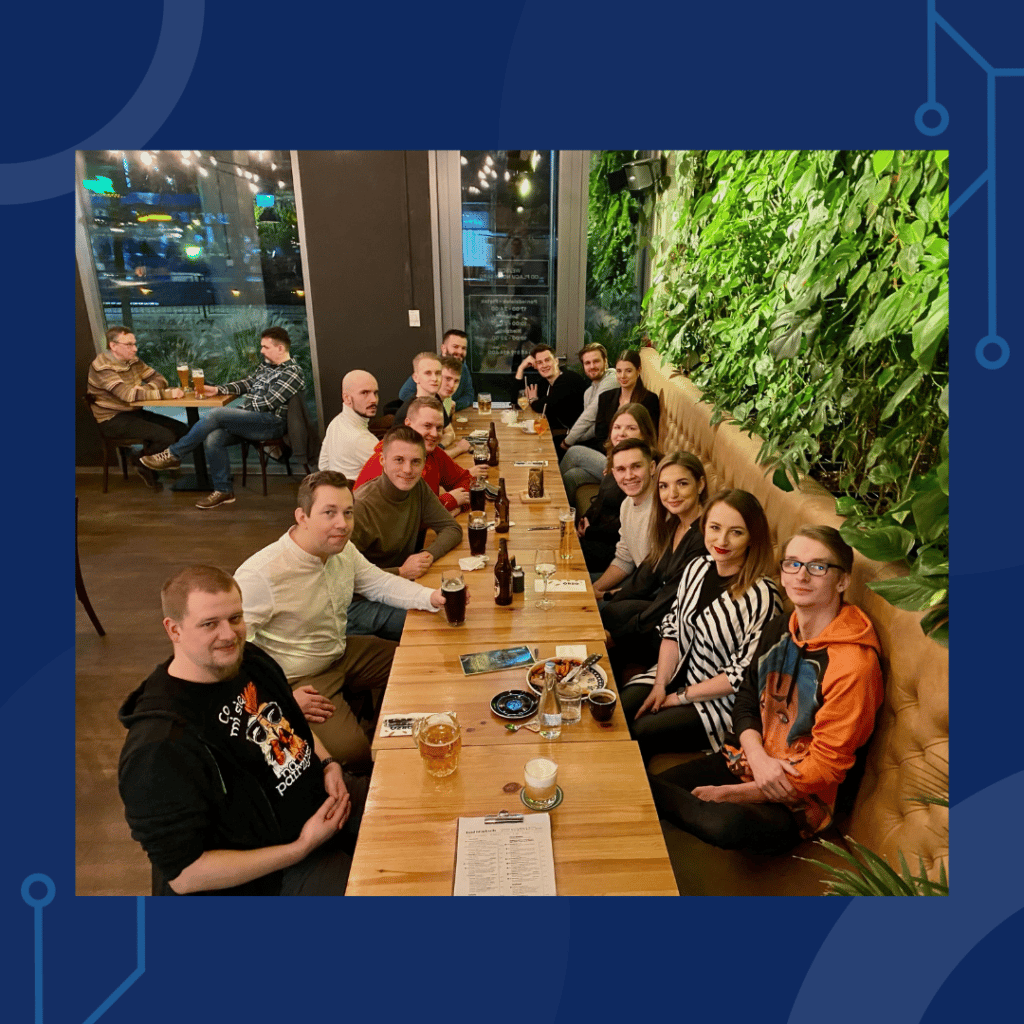 Remote work also does not limit us in meetings with our clients. Our programmers regularly visit the headquarters of the companies we work with. One of the largest companies in the fashion industry, for which we have the pleasure to create and constantly improve the eCommerce platform, regularly invites developers working on the project to sunny Barcelona, where they can get to know the backstage of the company and its employees.
Awards
For the second time in a row, we were recognized by Deloitte Fast 50 as one of the fastest-growing companies in Central Europe.
BitBag was awarded in the Companies to Watch category. The ranking includes young companies with great development potential that are worth following and observing. These types of awards are very important to us because they confirm that we are going in the right direction. We are proud to have achieved this recognition and will continue to strive for excellence. Thank you to everyone who has supported us in this journey.
I was the one to pick up the award, but this one goes to the amazing BitBag team and each of those amazing 60 people who wakes up every day with the mindset of building one of the best eCommerce tech agencies on the market.

~ Mikołaj Król, CEO & co-founder of BitBag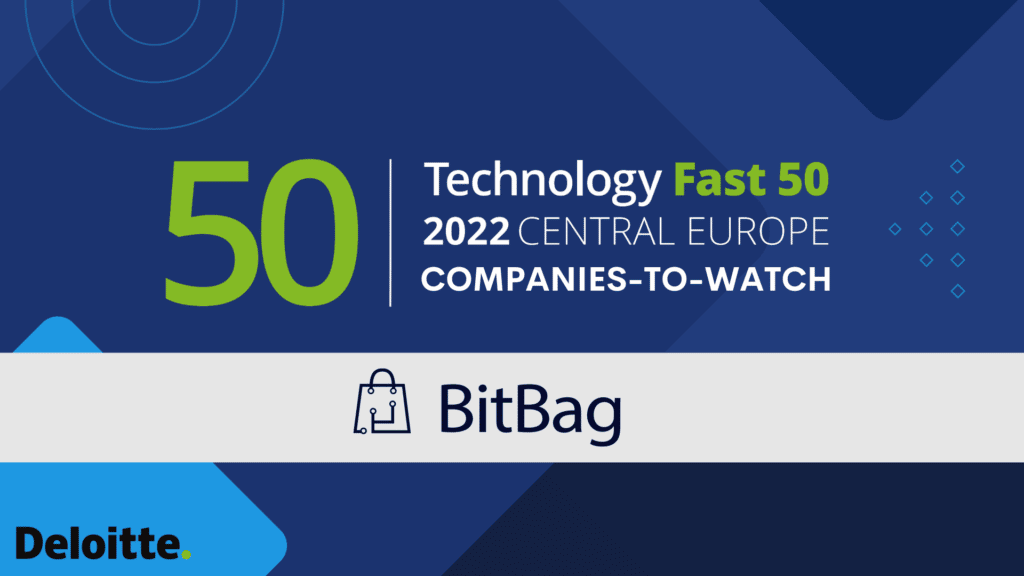 Summary
Overall, 2022 was a year of significant growth for us, and we are proud of the progress we achieved. We continued to expand our product and services portfolio, which helped us leverage the latest technologies and offer more value to our customers. We are confident that the investments we made will help us remain competitive in the future and continue to create value for all our business partners.
All of our activities have laid the foundation for continued growth and triumph in 2023. We are confident that with the support of our employees, partners, and customers, we will make great strides in the coming year. We look forward to further success in the future year and beyond. We will continue to focus on developing innovative products, improving our services, and staying true to our core values. Thank you for your ongoing support, and we look forward to seeing you soon!
If you have any questions about possible collaboration or would like to learn more about us and our mission, please don't hesitate to contact us. We are here to answer any questions and provide you with the necessary information. We appreciate your interest in our company and look forward to hearing from you soon.