Nowadays, with advanced development in technology, the definition of satisfaction for customers is gaining access to a variety of items as soon as possible. They just want to browse a wide variety of brands on a smartphone, tablet, or laptop.
Fashion products are frequently browsed online by people worldwide, making the fashion industry the biggest e-commerce sector. Many fashion brands and retailers are turning to e-commerce websites to meet the demand of their target audience and, of course, to stay ahead of the competition.
The online fashion industry is one of the largest B2C eCommerce sectors. It is an industry that is continuously evolving. Sustainable yet affordable clothing and accessories are on the rise. If you want to join this industry, your online website should have to be the best in class because the competition is quite fierce.
From huge, established brands such as Louis Vuitton and Gucci to smaller brands like Verge girl, websites are all putting up a tough fight for fashion shoppers' attention. They have built outstanding online stores giving their customers the best online shopping experience.
Let's find out what eCommerce for fashion is and what trends to look for in 2021.
What is fashion eCommerce?
It means buying and selling fashion-related products online, which includes clothes, shoes, and other accessories. The most convenient aspect of this is its time-saving nature. It is perfect for those individuals whose busy routines prevent them from visiting the brands daily.
In online fashion stores, people can buy products in a couple of clicks, avoiding the hassle of physical shopping. Also, many fashion marketplaces offer a wide variety of products to their customers, so they don't have to waste their precious time browsing through multiple stores to buy their clothes and, of course, matching accessories. Isn't it amazing?
Tips for fashion retailers on how to grow your fashion-related eCommerce business
Are you planning to establish your online fashion store? You will have to consider many design (and not only) factors when building the website. Successful apparel brands are great at visual communication with online shoppers on every web page.
The better a fashion brand communicates its personality through visuals, the more its target audience resonates with them. All eCommerce brands in the apparel industry need to follow the best practices for designing the website to give their customers the best shopping experience.
Some of the design tips to help you create a unique eCommerce website are:
Simple interface and easy website navigation
Websites that sell a variety of fashion-related products should have a simple interface and easy navigation to provide the best customer experience and increase sales. Most brands avoid selling their products on the home page, instead use clear call-to-action.
CTAs (Call-to-action) are important for guiding potential clients to the pages where you want them to land on. If you want to bring more traffic to your website, use a bold CTA to show the discounted offers.
Also, use products filters to simplify the browsing for online shoppers. The more your fashion e-commerce website is easy to navigate, the better browsing experience it will provide to the fashion shoppers.
For driving more traffic to your website, it is necessary to optimize your website for mobile commerce. According to many reports, more than half of online purchases are made using mobile devices. So, it is necessary to make your website mobile-friendly.
Good photography of products
When selling clothes, bags, shoes, and other accessories online, it is necessary to take high-quality pictures of products. While shopping online, customers are unable to physically see the products before making a purchase. So, the photography of the product is the only thing that may convince potential clients to buy it.
Some of the tips on taking great pictures of apparel, and accessories are:
Shoot the product from all the angles
Take many close-up shots to capture the fine details
Use a tripod stand for photo consistency
Use mannequins or models when shooting apparel
Use a beautiful background
Update the product detail pages
Product pages are one of the most critical pages for apparel and fashion retailers. Through these pages, customers will learn about the products and if they match their preferences, they will add it to their shopping cart.
While designing product pages, it is necessary to include a size guide so the fashion shoppers can know which size to get in it. An online sizing guide and automated size recommendations will help increase sales and prevent the unwanted hassle of returns. Also, you must keep on updating the inventory so the customers can know when the product is out of stock.
Many brands include short product descriptions on product detail pages so customers can know more about the product such as fabric, and washing instructions. Also, you can include customer reviews to increase customer trust and drive more sales.
Popular marketing online shopping strategies
Some of the marketing strategies that can help you in making your mark in the fashion industry are:
Cross-sell and Up-sell
Cross-selling and up-selling are the popular eCommerce strategies that can help boost your sales and expand your business. Online stores of fashion and apparel can try to sell a specific look by pairing the main product with any other product available on their website.
Suppose, a basic white shirt will pair well with a pair of blue ripped jeans. In that case, you can put these products below in a "You may also like" section. So, customers will be able to view other products without taking their attention away from the main product.
However, even if the customers don't buy the complementary products, they can help confirm the purchase of the main product by showing them how to style the product.
Social media promotions
If you have invested in high-quality product photography for your online store, it is better to display them on different social media platforms for raising your brand awareness and bringing more potential clients to your website.
You can promote your products through different social media such as Instagram and Facebook. Instagram not only allows the customers to tap on the photo and sell all the necessary product details such as name and price, but it also helps them check out and make a purchase without leaving the platform. Now, how cool is that?
Top 5 trends in the e-fashion industry to consider in 2021
The fashion sector has seen massive shifts in the last couple of years from devices preferences, shipping logistics to shopping experiences. Some of the major trends that are worth considering when creating an e-store are:
Trend#1: Artificial Intelligence
If you own a fashion brand but still are not on the artificial bandwagon to communicate with your customers, you are surely lagging behind. Many apparel retailers have already invested in artificial intelligence to maximize their profits.
Benefits of Al tools:
Customers don't waste their time looking through irrelevant products
Only those products will be displayed that customers like and want
A personalized experience will be provided to the potential consumers
By collecting data from customers using Al-powered tools, brands are able to identify the needs and preferences of their target audience. These insights are utilized by the brands in providing better shopping experiences.
At the same time, the Al-powered tools will give recommend products to the right people, based on their needs and preferences. Online shoppers usually love being recommended products and deals that seem relevant to them.
Trend#2: Chatbots
Chatbots are usually used by businesses to perform tasks related to customer support. However, from a fashion eCommerce perspective, online shops use chatbots to direct customers towards relevant products and deals. They help them identify the products they need. So, chatbots can help in driving sales and generating more revenues.
Also, chatbots can help provide valuable supports in terms of cost efficiency, customer engagement, and conversion rate.
Trend #3: Multi-channel retail
Multichannel retailing refers to the process of using multiple channels for selling products or services across different platforms. The main purpose of multichannel retailing is to reach down to the customers along with the choice of convenience.
So, by multichannel retailing, you will be able to promote and sell your products anywhere your customers go. It includes social media, amazon marketplace, and other platforms where your target audience can exist.
Many businesses are currently promoting and selling their products across multiple channels and are getting excellent results. So, why don't you try? Selling across various channels can help boost your sales and maximize your profits.
Trend#4: Augmented Reality
Fashion e-stores are now using augmented reality and connected fitting rooms to attract buyers. With augmented reality, conversion rates of online apparel stores have dramatically increased. Augmented reality helps in giving the customer an in-store experience without really visiting the physical stores.
Many clothing brands have developed innovative dressing room applications which allow a buyer to select the closest body type in order to choose an outfit. It gives online buyers an opportunity to see how the clothing will look on them.
They will accurately assess size and fits and eventually make a confident purchase. One of the biggest challenges in the fashion and apparel industry is the high return rate. However, now with augmented reality, the return rates can be reduced significantly by helping the customers in making accurate purchases.
So, if you plan to set up your online fashion store, you must take advantage of augmented reality tools and develop an innovative dressing room app. It will significantly help you reduce your return rates and instill brand loyalty.
Trend#5: Subscription Models
Before the COVID-19 pandemic, almost all of the sales came through in-store visits. However, after the strict lockdown, all businesses had only one option – from huge brands to local boutiques, every business had to go online.
The shift to online was the starting point for the subscription models. Many online businesses started giving memberships to their loyal customers. With just a minimum subscription fee, the buyers are giving discount codes, coupons, and also an opportunity to get their orders delivered the next day.
Nowadays, subscription-forwards businesses are becoming immensely popular. By charging a minimum subscription fee, online store owners are able to provide a better and personalized shopping experience to their valued customers. Isn't it a win-win for both business owners and customers?
Fashion eCommerce on top of Sylius
Looking for a good Sylius demo? Then, you're in the right place. We have prepared a fast fashion demo for an online business that works well on both computers and mobile phones. Click here for a great online experience.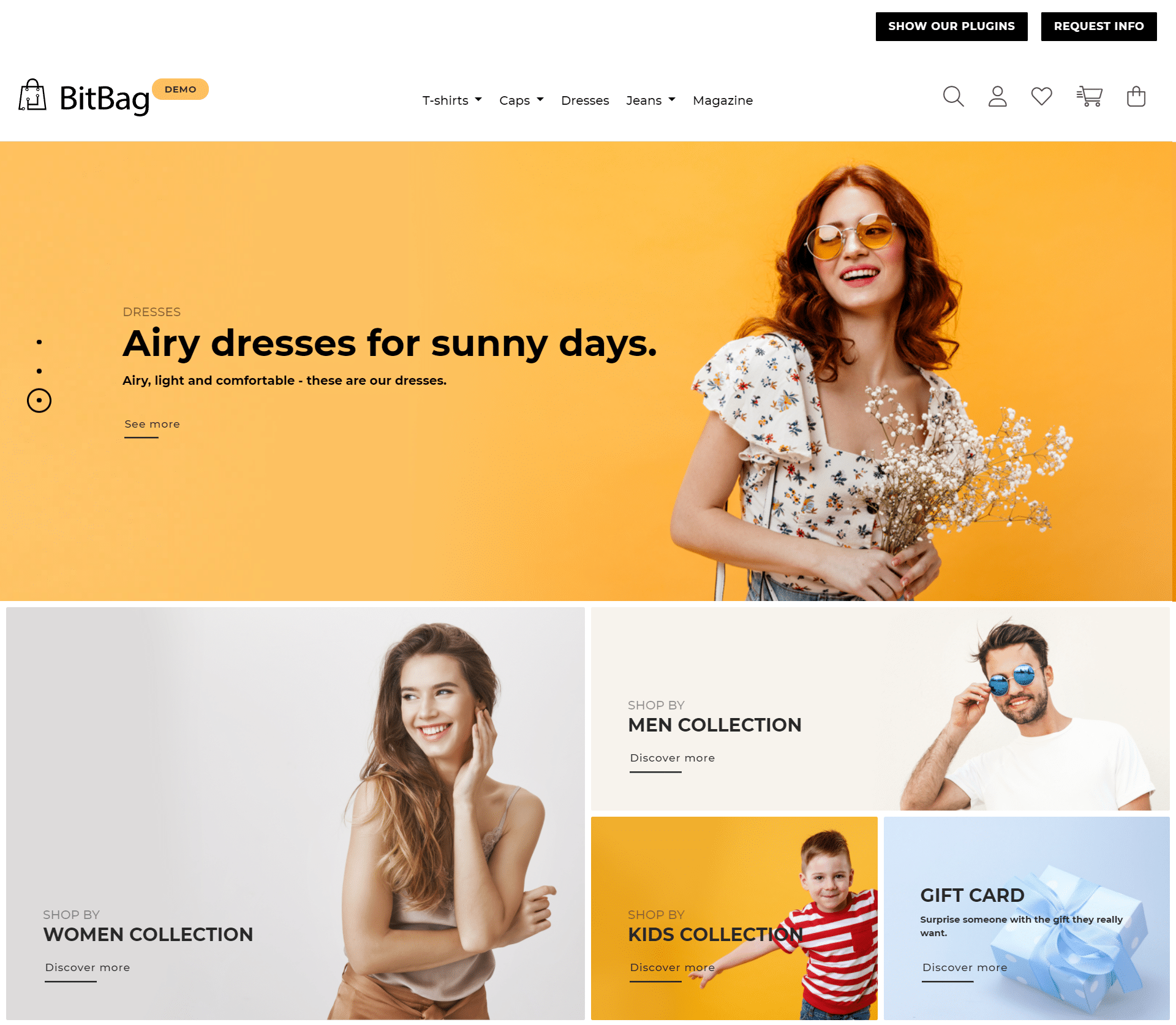 More insights:
Simplicity – as much space as possible for photos and banners that play the main role (presentation of the offer, encouragement to discover products)
Colorful, minimalist banners where the figure/clothes are the most important – presentation of products, styles (+ clear CTA)
Yellow (turning to orange) is associated with joy, courage, dynamism, self-confidence, extravagance, creativity – so those features close to the fashion business
Universal/neutral colors, regardless of gender/age. It is suitable for a variety of audiences – women, men, children, etc.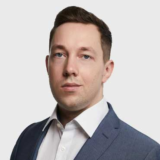 Are you looking for a presentation of Sylius demo? Schedule a call with our expert.
Magazine – a place for inspiring, influencing entries that make the brand credible as an expert in its field (large, attractive/artistic photos, recommended products – e.g. those mentioned in the entry – cross-selling?)
Sections with products in the form of sliding sliders – easy browsing of products (for web and on mobile phones) – like a catalog of clothes. Users are accustomed to this type of interaction, e.g. browsing photos on social media (where we scroll up/down sections and right/left sections).
Easy to add products to the wishlist (button next to each product) – as a rule, the fashion industry has a lot of products – this makes it easier to find things that we liked and which we saved for later (+ easy to add these to the basket)
Some screenshots are presented below:
There are a lot more functionalities that work well not only in fashion retail, so if you're looking for a good solution for your online business, contact us, and our expert will present you the demo.
Summary
Fashion e-commerce has significantly transformed in the last couple of years. Exciting and innovative e-fashion services are now available for those who want to buy luxury products without leaving the comfort of their homes. In the past, only celebrities and media influencers had access to this industry. Now, it belongs to consumers too. Many new apparel brands have emerged to provide consumers with stylish yet affordable apparel. However, the competition among fashion brands is quite brutal. If you want to establish a successful online fashion store, your website must be optimized correctly. Also, try to follow the fashion e-commerce trends to keep your customers hooked to your brand!