When deciding to set up your eCommerce business, you care about every aspect and detail that may influence the final effect, so everything should be well thought out from the beginning. When you hire people or companies to help you streamline the running of your organization, you are counting on their experience and commitment because you care about the growth of your business.
When deciding on shipping solutions, you should consider a myriad of factors that will help facilitate the entire eCommerce shipping process. For example, you are asked which shipping provider to choose. So what are the first thoughts that come to your mind? First, you want to know the carriers' rates and the offer's details; next, you care about integrations…
If you want to gain knowledge in this area and learn the most popular methods and strategies of delivery services, take a few minutes and check out this blog.
Table of contents
What is eCommerce Shipping?
eCommerce shipping involves taking and fulfilling orders, processing and preparing purchased products, printing shipping labels, and even managing returned goods.
It is one of the last steps in the customer journey in eCommerce – the final stage of order fulfillment in your store and the moment when your customer has contact with the ordered product.
Shipping eCommerce is a process involving many people and external companies. Everyone has their duties to speed up your work as a business owner and satisfy your customer, who will hopefully stay with you for longer. Therefore, you should be able to provide the highest quality service and know your shipping partner or shipping provider.
Your sales depend on this process, so you should give it significant attention.
eCommerce shipping methods and strategies
Every eCommerce business can't create its own shipping solution. eCommerce shipping is a specialized method that depends on several factors. However, combining rapid and affordable shipping methods can help decrease shopping cart abandonment and increase conversion rates.
Let's take a look at several shipping methods and strategies.
Two-days shipping
With Amazon Prime, 2-day shipping has become synonymous with online shopping and a highly sought-after shipping solution in eCommerce. This type of premium shipping may seem like it's only available to eCommerce giants, but all businesses can offer their customers 2-day shipping without breaking the bank.
The same-day delivery
Same-day delivery guarantees that your order will be supplied on the same day someone purchased it. More than half of consumers are keen to pay more for this shipping speed. However, successful same-day delivery requires cooperative efforts, resources, courier services, and technology.
The night shipping
If two-day shipping is the standard, how can eCommerce companies stand out? First, consider overnight shipping. It is a shipping method that guarantees buyers will receive their order the next business day. Different couriers offer various overnight shipping services at different price ranges.
The expedited shipping
Expedited shipping refers to any shipping method that is faster than typical shipping. The accurate processing of expedited orders may differ depending on the carrier and shipping services. Offering expedited shipping can help your online store decrease cart abandonment, meet customer expectations, and build customer loyalty with effective eCommerce shipping solutions.
The international shipping
Whether a business is located in Europe and pretends to grow globally or overseas, international shipping can be difficult and expensive at first glance. Different nations have different restrictions, tariffs and taxes, and inbound shipping necessities, so it's crucial to find experienced fulfillment partners who can help you navigate the World Postal Union agreement and international shipping and provide reasonable shipping rates.
The eco-friendly shipping
Green shipping is also achievable for eco-friendly labels and customers. Eco-friendly shipping involves biodegradable material that can be easily recycled, used for other purposes, and that does not take as long to decompose as the packaging and shipping of the products. Many eco-friendly packaging solutions are available for online brands, such as compostable mailing bags and biodegradable packing. Multiple people will say that is the most convenient shipping strategy.
The hybrid shipping services
Hybrid shipping services, such as UPS SurePost and FedEx SmartPost, pick up your orders and then work with other carriers, such as USPS, to transport your packages to a sorting facility or postal facility. They are then shipped to their final destination. Choosing a hybrid shipping method can reduce shipping costs by 50% in some circumstances. However, the trade-off is often a slower delivery process.
Why is eCommerce Delivery important?
Fast delivery is probably the most crucial aspect of a positive experience with digital brands – closely matched by a simple delivery process.
In the past, delivery of goods could take up to 7-10 business days, and the options that businesses offered to customers were minimal. However, with the advancement of technology, the number of methods and delivery options has increased.
Customers now have access to a wide range of choices when purchasing online goods. It has completely changed the approach to the delivery method. Next-day deliveries are no longer just a convenience; they are actually expected. So if your business doesn't provide a variety of delivery options, you could lose a lot of potential customers and thus stop the growth of your business.
Delivery of your goods by a courier service is also the last impression a customer has about your business. So if someone encounters a problem, he/she will have a negative opinion about your brand and will likely not buy from you again.
Shipping companies
Are you looking around for a company that offers delivery services? Meet shipping companies that have been in the market for many years and have helped businesses and individuals worldwide.
UPS service options
UPS offers its own unique service options. A few domestic services include:
UPS Ground
UPS Express Critical
UPS 3-Day Select
UPS Next Day Air Saver
UPS 2nd Day Air
UPS 2nd Day Air A.M.
UPS Next Day Air
UPS Next Day Air Early
Some international services offered by UPS also include:
UPS Express Critical
UPS Worldwide Express
UPS Worldwide Plus
UPS Worldwide Express Freight
UPS Worldwide Saver
UPS Worldwide Expedited
UPS Standard to/from Canada
UPS Air Freight Direct
UPS Air Freight Premium Direct
UPS 3-Day Select from Canada
UPS Air Freight Consolidated
Advantages of UPS
Stronger U.S. presence
Many cost-effective shipping options
Negotiable rates
Total control of the entire shipping network
Simple shipping processes
Disadvantages of UPS
Surcharges apply when necessary, especially on additional handling or address correction
Typically weaker tracking visibility compared to DHL
DHL service options
DHL, both domestic and international, offer various shipping services. Some of them include:
DHL Economy Select
DHL SameDay Sprintline
DHL Express Easy
DHL GlobalMail Business
DHL Express 9:00
DHL Express 10:30
DHL Express 12:00
DHL Express Worldwide
DHL Jetline
DHL Groundline
DHL Secureline
DHL Sprintline
Notably, not all of DHL's domestic and international services are available at all locations.
Advantages of DHL
Established global presence in about 220 countries
Door-to-door delivery of packages
Air and sea delivery
No pickup fees
24/7 international support
Offers refunds for service failures on its part
Disadvantages of DHL
Less significant presence in the U.S.
Occasional extra charges or surcharges
FedEx services options
FedEx Ground
Delivers by the end of the day
(business addresses only).
FedEx Home Delivery
Delivery between 9 a.m–8 p.m., Tues-Sat
(residential addresses only).
FedEx International Ground
3-7 days (delivery to Canada only).*
FedEx First Overnight
Next business day as early as 8 a.m.*
FedEx Priority Overnight
Next business day, as early as 10:30 a.m.*
FedEx Standard Overnight
Next business day by 3 p.m.
FedEx 2Day A.M.
Next business day, as early as 10:30 a.m.*
FedEx 2Day
Next business day, as early as 4:30 p.m.*
FedEx International Priority
Time-definite delivery in 1–3 business days.*
InPost services options
InPost COD
As part of Paczkomaty InPost and Kurier InPost services, the parcel's sender may use the option of COD shipment. In both cases, the maximum COD amount is 5000 PLN. Furthermore, suppose you choose Cash on Delivery in Paczkomaty InPost service. In that case, the amount of cash on delivery will be credited to your account within ten working days from delivering the parcel to the receiver.

InPost parcel insurance
Insurance of a parcel delivered by Paczkomaty InPost is free of charge up to 1000 PLN. However, it is possible – for an additional fee – to increase the insurance amount to 20000 PLN. As for InPost Courier, the free parcel insurance is 200 zł, and the comprehensive insurance is 50000 zł.

InPost SMS/email notification
Sending a parcel via Paczkomaty InPost or Courier InPost, you will receive email notifications about the current shipping processes for free. SMS notifications are paid – 20 gr net.

InPost re-addresses the parcel
If you order a parcel to your home, but you will not be able to collect it personally, you can use an additional option to re-address the package to another address where someone will be able to collect it for you.

InPost other additional services
When sending a parcel via Sendit.pl, you can also use other additional options offered by InPost. You can find out more about InPost's additional services in our price list Paczkomaty InPost Sendit, price list Kurier InPost Sendit and our Customer Relations Department via the contact form.
eCommerce shipping costs
Many consumers care about fast and secure delivery when shopping online – but this delivery must be affordable for your customers. eCommerce shipping and logistics costs can be a complicated and multi-process endeavor.
Shipping costs can depend on many variables. These include the size and weight of the package, the destination of the shipment, and the carrier your company uses. Keep reading to find out what costs are involved in shipping products to online businesses.
Shipping costs – how to calculate them?
Weigh your package and use the shipping cost calculator to get a price for shipping. For example, if your package is small but heavy, calculate the shipping cost based on the dimensions, which can be significantly cheaper. Remember to consider the total weight of the parcel, not the product's weight, when calculating shipping costs by weight.
Best Practices for eCommerce Shipping
When running an eCommerce business, you should familiarize yourself with the best practices that companies in this industry commonly use. Here are some of them – get to know them, put them into practice, and start making money on them, and you will develop your business much faster.
Free Shipping brings customers
Customers who see free shipping are more likely to stay with you longer. Therefore, to offer such a solution in your company, you will see what positive impact it will have on sales.
There is a catch. Just because shipping is free, it doesn't mean that as an owner, you don't have any costs – in this case, you adjust the margin of your products, make a calculation and check if this solution will be profitable for you.
Make shipping costs obvious at checkout
Try to make all the information about the shipping cost your customer will pay visible during the checkout process.
This approach will inspire trust, and the customer will feel safe and secure and will not be left without the necessary information about the amount he will have to pay.
Why is it so important? Your customers are likely to abandon further steps in the order fulfillment process if they can't see the shipping costs or are surprised by unexpectedly high shipping costs.
Some studies estimate that up to 55% of all abandoned shopping carts are due to unexpected shipping costs.
Present your customers the expected delivery date
Shipping time is one of the essential factors in purchasing from your online store. If you don't provide your customer with an estimated delivery time, there's a chance of negatively affecting their purchase decision because they don't know how long shipping will take.
Keep your customers in the loop during the shipping
Your customers have purchased a product on your online store, used the available shipping options, and are enjoying the fulfillment of the order you shipped. Do you think this is the end of the task? – You're wrong.
A great solution would be implementing a communication system to keep your customers informed about shipping. For example, many customers say that receiving an order confirmation e-mail contributes to a positive experience.
It would be good for you to send your customers an order confirmation after they place their order and a shipping confirmation after the order has been sent to the courier company. It will help build trust and ensure that the customer is appropriately informed throughout the process.
Take action as soon as a shipping problem is reported
In the eCommerce industry, especially the fashion industry, returns will happen more often than you probably imagine. When deciding on an eCommerce company, you must accept and embrace this fact. You'll gain a great deal of trust among shoppers, but don't let your customers take advantage of it.
Set some rules during the process to ensure that no one takes advantage of you.
Shipping cost calculation
Estimating the expenses you will incur when running a mail-order business will save you a lot of stress, allow you to analyze the costs, and plan the whole process wisely. You'd be surprised how many businesses suffer losses because they don't bother to think one step ahead and count the potential expenses in fulfilling orders.
Calculating the costs associated with a product and its shipping should look roughly like this:
Cost of product X dollars
Packaging X USD
Shipping costs X dollars
Customs duties/fees (if you cover them) X USD
Payment processing fees X USD
When you add everything up, you will have the total cost of the product. Therefore, you should sell your product and add the profit margin to the total cost of the product to calculate the price.
Carriers set shipping rates based on the following factors:
Package size and weight.
Country of origin.
The country of destination.
The cost of customs and duties.
Any additional insurance and tracking expenses.
You may have any volume discounts or business account discounts with a particular carrier.
Calculating product shipping costs is relatively easy, and almost all of the biggest and most popular carriers offer shipping cost calculators.
eCommerce packaging
The matter of product packaging is very often overlooked and underestimated. Yet, the packaging is your business card and the first physical contact of the product with your target customer.
When you come to an interview, you try to take care of your image, the way you look. It should be the same as the packaging of your goods. Your customers who make regular purchases on your eCommerce store will appreciate that you take care of your product packaging and stay with you for longer.
There are many types of packaging. You can use the most ordinary ones that most business owners use or stand out from those and design your own packaging idea. It will attract customers, create interest and ultimately allow you to earn more.
eCommerce shipping integrations & APIs
What is API integration for shipping?
The shipping Application Programming Interface (API) gives you the ability to integrate the shipping functionality directly into your website or enterprise system. As a result, your trusted customers will benefit from a wide range of shipping providers' services and capabilities, and your business will become more efficient with improved processes.
What is an eCommerce API?
APIs, or application programming interfaces, allow your eCommerce platform to make services such as catalog content, order management, pricing information, and customer data available to other applications. Simply put, APIs enable communication between systems.
Sylius platform since 1.11 version is 100% API ready.
Sylius Platform – The Headless eCommerce Open-Source Tailored For Your Needs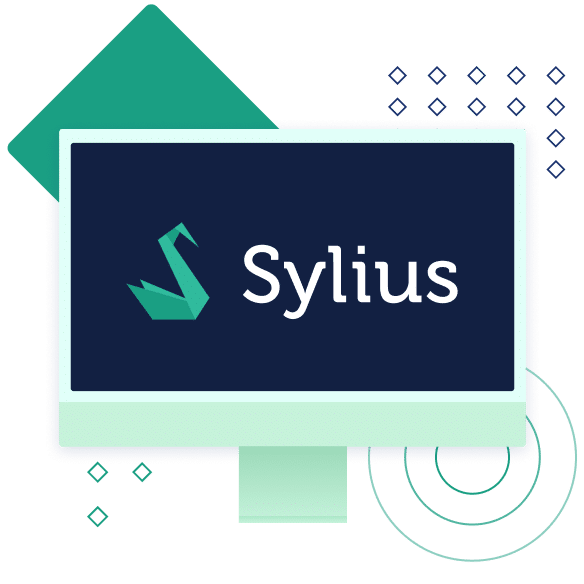 Sylius shipping solutions: SyliusDHL24PlShippingExportPlugin
This open-source eCommerce solution was developed to help the Sylius community.
How does the plugin work?
SyliusDHL24PlShippingExportPlugin allows you to generate shipping labels in the DHL24 service.
Why is it worth implementing a Shipping Export Plugin?
You can automate shipping.
Key features for Shipping Export Plugin
Possibility to generate shipping labels from the admin panel.
Usage
If you want to use the Sylius DHL24 PL Shipping Export Plugin, you must first install the ShippingExport plugin.
Go to your admin panel, and at the bottom of the sidebar menu, click on "Shipping gateways" and click "create". Select "DHL24". Fill in the fields with your data.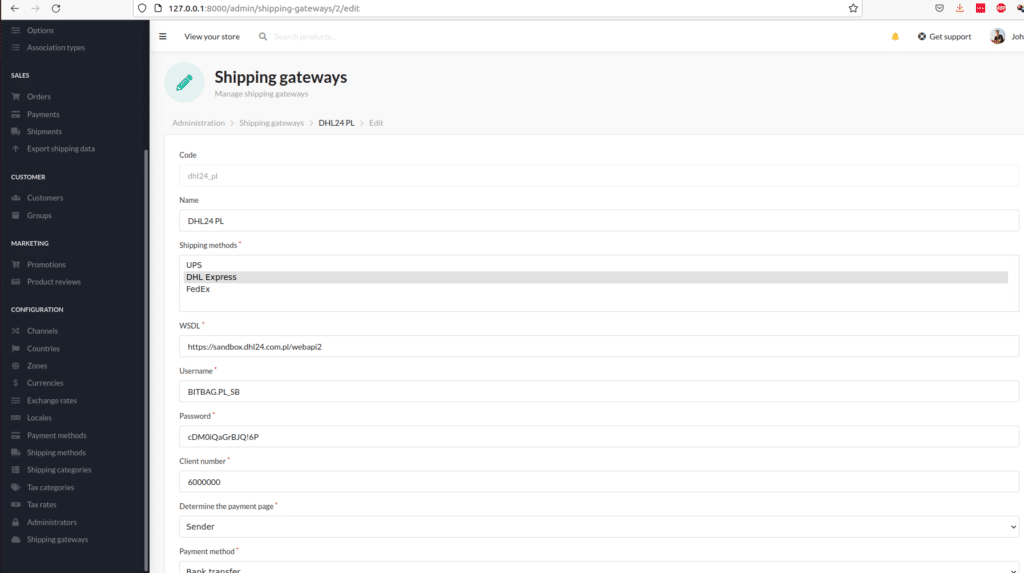 All your products must have a certain weight to make the plugin work properly.
After you purchase and order with "DHL" as the shipping method, you will see this order in "Export Shipping Data". Now click on "New" or "Export all new shipments" to generate shipping labels.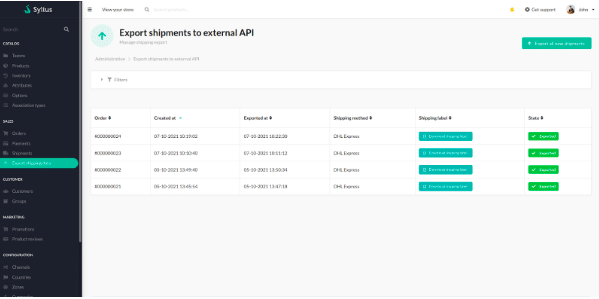 Now you can download your shipping labels by clicking "Download shipping label".

Extend your Sylius-based eCommerce with our plugins
eCommerce shipping rates
In many instances, the pricing of the shipment varies depending on the eCommerce company and the rate structure. It is the most common shipping method for eCommerce products.
Flat-rate shipping
Flat rate shipping refers to charging the same fixed shipping rate for all orders or for all orders that fit a certain weight range, order value, or other classification. Flat rate shipping should be a blended average shipping and handling cost for orders in a given category. Unfortunately, the shipping cost for some orders will not be fully covered, while others will be inflated.
Real-time carrier rates
Some online stores display carrier rates in real-time at checkout. Exact shipping rates are automatically collected from carriers based on customer location and delivery preferences. It allows you to charge customers the precise amount of money it costs your company to ship the order.
Offering free shipping
Offering free shipping can reduce cart abandonment, increase conversions, and build customer loyalty. You can offer free shipping while maintaining profitability in several different ways:
Including the cost of shipping in the product price
Requiring a spending threshold in exchange for free shipping
Charging a recurring fee through a loyalty program in exchange for free shipping on all orders (e.g., Amazon Prime)
Summary
Getting the right shipping company for your eCommerce is no easy task. So is managing the entire eCommerce ecosystem. Be ready for the many challenges of running an eCommerce store and driving its systems and strategies.
After implementing a new approach to shipping, every team will be required to report on their activities. As a result, the company should be ready to iterate when the time comes. Allow the strategy you put in place to adapt so you have enough data to review what works and what doesn't in the future and make any changes.
Once you master your new strategy, it will serve you well for many years, allow you to improve your business, and retain customers for years to come. If you feel we can help you with eCommerce development, contact us.