At the beginning of November, we had the pleasure of meeting with members of the Sylius community from all over Europe, thanks to SyliusCon 2023!
The conference dedicated to Sylius, which took place on November 3rd in Poznań, was certainly a significant event for the Sylius community, including developers, partners, and entrepreneurs interested in developing their eCommerce.
As a Sylius Leading Partner and Gold Sponsor of SyliusCon, we are delighted that the technology we base most of our projects on is becoming more recognizable among eCommerce solutions, gaining increased recognition in the industry, and gathering a devoted community, as confirmed by the number of people gathered at the event. This showed that Sylius is made by people who are of great value!
Additionally, such events are a great opportunity to establish direct relationships with people closely related to the conference theme. Despite well-developed tools for online collaboration, face-to-face conversations give the best and most memorable results.
Presentations
Conference participants had the opportunity to participate in specially prepared presentations about Sylius. The presentations covered topics such as advanced programming techniques, the modularity of Sylius Plus, the advantages of open-source in eCommerce, building a marketplace on Sylius, and successful projects based on this framework.
All the presentations were prepared at a high level and contained a lot of useful information, which we will certainly use in practice. However, the presentations that particularly stayed in our memory are:
Kuba Zwoliński's presentation from SnowDog explained how open-source fits into modern eCommerce challenges and presented trends that may await this technology in the future.
Filip Rakowski from Vue Storefront intrigued us with a presentation on the mistakes to avoid when creating projects based on headless technology.
Among the speakers were also two representatives of BitBag:
Radosław Żurawski (CSO), who, during his speech, presented how to build a marketplace on Sylius using our OpenMarketplace product. He discussed how to maximize the eCommerce strategy using the mentioned platforms.
"Speaking at such a large event was certainly stepping out of my comfort zone, especially since I had not had the opportunity to be a speaker before. I must admit that it was a very interesting experience."
Przemysław Ptasiński (Lead Backend Engineer), during his presentation, talked about the functionalities Sylius offers for the fashion industry, using Mytheresa – one of the leaders in the luxury fashion industry, as an example for this case.
"This was my first time having the opportunity to speak at such a large event. A very cool experience! The event itself was well organized, which reduced the stress caused by the presentation itself."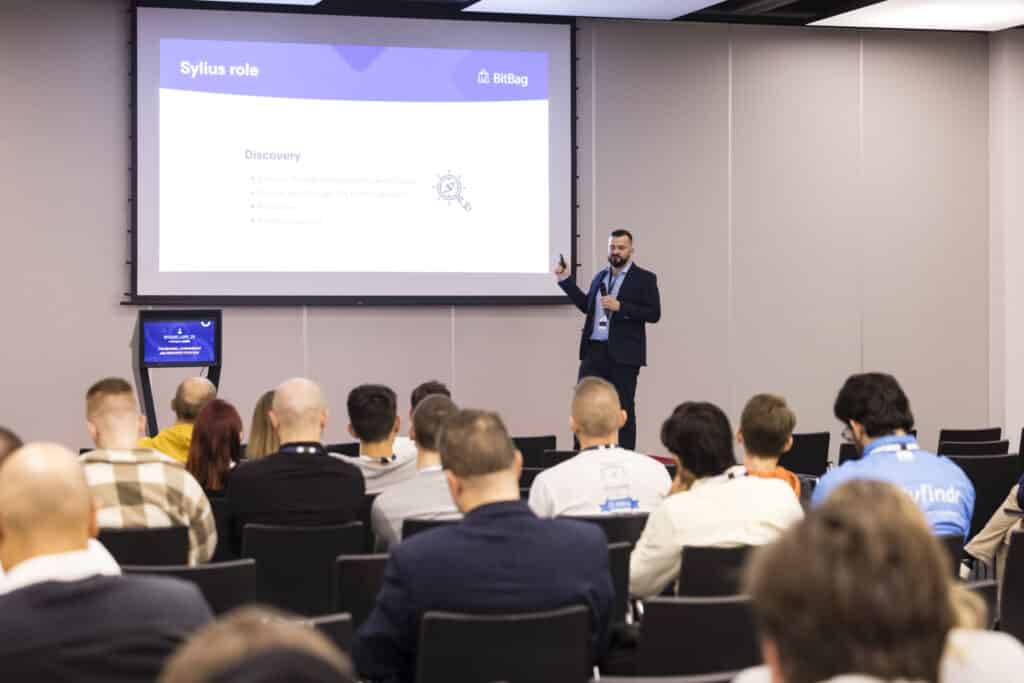 Sylius x Vue Storefront – Integration
During the conference, the integration of Sylius and Vue Storefront was announced. The fruit of this collaboration is SyliusVueStorefrontThemeBoilerplate, a modern solution that aims to revolutionize the way online stores are built.
SyliusVueStorefrontThemeBoilerplate is an open-source project designed to facilitate the creation of user interfaces and shorten the initial configuration time of a store website. Thanks to this, eCommerce owners will be able to seamlessly adapt their platforms to the unique requirements of the brand and customer experiences.
The completion of this project is expected within the next few weeks. Progress can be tracked on GitHub.
The Future of Sylius
As a team, we see the positive changes that have occurred in Sylius over the past few months. One such change is the presence of dedicated Partner Managers for markets that are currently key for Sylius, namely France and Germany. They will certainly contribute to building Sylius' recognition, thereby paving the way to realize more projects in these markets.
Another aspect that allows us to look bright at the future of Sylius is the new release Sylius 2.0, which was announced during the event, so we are looking forward to its launch, which was announced for Q1 2024.
SyliusCon 2023 x BitBag
For BitBag, this was a great opportunity to further integrate with the framework's community, which forms the base of our daily work. As the author of the largest number of plugins for Sylius and actively working in the developer environment, this is particularly important for us.
SyliusCon, as we mentioned earlier, was also an ideal opportunity to meet with our partners and clients. One of the foundations of our work is building valuable and lasting relationships. Of course, it was also an opportunity to present in detail our OpenMarketplace solution based on Sylius, which is already enjoying considerable recognition among the community and our clients.
SyliusCon from the perspective of the BitBag Team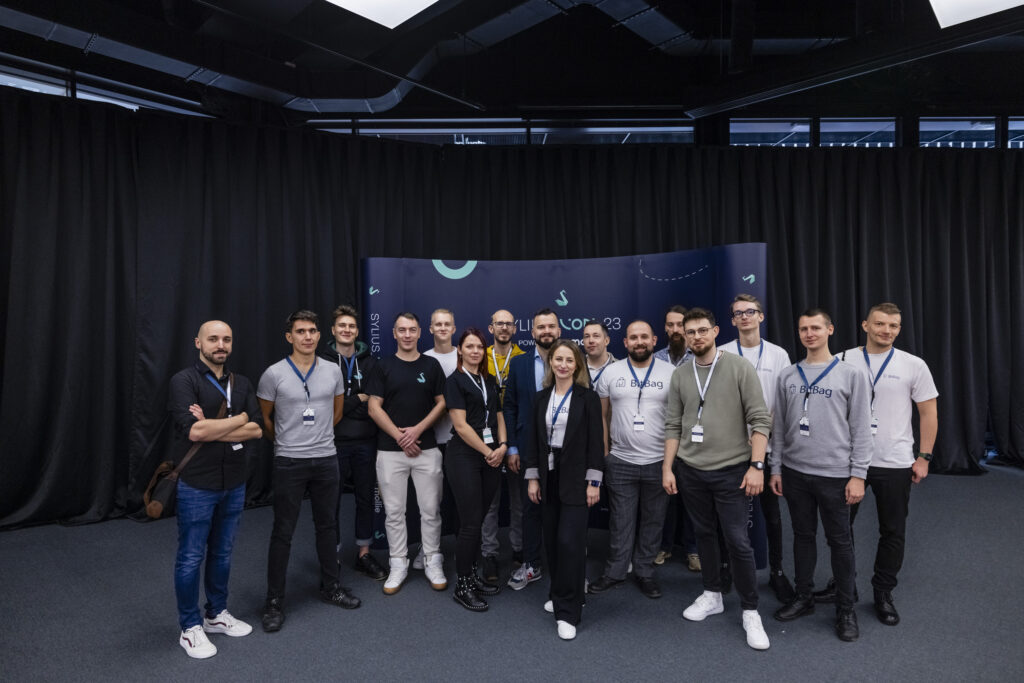 ---
Attending the SyliusCon event was a truly enriching experience that I will not soon forget. One of the most amazing things was the opportunity to meet with people who are deeply involved in the Sylius community. The atmosphere was buzzing with enthusiasm, and the chance to engage with like-minded individuals, exchange ideas, and forge potential collaborations was truly invaluable.

The surge of emotions I felt while delivering my first public presentation was unforgettable. The mix of adrenaline, excitement, and a touch of nervousness was quite the cocktail, but standing in front of an audience that was genuinely interested in what I had to say was deeply affirming. It was a moment of personal growth and professional development that I will cherish.

Moreover, the agenda of the speakers was outstanding. Each speaker brought a unique perspective to the table, providing insights that were both practical and thought-provoking. The level of expertise on display was not just impressive—it was inspiring, driving me to think about how to apply what I learned to my own work and habits. All in all, SyliusCon delivered an experience that went above and beyond my expectations.

Radosław Żurawski, CSO
---
SyliusCon is one of the most important annual events that we as a BitBag, participate in. That's why it was very important for us to share our experience and knowledge with the community. I believe by having both Radosław Żurawski and Przemysław Ptasiński sharing their knowledge while giving presentations, through many interesting meetings with our partners and clients proved that we live up to the expectations. For me personally, it is always a great pleasure to simply spend time with people from our company – who also in large numbers took part in the event. On a daily basis, we work remotely so it is always a great opportunity to meet in person. Finally, I believe it was a year where not only Sylius but the broad topic of the eCommerce future was discussed which in my opinion was one of the pros of the event.

Magdalena Janowska, Head of Delivery
---
Sylius is mainly about people – an amazing community that resembles a living organism. I am glad that I had the opportunity to meet people involved in developing Sylius, our partners, and our clients. I believe events like this strengthen relationships and unite people from all over Europe. Additionally, the knowledge I gained from all the meetings and presentations will certainly help me in future business meetings.

Jakub Leśniewski, Business Development Representative
---
For me personally, it is always a pleasure to meet those with whom I cooperate daily through the keyboard and computer screen. Live discussion and exchange of experiences is something that will never replace documentation. Meetings like this are a great base to build a community base around Sylius.

Przemysław Ptasiński, Lead Backend Engineer
---
Summary
SyliusCon is a very successful initiative, and we are glad that we, as a BitBag, can be part of it. See you in a year! 👋
If you are looking for a partner to implement eCommerce based on Sylius, see how we can help you – our services.