Navigating the complex landscape of eCommerce solutions can be a daunting task, especially when the success of your business hangs in the balance. Different platforms offer a multitude of features, options, and pricing models, making the decision even more challenging. This is where Shopware 6 comes into play, aiming to simplify this crucial choice by offering a tailored range of license options designed to meet the diverse needs of today's businesses. From small local shops looking to make their first foray into online sales to established medium-sized businesses seeking to expand their market reach, all the way to large enterprises in need of a robust, fully integrated eCommerce solution, there's a Shopware 6 license that fits the bill.
Each license type – Community Edition, Rise, Evolve, Beyond – has been crafted with specific business sizes and requirements in mind. These licenses differ not just in cost but also in the breadth and depth of features they offer, allowing businesses to choose a plan that aligns closely with their operational needs and strategic goals. Choosing the right license can have a far-reaching impact on your business, affecting everything from customer experience to operational efficiency and even your long-term scalability. Therefore, it's crucial not just to consider the immediate needs but also to think about how your eCommerce platform will fit into your broader business strategy.
In the following sections, we will delve deeper into the specific features and benefits of each Shopware 6 license to help you make a thoroughly informed decision tailored to your business needs. By doing so, you can ensure that you're investing in a platform that not only meets your current demands but also adapts and scales with you as your business evolves.
Feature Comparison Table
To give you a better understanding of what each license offers, here's a side-by-side comparison of the key features across the Shopware Rise, Shopware Evolve, and Shopware Beyond plans: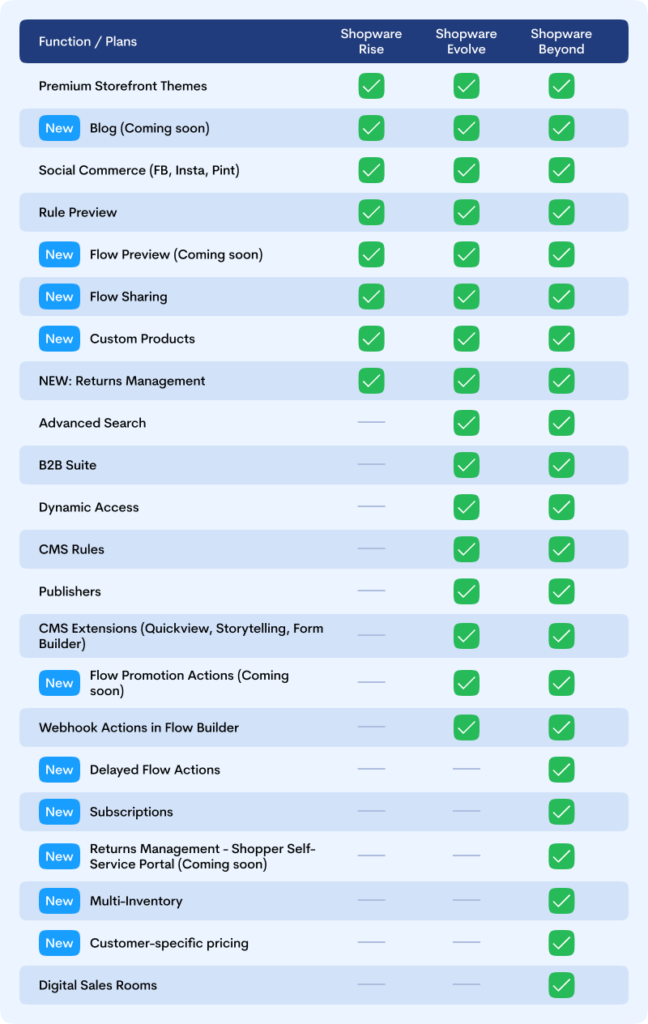 Small to Mid-sized Businesses
For small to mid-sized businesses, the eCommerce landscape can be daunting. Shopware Rise emerges as a solution that balances the essential elements of features, scalability, and affordability. This platform doesn't overwhelm businesses with excessive functionalities or costs but instead provides a range of features that enhance both the customer experience and operational efficiency. These features include enabling product customization, streamlined returns management, and rule-building for promotions, covering several critical aspects of running a successful online store.
Moreover, expanding reach without breaking the bank is a key challenge for smaller enterprises. Shopware Rise helps address this by integrating social commerce capabilities that enable businesses to target customers on platforms where they already spend significant amounts of time, such as social media. In today's fast-paced digital landscape, leveraging technology for smarter operations is essential. The AI Copilot capabilities offered by Shopware Rise provide intelligent assistance in various operational aspects, including content generation and customer classification. This not only helps businesses save time but also lets them focus on more strategic tasks.
Priced at an accessible rate of $600 or €600, Shopware Rise offers a highly competitive package that caters to the budget constraints of smaller businesses while also providing the robustness required for scalable operations. If you're just starting out or are operating on a tight budget, Shopware also has a Community Edition available. Although it lacks some of the advanced features found in the paid plans, this open-source option still provides the fundamental capabilities necessary for eCommerce, offering room to scale up when you're ready.
Medium to Large Businesses
Medium to large businesses face intricate challenges in eCommerce that go beyond just basic functionalities. Shopware's Evolve and Beyond plans are tailored to meet these complex needs with a myriad of features. To start, they offer a rich customer experience with advanced search capabilities, courtesy of Elasticsearch, and functionalities designed for smooth B2B transactions. Businesses with unique requirements will find that these plans offer high customization through CMS extensions, Publisher capabilities, and dynamic access features.
The need for automation and third-party integration is also addressed; workflow automation features like the Flow Builder with webhook actions enable seamless data exchange with third-party tools, thereby automating various processes and allowing staff to focus on more strategic tasks. Scalability is another highlight; features such as Multi-Inventory and customer-specific pricing make it easier to adapt to different markets, which is essential for global reach. Beyond that, the Beyond plan offers innovative eCommerce solutions like Digital Sales Rooms and Subscriptions that not only allow businesses to offer a personal and interactive customer experience but also pave the way for new revenue streams and increased customer retention.
The plans even offer custom pricing, which is a more tailored approach to budget management. Businesses can adapt these pricing plans to include the specific features and capabilities they require, resulting in getting more value for their investment. This comprehensive and highly customizable platform is ideally suited for medium to large businesses looking for robust eCommerce solutions.
Want to explore the best eCommerce technologies and deep dive into Shopware? Check out our free e-book – A comprehensive guide to choosing the best technologies for eCommerce
Large Enterprises
For large enterprises with expansive operational scale, Shopware's Beyond plan offers a robust set of enterprise-level features designed to manage massive inventories, cater to a broad customer base, and handle complex operational workflows. One of the main challenges in this sphere is comprehensive inventory and order management, a concern that Beyond addresses with its Multi-Inventory feature. This feature allows for streamlined stock management across multiple locations and gives customers a seamless shopping experience by enabling product purchases independent of inventory location. In addition to inventory concerns, large enterprises often have to deal with varying customer pricing needs. Beyond's customer-specific pricing feature comes into play here, enabling dynamic pricing strategies tailored for individual clients or customer segments. This is particularly useful in B2B interactions that involve contract-based and bulk pricing.
Operational automation is another area where Beyond excels. With features like the Flow Builder that has delayed actions and webhook capabilities, Beyond integrates seamlessly with third-party platforms for ERP, CRM, and more. This facilitates real-time data exchange and automates complex operational workflows, a necessity for large enterprises.
Cutting-edge customer engagement features like Digital Sales Rooms also set Beyond apart. These interactive live video events can be hosted directly from your Shopware website, providing a personalized and immersive shopping experience that can differentiate your brand in a saturated market. To supplement this, the plan offers a Subscription feature that allows for highly customizable models. Whether it's simple repeat orders or more complex, tiered services, this feature provides a stable, recurring revenue stream and enhances customer loyalty.
Last but not least, Beyond's custom pricing model allows you to adapt the functionalities according to your specific operational scale and feature needs, making it a cost-effective choice for large-scale operations. Overall, the Beyond plan offers a comprehensive and tailored eCommerce solution well-suited for the intricate needs of large enterprises.
Shopware – All-In-One eCommerce Platform That Meets The Highest Requirements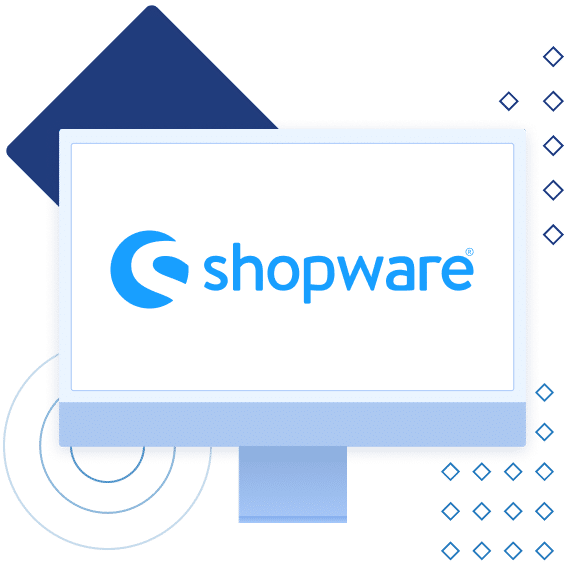 Summary
Selecting an eCommerce platform is more than just a technical decision; it's a strategic move that influences your business's sustainability and growth. The array of choices presented by Shopware 6—from the budget-friendly Rise to the feature-rich Beyond and even the Community Edition for those on a shoestring budget—provides a spectrum of options tailored to meet the unique needs of different business sizes and sectors.
For small to mid-sized businesses that are focused on cost-efficiency without sacrificing essential features, Rise offers a balanced package. Medium to large businesses with more complex needs will find Evolve a robust solution that supports advanced functionalities like better search capabilities and B2B features. Large enterprises aiming for top-tier scalability and customization can opt for Beyond, which provides an all-encompassing suite of high-end tools.
Each license has its unique advantages and considerations, making it crucial to align your choice with both your immediate operational needs and long-term strategic goals. Regardless of where you currently stand in your eCommerce journey, Shopware 6 offers a flexible solution that can adapt and scale with your evolving business needs.
By investing time in understanding what each license offers and how it aligns with your business strategy, you can make a more informed decision. This will not only affect your day-to-day operations but also impact your ability to pivot, adapt, and grow in the fast-paced and ever-changing world of eCommerce. Choose wisely, and pave the way for your business's future success.
If you have more questions about the Shopware license, please contact us!