Wishlists are an extremely important element of any web store. They can help increase sales engagement, retain customers and optimize their shopping experience.
Wishlists allow customers to personalize their collections of products that they wish to purchase and save them in their users' accounts for future reference. Wishlists indicate customers' interest in products that do not require any immediate purchases.
What is an eCommerce Wishlist?
An eCommerce wishlist lets users store a set of items in their user account for them to return later. Wishlists could reduce shopping cart abandonment because they do not require consumers to make immediate purchases. The visitor can instead add the item to the list and take a moment to think about it, and then go back at every moment to buy it.
How do wishlists drive sales engagement and retention?
A wishlist can be an invaluable tool in branding. Google research suggests that 40% of customers think their shopping experience would be better if retailers offered a wishlist feature.
It is possible to use wish lists in different ways. They are commonly used by consumers who are not able to buy but want to remember the product. Many people save items on wishlists before purchasing or mark items they'd rather wait for prices to drop before making a sale.
Consumers use the wishlist feature to fulfill various needs:
They could consider buying something, they can't afford at the moment.
A particular product is out of stock (e.g. in their chosen color or size).
Some users create multiple lists that can be shared with others (for example as a suggestion for a birthday gift, desired household appliances, and so on).
Ways to create a good wishlist experience
A wishlist is such a big deal in eCommerce today. Many eCommerce websites are designed to increase the customer's interest. Wishlists may come in many different forms, however, they should have basic functions to create an enjoyable customer experience. Let's list some key aspects that should be considered when implementing a wishlist feature on the eCommerce site.
Connect with social media
Include in your marketing efforts remarketing on the search and social media. You can serve product remarketing ads to consumers who have "wishlisted" an item. The social share button has likewise become a necessity for interaction and retargeting. Store owners could also utilize wishlists to create advertising campaigns targeted at customers' shopping histories.
Ensure the wishlist is easily accessible
It is essential for clients that their wishlist is accessible on all web pages, not simply within a particular "Wishlist area". It is possible by using e.g. the floating icon in the header menu of any page.
Your wish list must be mobile-friendly
Most eCommerce visits take place on mobile devices, so you should have your wishlist module compatible with different devices. Check the wishlist feature on different screen resolutions. Is it work properly on the mobile device?
Enable easy wishlist sharing
Think about the situation that which someone wants to create personalized collections or birthday wishlists and share them with others. Sharing buttons with choices on multiple platforms makes it easier to use. A wishlist may be also shared via email or text, so a person doesn't have to 'copy-paste' links to the desired products.
Benefits of wishlists on eCommerce websites
Maybe you wonder why you need to have wishlists on the website. What may you get with the wishlist?
Encourage users to buy on your website
Improve customer engagement and customer experience
Seamless shopping experience
Increasing the sales funnel
Easily expand your customer base
You're simply providing your audience with a reminder of the product that they have a particular interest in, and that's a good idea. Your customers may even use the feature in order to share their favorites list. Wishlists are a perfect gift for birthdays, and celebrations. Typically, pragmatic people, prefer to send lists near such events for their friends to get what they liked. Likewise, if the wishlists feature lets people share their lists with others, you'll be able to contact the ex-visitor and his friends and colleagues as well as their family.
Keep an eye on what your clients want
You may think that your eCommerce doesn't require a wishlist because you already know what the top sellers are. Well, what people want is usually more expensive than what they buy. Generally speaking, in some situations, the significant decision is the cost, that is why people add a product to their wishlist.
You may want to check out your database. Are some products on the wishlist but nobody buys them? Perhaps the price was excessive or the quality was very poor?
Reduce the number of users that get lost on their way to check-out
The Baymard Institute reported 68,8% of the global average cart abandonment rate for 12 years These cart abandonments are often caused by browsing the eCommerce store with no intention to buy at the moment. People simply look at the discounts and compare offers by adding products to the shopping cart (and then abandoning them). Giving customers the possibility to save products on wishlists may help avoid the cart abandonment rate.
Properly anticipate stock levels
The job of analyzing a stock is sometimes challenging — especially if a business owner is just starting a business with very little knowledge about the current buying trends in the market. Wishlists can provide valuable information, which is useful when predicting stocks. It allows you to analyze the user's preferences that may be used in order to anticipate stock levels or create a list of all the most popular products.
Sylius Wishlist Plugin overwiev
How does the plugin work?
The Sylius Wishlist plugin allows you to add products to the wishlist before adding them to the shopping cart.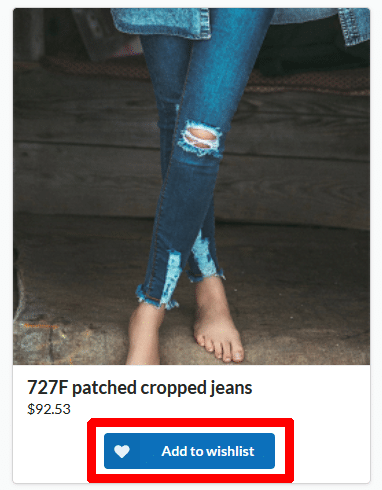 When you have more than one wishlist: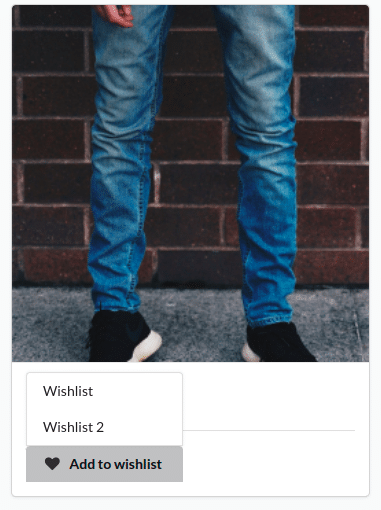 Why is it worth implementing the Wishlist plugin?
It helps customers to save their favorite products from your shop inventory. It is very useful because your clients should be visiting your webshop over and over and you don't want them to forget what they want to buy with another visit. With the wishlist plugin, you can separate shopping cart and wishlist logic.
Key features for the Sylius Wishlist Plugin
Adds wishlist page
Adds heart icon in header menu with link to the wishlist
Allows customers to save their favorite products
Usage
From the products list or product page select 'Add to wishlist'. You can add as many products as you want.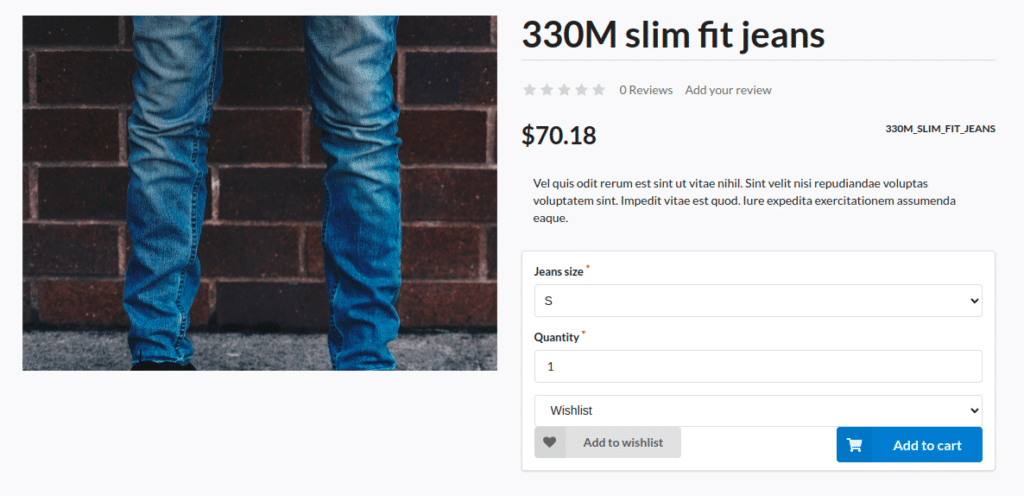 After that, you will be redirected to your wishlist and you should be notified that your product has been added.


Now you can specify variants and quantity of your favorite products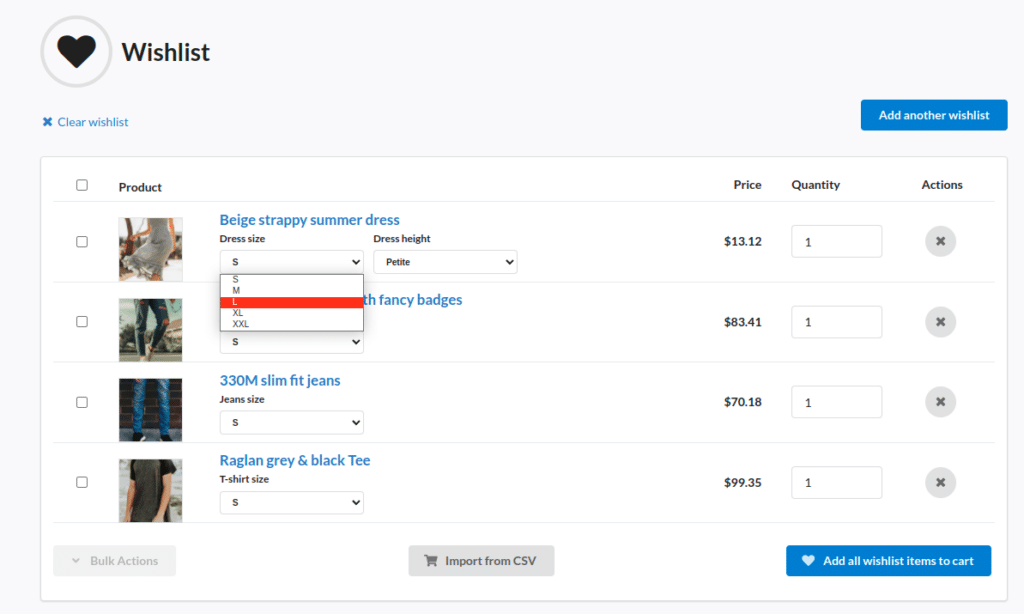 When you only have one wishlist, you can create a new one from it via "Add another wishlist".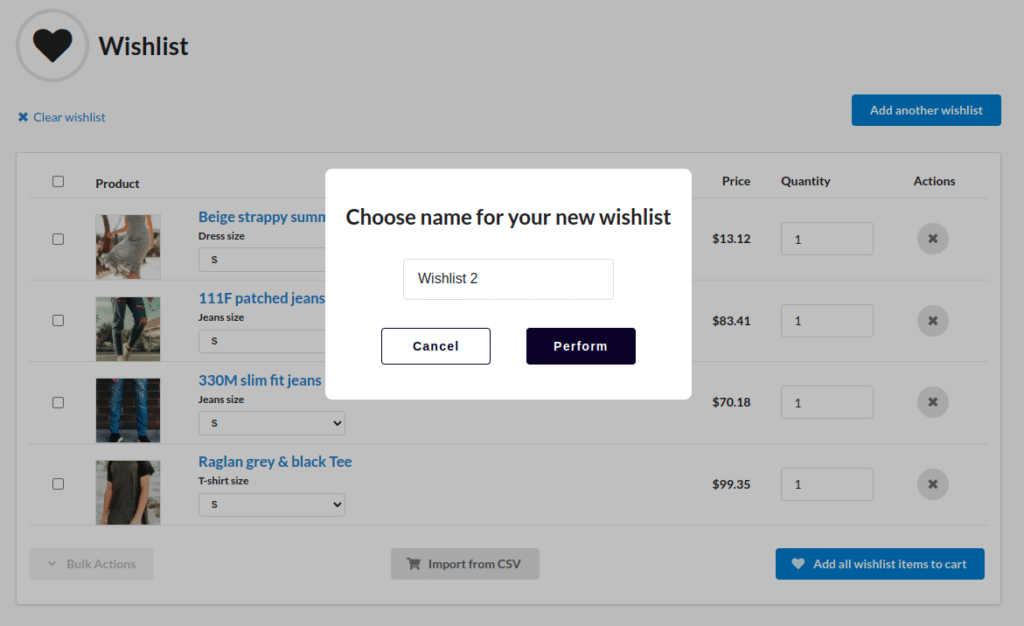 After that, you will be notified that a new wishlist has been created and there will be a new icon for wishlists. Also, you won`t be able to create a new wishlist from your wishlist panel.


When you go there, you will see your new wishlist. In this panel, you can create a new wishlist, edit the name of any of your wishlists and also delete them.


Now in your wishlist panel, you can take several actions via bulk actions: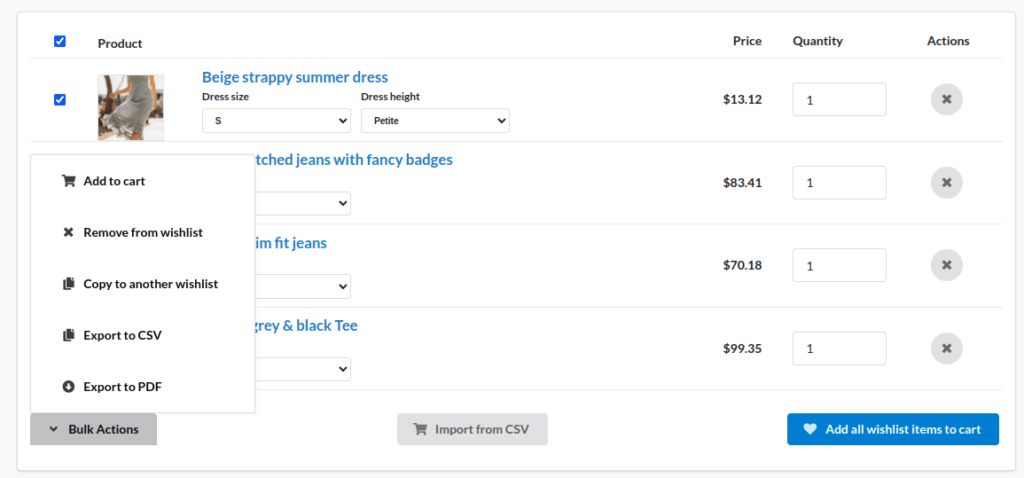 What you will see:

Add selected products to the cart

Remove selected products from the wishlist,
Copy selected products to another wishlist,
Export selected products to CSV file,
Export selected products to PDF file.

Now you can also import wishlist products from CSV file.


After this action you will be redirected to destined wishlist page.

When you're done click on 'Add all wishlist items to cart'. It will add your products to cart and redirect you there.
Video with all functionalities: