Think back to how you purchased your favorite watch or gadget ten years ago? Where did you go to buy your clothes or shoes? How much time-consuming was grocery shopping? B2B/B2C eCommerce has completely transformed how the end consumer shops today. Today, it's easier for aspiring entrepreneurs to turn their creative ideas into reality.
While eCommerce technology is rapidly improving, the rules have stayed the same. If you want to build a successful business for yourself, you will need to satisfy the needs of your potential customer/consumer. Here, marketing plays a key role. So, do you have any plans for starting your business? Have you ever thought of opening your online store? If yes, then you need to decide which products to sell and which customers to target.
Anyone with a unique business plan can join the industry. However, before you do this, learning about the eCommerce industry and what's going on is reasonably necessary. An eCommerce industry includes business to business, business to consumer, and other types of business models. However, B2B and B2C eCommerce have become immensely popular in recent years.
Quick jump
B2B and B2C marketing strategies are quite different and have different impacts on consumers. So, before diving into the eCommerce industry, first understand which business model would suit your capabilities, resources, and of course, your target niche.
Let's find out what B2B marketing is? And how different it is from B2C marketing.
What is B2B (business to business) marketing?
B2B marketing involves a company whose main customer is another business rather than regular consumers. In B2B, companies sell their products or services exclusively to other companies. Hence, their marketing goal is to satisfy the people or teams who purchase on behalf of their companies or brands.
Some of the B2B eCommerce examples are:
A manufacturer that sells products directly to dental clinics or hospitals
A medical software development company that sells software to healthcare organizations
A business that provides raw materials to a construction company
What is B2C (business to consumer) marketing?
B2C eCommerce marketing refers to business solutions that sell their products or services directly to consumers. In B2C, the target audience is an individual consumer who is willing to buy the company's products or services. To boost their sales process, B2C marketing focuses on the needs and desires of their customers with the use of financial incentive, relationship development, and a clear understanding of emotional appeal.
Customers want to find what they are looking for on the website. Therefore each purchasing decision is not only made on an emotional connection but also based on product quality, price, and checkout process. So, when you go to the Apple store to buy a smartphone or a smartwatch, it is B2C.
Following the latest marketing trends and optimized content strategy focused on relationship building are the key factors in both B2B and B2C marketing and lead generation.
B2C examples in eCommerce:
A real estate agency that sells homes
A cosmetic company that sells beauty products
A health tech company that sells different kinds of blood pressure monitors
All of the above are targeted at a single person.
B2B vs B2C eCommerce: 6 Key Differences between B2B and B2C eCommerce platforms
Though they fall under the same parent business model – eCommerce but the customer experience they offer differs from each other as well as purchase decisions or marketing efforts.
Many important differences separate these two business models. So, every marketer must know these differences before stepping into the digital eCommerce world. It will significantly help improve their B2B and B2C marketing campaigns, making their business grow and succeed.
B2C vs B2B eCommerce platforms – key differences
B2B vs B2C personas
The main difference between B2B and B2C marketing becomes pronounced when it comes to the target audience. Business-to-business marketers go after key decision-makers of other companies. They don't have to worry about satisfying everyone in the company or even the end-user. Business-to-business purchasing decisions and buying process is much longer than in case of business-to-customer.
Suppose you have a medical software development company developing healthcare solutions that can be used by hundreds and thousands of clinicians, hospitals, and health care workers. However, you will have to direct your marketing efforts only to the CEO, information technology officer, and the hospital directors as only they will have the authority to make a final purchase decision.
In other words, the decision-making of the B2B goes through more than one level, such as the salesperson will meet with the manager of the company, who later will have to get approval from the business owner to get the sale closed. Everything is professional, and emotions have no place in business-to-business sales. Those types of purchases are a huge investment in B2B, so the benefits have to be analyzed in detail.
On the other hand, the audiences of B2C are individual consumers who buy product(s) and/or service(s) for personal purposes. Consumers are everyday people who categorize into various segments. They are end customers and do not use their purchases for any other productions for sales purposes later.
So, B2C marketing has to put all the efforts into grabbing the attention of anyone who can use the company's products or services. Even kids who see an ad for a PlayStation or remote-controlled toy might convince their parents to buy it for them. Here the consumer is the decision-maker – all the purchasing decisions' benefits are targeting him, and the money he spends, are just his money.
Decision-making process
The decision-making process for both business models is quite different. In B2B model in e-commerce, marketers have to deal with a large group of decision-makers that will make a purchase on behalf of their business or company. So, all B2B business owners must keep in mind that many people will be involved in the purchasing process. So, it will be complicated and also time-consuming.
However, the decision-making process is much simpler and shorter in B2C as it will be a personal purchase and at the same time, it only depends on the emotions of people.
Different Marketing Strategies
Although marketing in B2B and B2C might be similar in terms of advertising, marketing channels, industry jargon and promotions. However, there are still many differences in marketing tactics and how the information is brought to people.
In B2C, advertising in general media such as television, radio, or online magazine will be enough to grab the attention of buyers. However, in B2B, many unique strategies will be required to attract many huge brands or businesses.
For example, your company sells supplements. In that case, advertising your product on radio or TV will only be helpful if your target audience is someone, who uses supplements to stay energetic throughout the day. However, if you have a human resource agency, your target audience will be other businesses that will most likely not watch TV or listen to the radio to find a contractor for themselves.
Social media marketing
B2B and B2C social media marketing differ in the type of content used and the way it is presented.
B2B social media marketing focuses on providing informational and educational content for business customers. Content should be:
Adapted to the target audience and different stages of the decision-making process
Should provide valuable and useful knowledge; examples of such content include case studies, white papers, industry news, and research
Easy to upload and view
Posting such content on social media will help create more personal relationships with your business customers.
B2C social media marketing focuses on creating content that is entertaining, engaging, and entertaining. Content should be designed to evoke an emotional response from the customer, such as humor, nostalgia, or surprise. B2C marketers should also use visuals and interactive content, such as polls, quizzes, and games, to engage the customer and make them feel more connected to the brand.
B2C businesses very often use influencer marketing is becoming increasingly popular for B2C eCommerce. This marketing strategy can help to reach a wider, more engaged audience and to build trust with potential customers, and provide social proof. Influencer marketing is a form of the social media marketing that uses endorsements and product mentions from influencers—individuals who have a dedicated social following and are viewed as experts within their niche. By partnering with influencers who already have established relationships with their followers, businesses can use the influencer's credibility to promote and sell products and services. Additionally, influencer marketing can help to drive more website traffic and increase brand awareness.
Relationships
Usually, B2B has a stronger relationship with clients than B2C. As the B2B market is smaller than B2C, so the scale of potential clients in B2B is quite narrow as compared to B2C. That's the main reason why it is more difficult in B2B to do lead generation.
So, B2B businesses focus a lot on developing strong customer relationships as once the customers are satisfied with their products or services; they will become more loyal to their business. However, in B2C, there are much shorter relationships and less loyalty than in B2B. Today many B2C business owners are putting a lot of effort into improving their customer service so they can provide the best buying experience. Once clients are satisfied, their one-time purchases will be turned into regular ones, and they will never make any purchase from other brands.
Sales speed
In B2C, the customer journey is less complicated and time-consuming, which translates into fast transactions. In B2C eCommerce, we often deal with impulse purchases, thanks to which products sell quickly and sellers get paid in a short time. Real-time marketing is also important here. However, in B2B is a longer sales cycle. The final purchase must go through many stages to be approved.
So, at times, it becomes challenging for B2B businesses to sell their goods and receive their payments. From the time of raising brand awareness, lead nurturing, and boosting engagement to find potential customers, it may take several months to sell goods in B2B and receive the payment for them.
Buying cycle
In B2C eCommerce is a shorter sales cycle than B2B eCommerce. The buying cycle is much simpler as buyers may seek recommendations from their friends and family, online reviews, or marketing campaigns, but the purchase decision is made only by one person – the buyer itself.
However, the B2B buying process's main differences are: it is a bit more complicated and time-consuming. A large group of decision-makers has to give their approval before a final purchase is made. As B2B marketing is not dealing with individual consumers, the purchase decision will take a little longer and may become more complex with each passing day.
Return of investment
In B2C, customers buy products to satisfy their needs. The difference in B2B is that businesses do not buy to satisfy their demands or to have fun. So, they usually invest their money in purchasing software (ERP, CRM, table management software), technology, or services to optimize their businesses' operations or manufacturing processes. So, it is the reason why buying process is longer than in B2C.
They know it will eventually help reduce their costs, improve their customer support service, and maximize their profits. So, a B2B transaction will be an investment in future growth, profitability, and of course, the productivity of the whole business (from production to sales&marketing).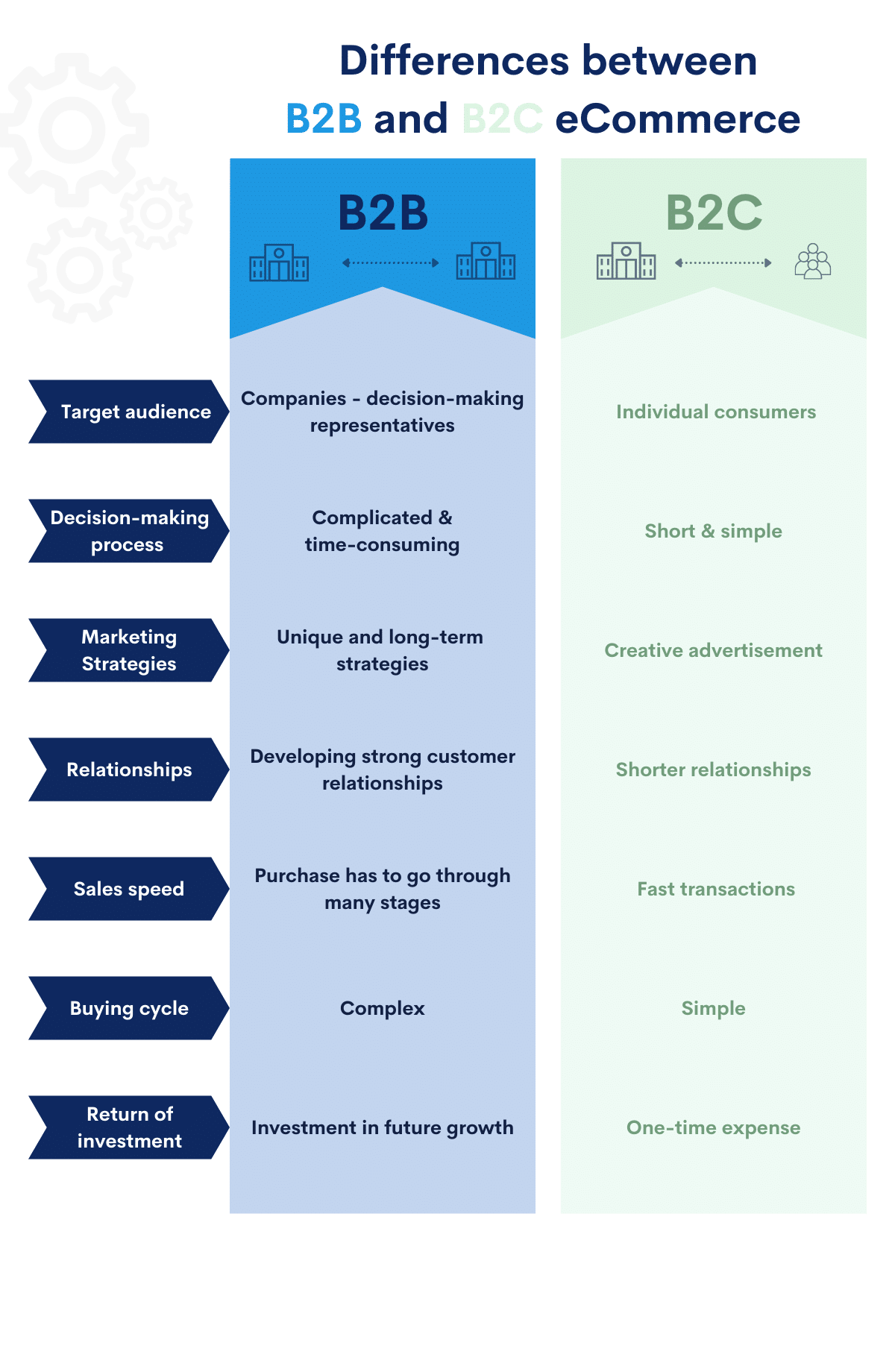 Examples of successful B2B models
Microsoft
Microsoft is one of the largest and most popular companies in the world. In addition, it is one of the most successful B2B models. The company has contributed immensely to technology advancement. Currently, Microsoft is providing technology solutions such as Microsoft advertising, Microsoft Azure, and many others to businesses worldwide.
SalesForce
SalesForce is another good example of successful B2B models providing customer relationship management software to other businesses. Many businesses are using these solutions to offer better customer support service to their valued customers.
CRM is basically software that stores the contact information of a customer, such as a phone number and address. Also, it keeps track of customers' activities, such as emails and website visits.
Examples of successful B2C models
Amazon
Amazon, the largest retailer in the United States, is undoubtedly the most successful B2C company. It is currently providing various kinds of products to its customers worldwide.
First, it started from selling books, and then it started selling different kinds of products such as electronics, household items, beauty products, clothing, and much more. Currently, there are more than 300 million active users on the Amazon platform.
Facebook
You might wonder how a social media platform can be one of the great B2C e-commerce examples. Facebook not only gives people an opportunity to share every moment of their life with their friends but also helps in marketing to promote any product or service.
Facebook is an ideal marketplace to promote your products and find your target customers in 3 billion Facebook users. Many businesses are running their marketing campaigns on Facebook and getting impressive results.
Customized B2B eCommerce Solutions for Wholesalers, Distributors, and Manufacturers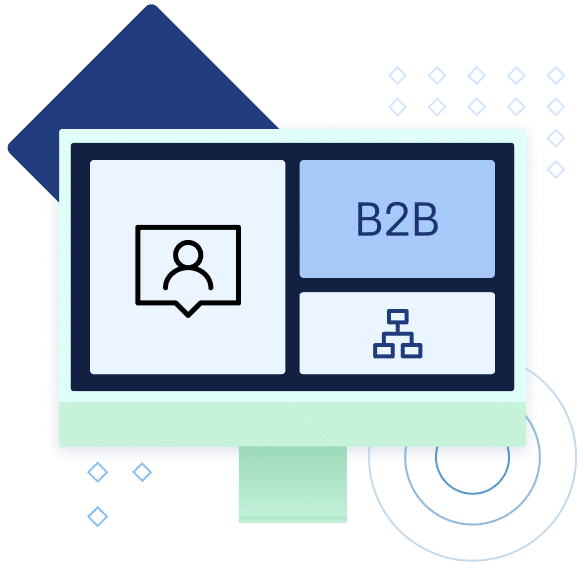 Scalable B2C eCommerce Software To Enable (And Handle) Your Growth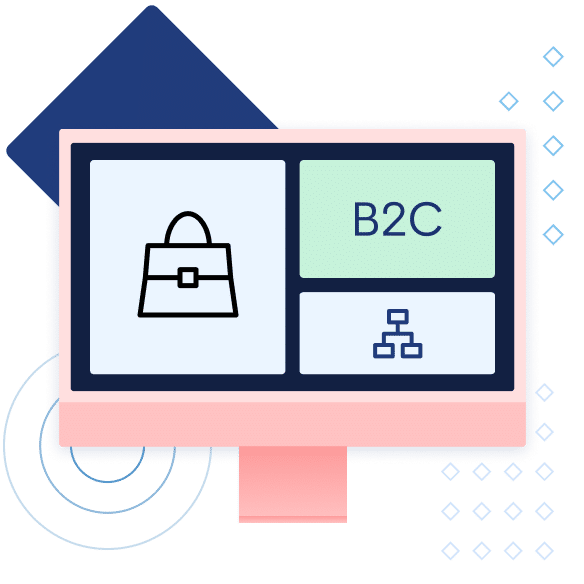 Summary
Now you know the main differences between eCommerce B2B vs B2C. Nowadays, with the significant development of eCommerce, many business owners are modifying their business plans to adopt both B2B and B2C models, such as Google is currently facilitating both individual customers and other companies. However, regardless of whether you are adopting B2B or B2C model, your goal should be one -providing your customers with the best buying experience.
One of the best ways to run a successful business and popular eCommerce platform is to have good marketing and business strategies to ensure your customers' satisfaction (your marketing team has a lot of work here). After all, customers are the heart of any business. Choose the right eCommerce which helps you in keeping the heart of your business happy – your customers!
So, no matter if you want to sell your products to a small group of people or to the whole business, you may want to talk about the opportunities of eCommerce platform of both B2B and B2C. The best way is to contact us and tell us about your idea, so we will advise you on the best path.