Many people think if there is any sense to start doing anything to prepare for the holiday shopping season (e.g. preparing eCommerce for Black Friday). It always makes sense, but it's important not to do everything at once.
Consumer sales are still great during the holiday shopping season (Black Friday, Cyber Monday sales) whether the products are bought using laptops or smartphones. In this article, we will talk about business preparation (including eCommerce site) for Black Friday promotions.
Let's begin with a short history before we can find out how all this madness happened.
The history of Black Friday
Black Friday began in the US in the 1950s after Philadelphia police invented the word to describe the chaos that ensued on the day following Thanksgiving. Local businesses later tried to change the term "Black Friday" because of the confusion surrounding it. By 2002 Black Friday was so popular it became the busiest shopping day for all U.S. shoppers. Although the Thanksgiving holiday (and hence – Black Friday) are celebrated in North America, the number of countries that are participating in this phenomenon has spread worldwide.
eCommerce Black Friday statistics
Black Friday is one of the busiest times of online purchases of the year for both online shoppers and eCommerce stores. Statistics from the last year are as follows:
Mobile traffic is responsible for 71% of total online sales.
21:00 was the peak time to create a basket on Black Friday.
Total cart abandonment was ~78%.
The total add-on card ratio stood up 4.46% from Over 45 000 000 on the Internet.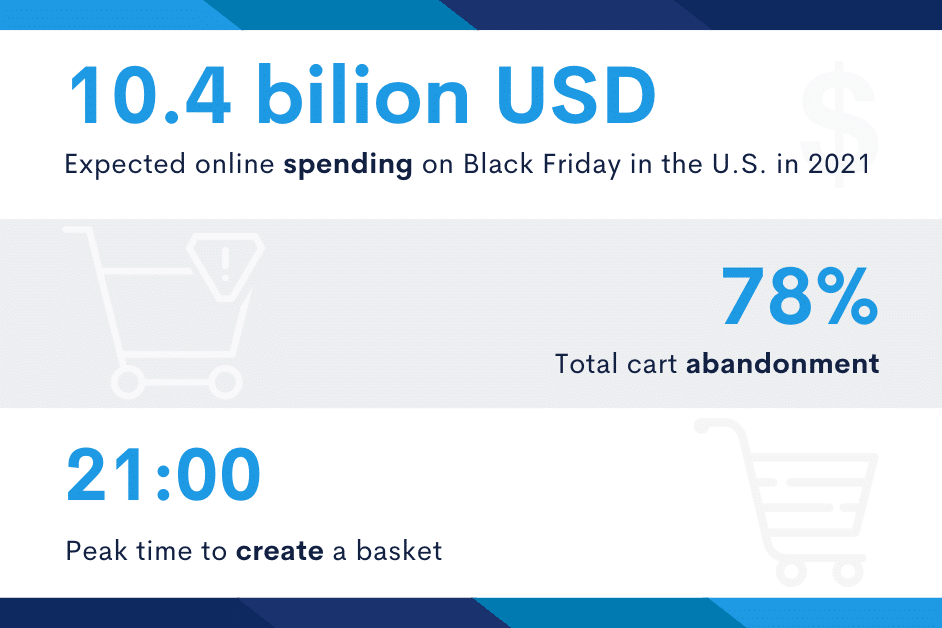 Cyber Monday sales can rival Black Friday sales
As it was mentioned before, Black Friday is one of North America's busiest and most valuable dates. Another concept was also born in the United States, and the term Cyber Monday was first used in 2005. Cyber Monday is often compared to the Black Friday that preceded it, but there are significant differences between them. On Cyber Monday, promotions move to the virtual world. Consumers who normally attend Black Friday with a purse have moved to eCommerce sites to take advantage of the discounts. It has created a hybrid Sales Event between Black Friday and Cyber Monday meaning that customers have a little more time to make a purchase given both holidays eventually merge into one – Black Friday weekend (or even the whole week).
How do I prepare my eCommerce store for the holiday shopping season?
Black Friday traffic is expected to spike over Thanksgiving. High traffic can quickly lead to poor site performance if you don't have the right eCommerce platform to help your business. It applies both to large retailers and small businesses. If you are familiar with problems with performance during peak times, maybe it's time to consider changing the platform?
To prepare your online store for the holiday season in online shopping look at some factors that are mentioned below.
Website speed
To prevent losing potential and existing customers, use tools such as Google's Web Analytics. It assesses core elements – CSS and Javascript – which may be slowing down a site. Similarly, Google's Test My Site tool can determine how to increase your mobile conversion rate by using your website speed and loading times to make your site not lose potential customers.
Website navigation
More than 70% of visitors would abandon their browser due to poor user experiences. A huge portion of the user experience starts with navigation – especially on mobile devices. If the website is confusing or inaccessible to browse then online shoppers will become frustrated and look elsewhere.
What you can do to not lose customers?
Make sure that you categorize products by discounted prices, check if products availability is correct, make sure that categories are listed prominently. It will allow holiday shoppers to find the section they wish to buy from.
Website traffic
Many online retailers have to face increased traffic at their shopping sites. Developers or site owners should perform tests using specific tools such. These tools simulate peak traffic rates to improve user experience and to help developers to understand how to optimize a website. For example, compressing pages, improving HTML and CSS elements, and deploying add-ons to balance server-basic requests without affecting site speed can be considered before traffic enters the site.
Optimize for mobile-first buying
It's not a secret that one of the eCommerce trends is m-commerce. Although it is more of a daily routine than a trend mobile users are the ones who do online shopping. To boost sales on your eCommerce site during the holiday season, you have to take care of the usability of your store on a mobile device.
You can increase the conversion rate or even average order value by improving site navigation, website speed and offering simple online purchases to mobile-first customers (a PWA solution – e.g. Vue Storefront, will be helpful here).
Audit your checkout process & simplify the checkout experience
Customers expect the checkout process in your online shop to be quick and effective. Your checkout process must be seamless and provide a simple way for customers to buy your items. Sometimes a time for the inefficiencies of the checkout process leads to abandoned carts and the loss of loyal customers. Starting with a layout of the basket, and ended up with the preferred payment method, there's always room for improvement. Consider offering the most popular payment methods such as Google Pay, Apple Pay, and secure mobile wallet. This will not only benefit you on Black Friday as well as all year round.
A single-click shopping system allows customers to purchase items within a single click. Businesses can use one-click purchasing by using these options:
Add dynamic checkout buttons to increase mobile payments.
Speed up the checkout process and display the buttons directly on a product page enabling customers to order instantly or add an item from their shopping basket.
Offer one-page checkout. What does it exactly mean? Information about delivery, payment, and shipping is displayed on just one page, so the customer doesn't have to go through many steps to finalize the purchase.
Do you have your eCommerce built on top of Sylius? We have created a one-page checkout plugin!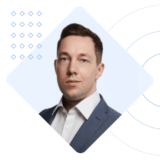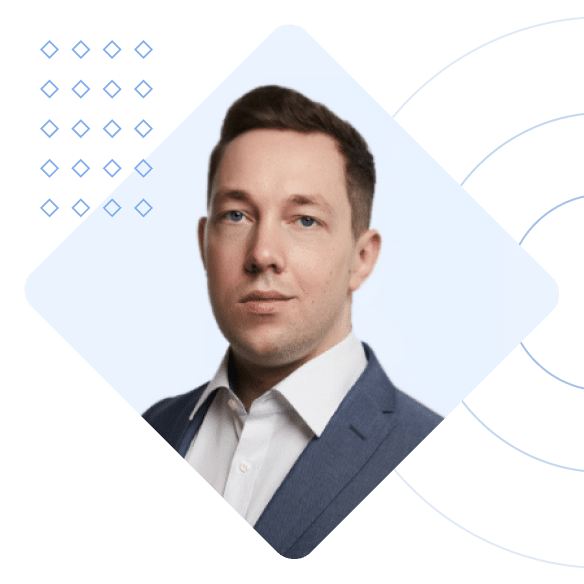 Do you want to see the whole demo of Sylius? Schedule a call with our eCommerce expert!
Black Friday marketing ideas for eCommerce
Marketing strategy for Black Friday and any other holiday season should increase band loyalty and end up with satisfied customers. Below you will find a few Black Friday marketing tips to boost your holiday sales.
Cross-sell and up-sell
Cross-selling and up-selling techniques help to improve sales. During high season holiday promotions cross-sell is considered a time-sensitive opportunity in the market. Cross-selling involves buying complementary products such as smartphones and screen protectors, computers and monitors, shoes, and socks. The main purpose of cross-selling is to improve the overall buying experience of a customer. It is more focused on increasing the sales volume. However, it is necessary to pair up the right products; otherwise, it will not work.
Up-selling offers a new (more expensive or luxurious) version of a product. Examples: you have picked out sunglasses, and the sales representative offers you to add UV protection for an additional cost, you order a pizza and someone offers you the same pizza in a larger size. Therefore, it is more focused on increasing the sales value.
To execute these campaigns you will need a product recommendation engine that can be used to execute cross-selling campaigns.
Boost your sales in Sylius using Cross-selling Plugin or Catalog Plugin.
Encourage "wishlisting"
Wishlists bring benefits to both retailers and consumers. The customer provides a safe and easy place to hold the products they want to purchase. Retailers can use the data to know more about the most desirable products or even create customer groups. During Thanksgiving Weekend wishlists can be efficiently used in various ways. Those wishlists help retailers collect information and make detailed decisions over discounting and analyzing their buying process to increase brand loyalty.
Check out the BitBag Sylius demo built on top of the core framework.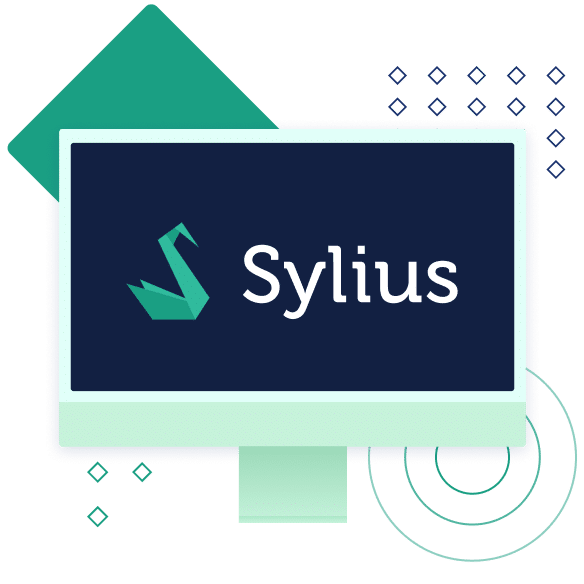 Give the gift of giving back
Some businesses do not like Black Friday marketing campaigns entirely. Others use this opportunity to collect donated money from their profits.
Everlane donated 10% of the Black Friday deals to the ocean protection charity Oceana to prevent the production of single-use plastics.
Leesa mattresses used #GivingTue to encourage sales and again to remind everyone of a new mattress every ten they sold. Giving Tuesday refers to the Tuesday before Thanksgiving and is aimed at creating and celebrating an international day of charitable giving at the start of the holidays and to the Christmas period.
This kind of advertising is normally very successful and will generate a great return because it provides consumers an excellent reason to justify their purchases.
Optimize website landing pages
For sure your eCommerce has many subpages, but do you send traffic (from ad or search engine) to dedicated landing pages informing about the upcoming sale? Holiday landing pages will help you get organic traffic from individuals searching for particular offers but also meet the intent of shoppers who came from your advertisements, social media, and email marketing campaign. You may also use a banner or headline to send visitors to the offer, instead of a custom landing page to promote holiday sales.
Abandoned cart recovery
In 2020, Black Friday has recorded its average global cart abandonment rate at 78%. It means, that every 3 of 4 shoppers did NOT close their sale.
Email marketing related to cart abandonment should contain a direct reminder of what the consumer has left in their cart and direct, personal content that engages the readers, tempting them back onto your site. On a peak sales weekend, additional discounts can be offered for items of high value or for VIP customers as it helps customers begin to remove the purchasing barrier.
The right ads
Is that right for black Friday to begin with retargeting ads? Almost all advertising platforms now offer dynamic advertisement formats that allow you to integrate items from your shop and remarket to customers that already shown interest. Search engines such as Google or Bing offer to advertise to consumers already actively looking for a product or service and are thus closer to converting.
Suppose your brand is recognizable, the most loyal customers may want to buy something from you when they see graphic ads that are consistent with the brand's graphic design.
Offer flash sale
Flash sales are regular discounts or promotions offered for extremely short periods. In recent years flash sales have helped increase conversion by 35%. They use urgency and scarcity to raise rates of impulse purchases.
Flash sale can also be implemented for Black Friday e.g.
"Midnight special offer" for all those who shop between 11:00 p.m. to 1:00 a.m. will get a special price.
Flash purchase for just the final day of the cyber week
Flash sales generally engage new users and retain existing customers.
Deploy holiday lead capture and nurture sequences
Marketing emails influence customer loyalty. Some researches show that many online shoppers identified it as one of the factors influencing the purchasing decision. Email marketing plays such an important part in all marketing strategies. Those strategies are most effective when they allow a value-exchange such as "10% off when you sign up for our newsletter" or exclusive access to the pre-sales. Segmentation ensures that people receive emails relevant to the buyers' journey and encourages engagement and conversions. Segmenting eMail can produce better ROI according to an eMarketer study.
Quick wins to raise your position on Google
Metadata optimization – the most important for SEO reasons is the "meta title" tag, but also a description of your page – those two factors affect clearly on your CTR in search engines.
Optimize internal linking – take care of the right anchors and link to the most relevant categories/product pages/content.
Internal linking from "the strongest" subpages – check out which of the pages have the most external links (in most cases it is a homepage)
Analyze effects – it is possible that on-page activities will be insufficient to beat for top phrases and you will have to support yourself with link-building
Summary
The biggest sales are associated with a huge amount of data about:
Online customer acquisition sources;
New customers' demographics and their behavior on the website;
The products they buy;
Revenues for a specific period of time;
You can use this data to optimize your activities and adapt them to the changing needs of users.
Remember, that you are not able to take care of all aspects at the last minute and it is important to be aware of this. The key will be to prioritize tasks and focus on the things that you can implement and that will work. Remember that only constant work on your platform and strategies brings good results. If you are looking for a solution that won't let you down in terms of performance – talk to us!