Internet is undoubtedly a new-age revolution that has changed people's lives worldwide, enabling them to live a highly convenient lifestyle. With the advent of eCommerce, businesses can successfully expand and grow. It has completely changed the way businesses were conducted.
The opportunity to sell online has helped many aspiring entrepreneurs run their businesses even with their limited constraints. In addition, many companies are taking advantage of B2B eCommerce trends, from small startups to big brands, to expand their businesses and maximize their profits.
Consumers no longer want to venture to the heavily populated market to buy items in today's convenience-focused society. Instead, they feel more comfortable shopping things from the comfort of their homes, making eCommerce a flexible and convenient solution for both business owners and consumers.
What is eCommerce?
eCommerce means purchasing and selling goods through the internet and transferring money and data to complete sales. Therefore, every time business owners and consumers are selling or buying goods online are engaging in eCommerce.
What is B2B eCommerce?
Business-to-business eCommerce is undoubtedly the most popular eCommerce model. It refers to a business selling its goods and services to another business, just like a manufacturer and a retailer.
It usually involves selling products like raw materials, software or tools, and products that can be combined. B2B eCommerce has the potential to revolutionize the economy entirely, and many huge brands all across the globe are taking full advantage of it.
How does B2B eCommerce work?
In B2B eCommerce, people use an online portal to make purchases for their businesses or companies. To understand how B2B eCommerce works, replace the salesperson, order form, or storefront with an online portal.
It has become a more convenient and flexible solution for business owners. With an online portal, they can integrate their inventory management software with the suppliers, identify the inventory needs, streamline the entire transaction process, and ensure that their inventory never runs out of the high-in-demand products due to human error.
How has B2B eCommerce changed the business world?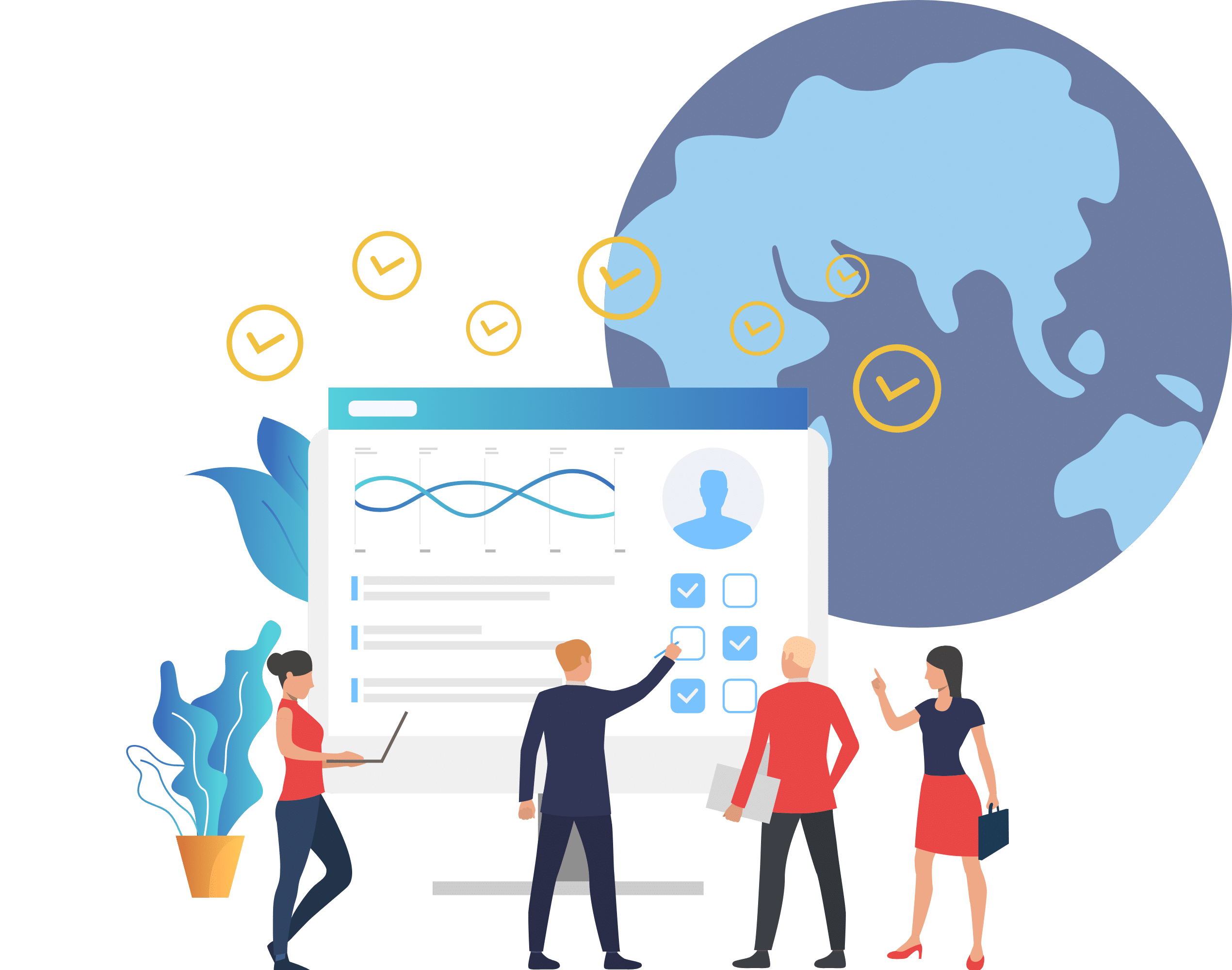 In recent years, B2B eCommerce has become immensely popular among people for all good reasons. It offers game-changing benefits to both consumers and sellers who are adopting this eCommerce model.
If you are on the fence about adopting a B2B eCommerce model, you will be overwhelmed by the number of benefits it can offer you and your business. Some of the major benefits of adopting a B2B eCommerce model are mentioned below.
Unlimited growth potential
A well-performing online store will help a lot in the growth and success of your business. This is because the clients or businesses will find your online store through different search engines.
Attracting more clients will eventually help in boosting your sales. However, that's not the only way B2B eCommerce can improve your business performance. Choosing the right B2B eCommerce solution will help you display all the relevant and specific product recommendations for your online store visitors.
By doing this, your customers will have the related products and items with the most features and functionalities, helping you unlock powerful up-selling and cross-selling opportunities. In addition, B2B eCommerce can open the door to new opportunities for startups and small businesses to maximize profits.
Customer centricity
It is evident that consumers now prefer do-it-yourself options for researching the products for making a successful purchase. Therefore, a well-organized eCommerce website will provide the consumers with access to self-service portals with product descriptions, customer reviews, shipping, as well as their account, order history, and delivery information.
By taking full advantage of the B2B eCommerce platform's customization capabilities, you can highly customize your online storefront looks and which products should be displayed based on consumer preferences.
Your online support staff will get tons of useful data on each consumer and their transaction details to offer excellent customer support service to your valuable customers.
Digital agility
B2B eCommerce can help the online store owners to launch their stores quickly, shift to new markets, react rapidly to recent B2B eCommerce trends, and scale their business to meet new demands and expectations of consumers.
With the B2B eCommerce model, brands or businesses can quickly establish long-term relationships or build a massive following on their own. Another benefit of B2B eCommerce is that it allows online retailers to reach a larger audience. In addition, they can build their online stores in many local languages, currencies and accept local payment methods by operating with different tax codes and law regulations.
Increased productivity
B2B eCommerce can help small businesses to big brands in increasing their productivity to a great extent. It allows brands to focus on building relationships with their customers instead of just merely taking orders.
Your online sales channels will be available 24 hours a day, seven days a week, 365 days a year, making it significantly easier for customers from different markets and even different time zones to purchase your products.
So if you want to maximize your business potential and increase your productivity rate, the B2B eCommerce platform will do wonders for you.
Flexible payment options
B2B businesses can process a variety of payment and invoice options. So, it will help you convert many abandoned carts to successful orders due to various payment options. As a result, consumers will choose their convenient payment method and make a successful purchase on your online store.
Customers are the heart of every business. To make your customers happy and satisfied, try to make their buying experience as effortless as possible. Convenience is all they want and expect.
10 Trends B2B eCommerce Trends to watch for in 2022
B2B eCommerce is changing fast every year. The covid 19 pandemic and many travel restrictions have encouraged consumers to make more online purchases to fulfill their daily needs.
With strict work from home orders, sales representatives or manufacturers are striving hard to establish greater trust, transparency and ensure goods or products remain in stock to meet the needs of a larger audience.
For small businesses to huge brands, it is necessary to be well aware of the latest eCommerce trends to stay ahead of their competition. No matter how well designed and well-organized your web store is right now, if you are not keeping up with the latest B2B eCommerce trends, you will fail to attract more consumers and maximize your profits.
Aspiring entrepreneurs must know the B2B eCommerce trends so they can take full advantage of them to expand their businesses. Are you wondering what will be the future of B2B eCommerce? Do you want to find out what trends can shape the success of your web store?
Some of the top B2B eCommerce trends that will dominate in the future
Consumers will prefer eCommerce marketplaces rather than eCommerce stores
After the Covid-19 pandemic, many businesses that didn't have a website before 2020 have suddenly launched their websites. They are working on their marketing strategies to reach a larger audience.
However, consumers favor convenience more, and many new online businesses fail to cope with increased traffic and the requirements of fast shipments. On the other hand, eCommerce marketplaces like Amazon and Walmart already have the experience and the proper infrastructure to meet consumers' increasing demands and expectations.
So, many consumers will prefer shopping for their desired products from eCommerce marketplaces rather than individual web stores as they will most likely provide them with a better buying experience. Also, it is more convenient for consumers to shop in a marketplace rather than shopping in multiple eCommerce stores.
In the future, more businesses will launch their products on eCommerce marketplaces such as Amazon and eBay to attract more consumers as these eCommerce marketplaces already have an increased traffic rate.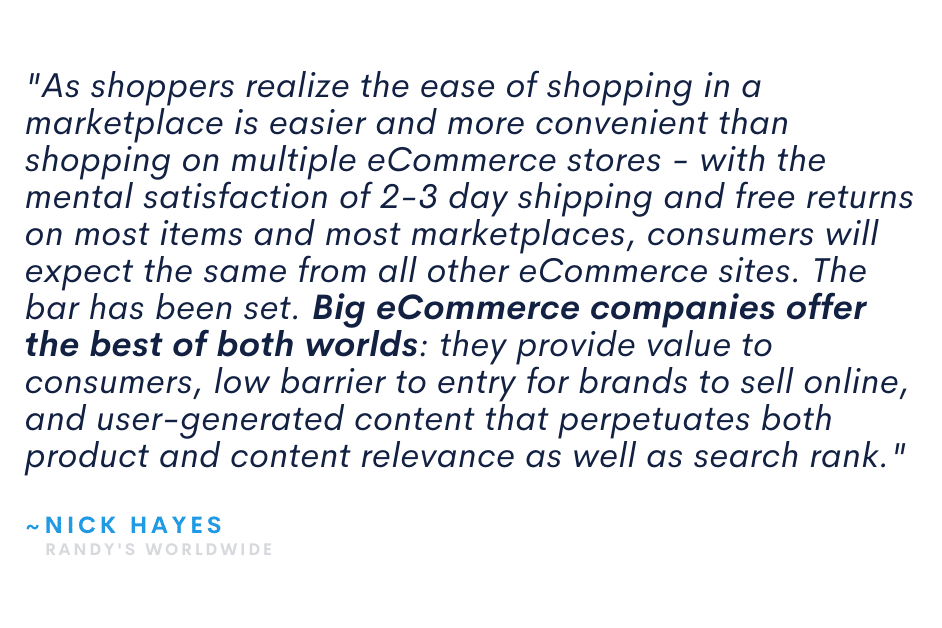 Publishing useful content on official websites to attract more consumers
Many small businesses to huge brands have already realized that they need to embrace SEO if they want their products or services to reach a larger audience. In the future of the eCommerce world, many businesses will offer a significant amount of educational material in blog posts, articles, or videos on their official websites. They want to show their consumers why they are experts in their industry, how their products or services are changing people's lives for good, and how to use their products.
It is a successful strategy that eventually will pay off well in the future. A piece of content or short video clips will be a huge lead magnet to attract more consumers to your web store.
By sharing your engaging and, of course, SEO-optimized content on your brand's official website or social media platforms, you will easily remain visible to a larger audience. In addition, these google high-ranked blog posts will help direct many new consumers to your web store.
M-Commerce
One of the B2B eCommerce trends that will dominate in the future will be the evolution of M-commerce. With 50 percent of internet traffic coming from mobile phones, mobile eCommerce will become a common occurrence in the coming years.
It is a more convenient way for consumers to search for their desired products or services through their mobile phones and make a successful purchase. Also, many B2B companies will prefer m-commerce as it will be easier for them to build a separate online sales system rather than updating the old one.
Many businesses are making their sites more optimized and friendly for mobile users to make eCommerce simpler and accessible for a larger audience.
According to the eCommerce Observatory of Politecnico di Milano, in 2021, 51 percent of online purchases were completed by mobile phones. So, m-commerce will be a game-changer for many businesses in the future.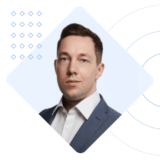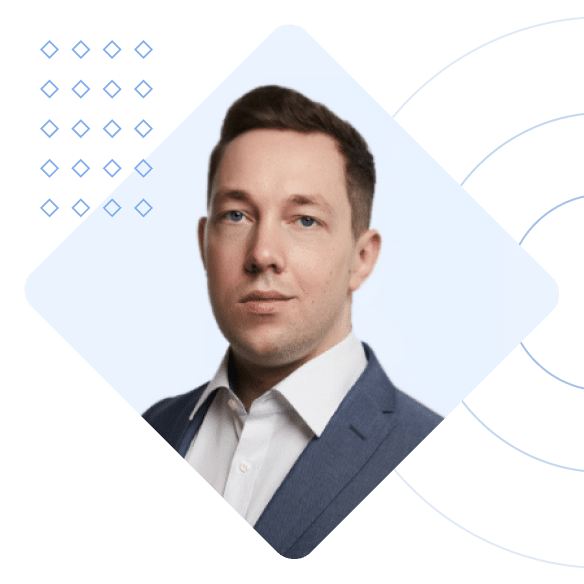 Benefit from trends using a flexible platform and stop limiting your business growth!
On-site personalization will be used for offering a better customer experience
Personalization will be the key to win the new eCommerce game in the future. Customers are the heart of every business. So offering them the best buying experience will help businesses in boosting their sales.
Implementing on-site personalization through different advanced technologies will help small to huge brands increase their revenues and reduce their bounce rates. In addition, strategies such as serving the customer on their preferred channel, allowing them to choose their payment method, and many others will increase their loyalty towards you and your brand.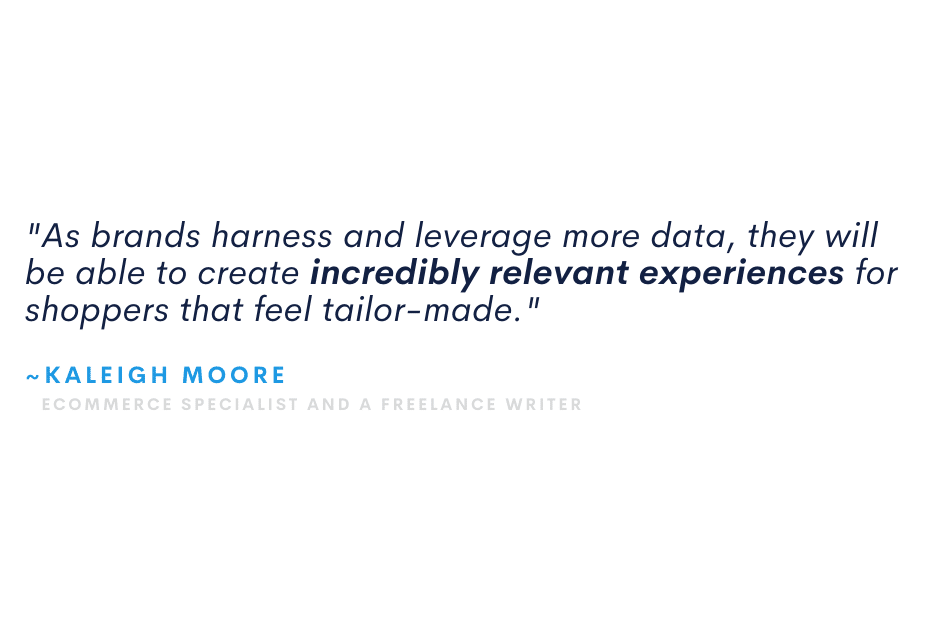 Augmented Reality to enhance the online shopping experience
Many people, when shopping online, are often confused as they are unable to see the product firsthand. However, Augmented reality technology helps resolve this issue to a great extent as the shoppers will now be able to visualize the products before purchasing them.
For example, the leading furniture brand, IKEA, has introduced the latest app that lets users visualize furniture in their living spaces. Now, how amazing is that?
It is predicted by Michael Prusich, the director of business development at 1Digital Agency, that more than 100 million consumers will shop using it in the coming years. So, if you are looking for a perfect solution to maximize your profits,
Voice search will take the lead in future
Online shopping is all about offering convenience to consumers by purchasing their desired products while sitting on their favorite couch. Many eCommerce businesses are coming with voice search applications to allow users to place their orders through smart speakers to make it more convenient. Isn't it cool?
For example, Star bucks allow its valuable customers to place their orders through voice commands.
Many top brands have even started making their eCommerce applications for voice assistants. It has been predicted by David Zimmerman, director of eCommerce solutions, that voice-enabled applications will take the lead in the future, and every business owner should keep an eye on this eCommerce trend.
Chatbots will help in enhancing the online shopping experience
Today's consumer wants to purchase their desired products in just a few clicks, and if this for some reason does not happen, they get annoyed and frustrated. However, a chatbot can step in and save the sale for your brand.
Many eCommerce experts have predicted that many brands will start using chatbots by the end of 2022. In the upcoming years, chatbots will get cheaper, smarter, and immensely popular.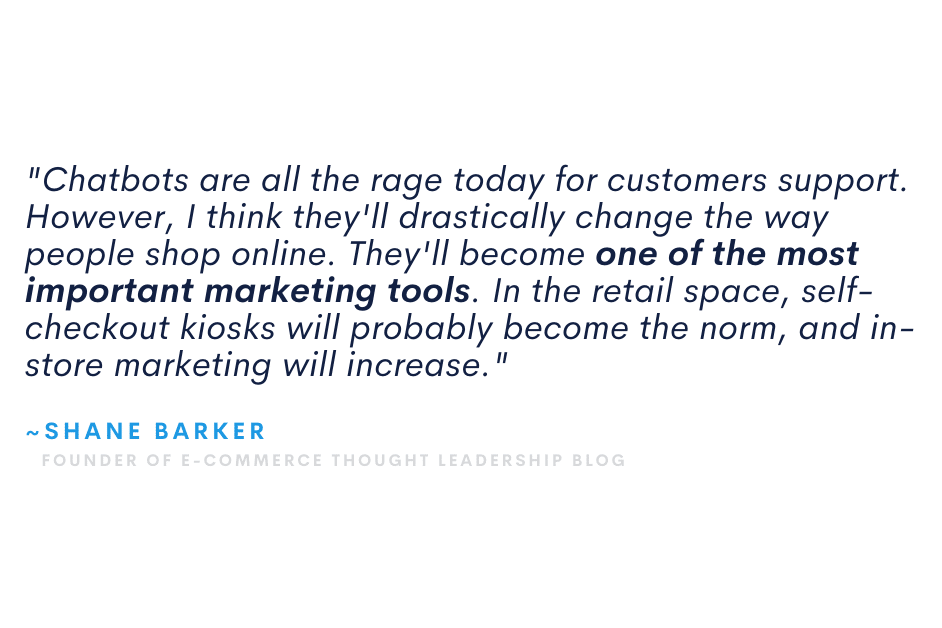 Using Artificial intelligence-powered solutions to know more about customers
Knowing more about your customer's needs and desires is necessary to serve them better for a successful business. Artificial intelligence-powered solutions will help you understand your customer's preferences through their purchasing behaviors so that you can provide them with personalized recommendations. 
In the future, many small to large-scale businesses will turn to AI-powered solutions to enhance their customer support service and boost their sales.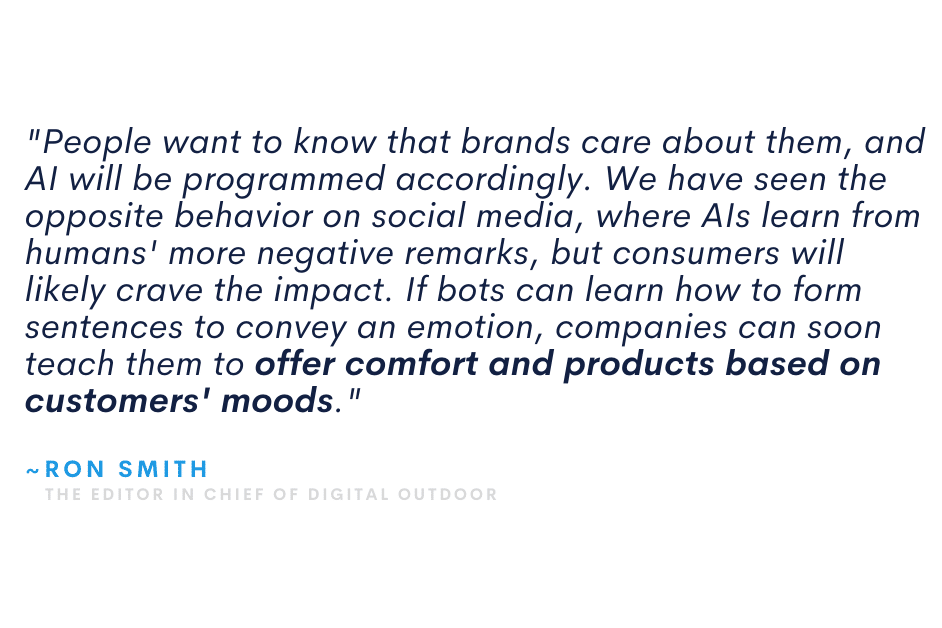 Headless eCommerce solutions for continued innovation
Headless eCommerce means allowing the separation of the front end and back end of the online store completely. Many eCommerce businesses are adopting headless eCommerce solutions to update the front end easily without worrying about its impact on the backend.
In the future, headless eCommerce solutions will be adopted by many businesses due to their flexibility and high-level customization capabilities.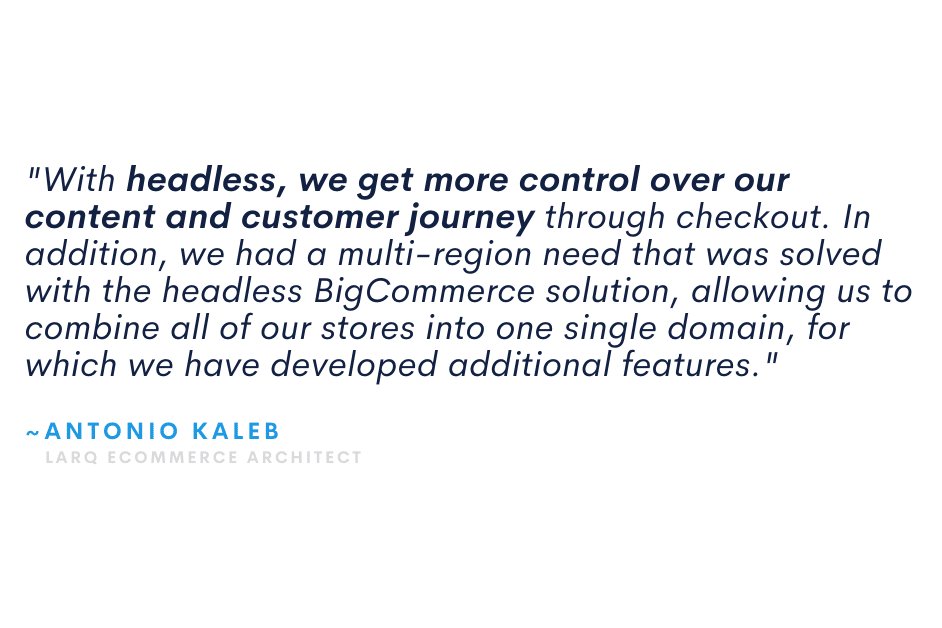 B2B eCommerce will become more environment-friendly
Fortunately, people worldwide are becoming interested in buying eco-friendly products, so many businesses are going the extra mile by providing green products (eco-friendly) to their customers.
Customers also appreciate these businesses and continue purchasing products from them. These businesses, due to being eco-conscious, always stay ahead of their competition. In the future, many B2B eCommerce businesses will start making eco-friendly products and take essential steps to protect the environment.
Conclusion
Last year was undoubtedly the year that nobody can forget. However, 2022 is the year of new opportunities, new markets, new challenges, and unlimited growth. So, every company or brand must consider these top 10 B2B eCommerce trends for their business success and growth.