Nowadays, consumers want to have complete control over their shopping experience. People want to buy things on the go through their mobile phones, tablets, voice-controlled IoT devices, and many others. With the rapid technology change, new trends in eCommerce platforms are also emerging. One of them is building a digital store successfully with a headless eCommerce approach.
Many retailers choose headless eCommerce platforms because they give them more freedom to showcase their products within different channels. The headless commerce architecture may have become the most discussed trend, but it is still one of the least understood ones.
Suppose you are looking for the best headless platform or just want to have a clear understanding of the headless eCommerce approach. In that case, we encourage you to read this blog to familiarize yourself with:
The headless eCommerce architecture
Its pros and cons
Why you, as an eCommerce business owner, should consider a headless commerce solution/headless eCommerce platform for your business
Example of a headless eCommerce sites
What is headless eCommerce?
Over the years, customers' needs were changing. What they need now are unique and customizable channels. There are more and more things that are included during the shopping experience (i.e., mailing, social media, IoT). It means that creating a qualitative and valuable system now is harder than ever. Here's why a headless solution could be the right choice.
Headless eCommerce separates backend eCommerce functionality from frontend technology, so despite creating one solution, it allows you to create several independent applications specialized in their fields that work together as part of one integrated architecture based on API communication. It gives the seller gains much more freedom in the possibility of presenting content and creating a personalized customer experience adapted to specific sales channels.
In other words, a headless eCommerce approach completely separates the presentation layer of your store from critical processes such as inventory management, transaction processing, and shipping, so you may focus on your online store's customization and customer interaction without worrying about its impact on those processes.
What is headless eCommerce architecture?
In simple terms, headless architecture refers to wrapping up all the business logic and functionalities in the set of APIs powered by specialized back-ends. The main aim of headless commerce architecture is to push your business data and content to all your desired headless commerce platforms through APIs, so you can choose the way you want to build the front-end for different sales channels.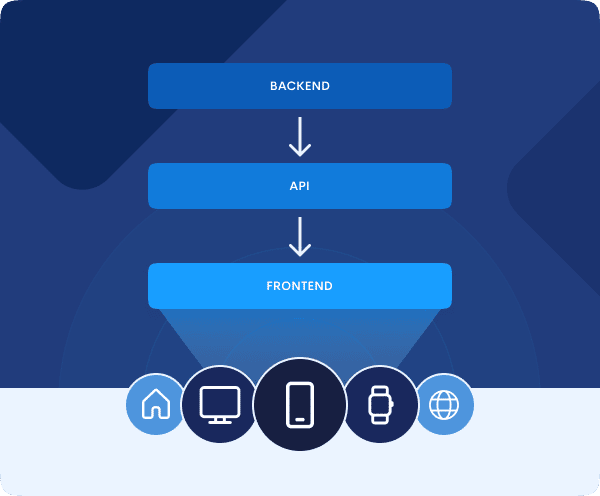 The headless commerce system, as a part of the broader composable commerce approach that includes multiple types of solutions:
It is an extensive topic for a separate article, but in short, in headless commerce, the front-end and back-end can work independently. Meanwhile, each element is independent in composable commerce and combines into a well-thought-out system (the graphic below illustrates both approaches). As a result, companies that decide on this solution will be able to choose each component separately, which will significantly affect the better fulfillment of needs and unique implementations in terms of the business model.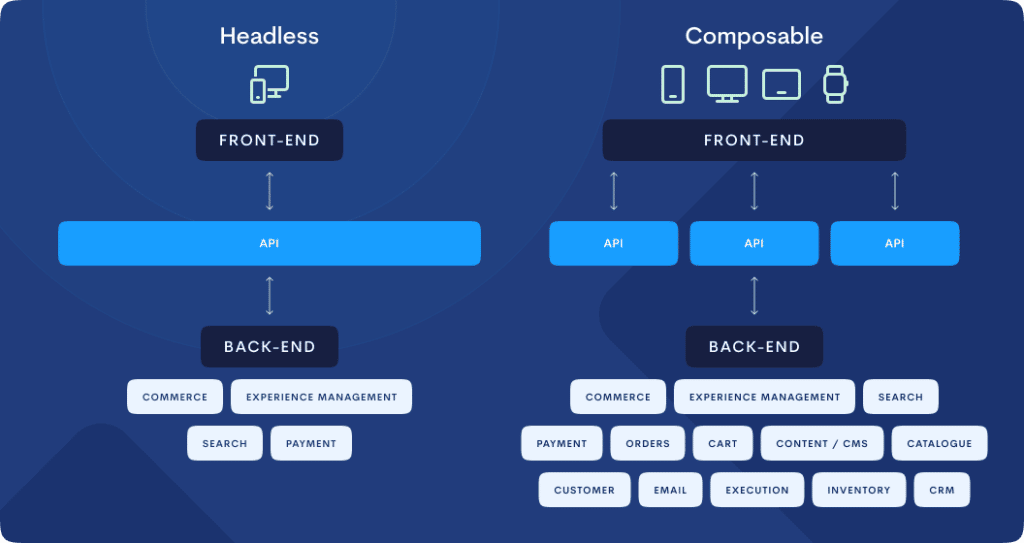 Why should you consider headless commerce platforms for your business?
These days businesses cannot be limited to one sales channel. They need to tailor experiences for different channels, such as mobile phones, tablets, IoT, and other devices while keeping the overall buying experience consistent across their brand or company. This task may be complicated with traditional eCommerce platforms and sometimes even impossible due to limiting, heavy monolithic systems.
So, what are the reasons why you should consider a headless solutions for your business (and at the same time, what are the distinguishing features of the best headless eCommerce platforms)?
Quick changes
You can release new transactional touchpoints to your headless eCommerce platform to keep up with the demand as soon as the customer technology changes. That is because you don't impact the eCommerce logic while making changes only to your front-end.
Customization and personalization
A headless eCommerce platform allows turning the creative vision of your designer into reality without hitting yourself with multiple restrictions. In other words, you may go into different templates and themes for the front-end for each channel separately.
What are the benefits of the headless commerce approach?
Headless commerce can undoubtedly help you accelerate your business, but there are more benefits of headless commerce.
Great UX
Using tools dedicated to communication channels and enabling their independent development to ensure your customers are satisfied and remain loyal to your business by offering them the best customer experience.
Flexibility
Scalable architecture, which is easier to modify (you don't have to worry about the influence on other parts of the system). With a headless commerce solution, you will also be able to react rapidly to new market trends with a minimum cost of back-end development (thanks to the ease of switching the fronts of the same store).
Long-term savings
It may seem that choosing headless eCommerce platforms might be more expensive than traditional eCommerce platforms. As time goes on, you will be able to save your company's time by customizing your website and reacting to market trends rapidly, thanks to the flexibility and increased agility provided by a headless commerce solution.
Smooth operation
With headless eCommerce, you will get a lower risk of breakdowns (e.g. temporary lack of access to ERP resources will not disable the online store)
When do you need headless?
Undoubtedly, the concept of headless eCommerce has been gaining in popularity in recent years, which is perfectly illustrated by the following Google Trends chart.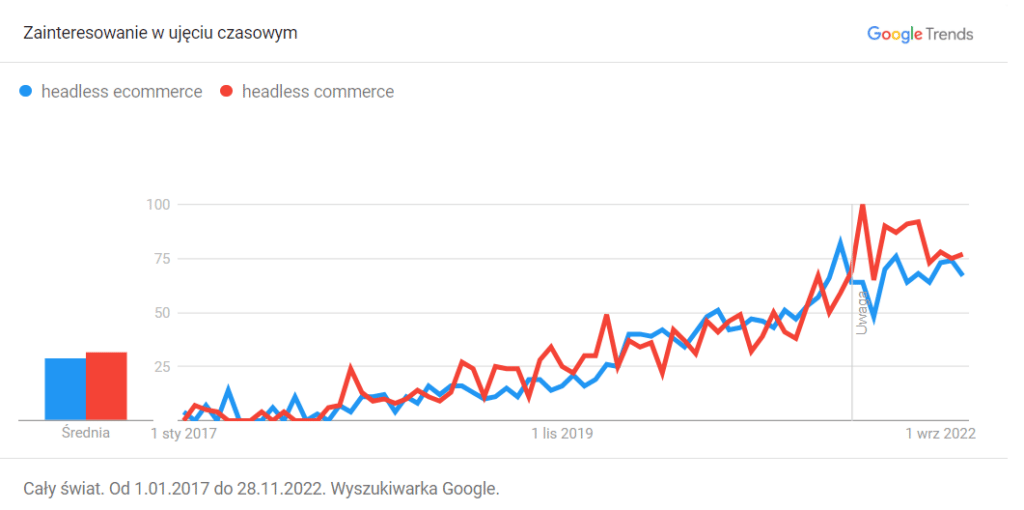 Making important business decisions (such as changing the platform and approach to creating eCommerce) cannot be based only on trends. That's why when thinking about headless eCommerce, you should adapt it to your business – if you are a small or large company, who your clients are, and what type of channels you want to use. Don't put all your eggs in one basket. If you don't see chances for a quick (or any) return on investment, there's no need to create an advanced solution. Think about how to do that step-by-step.
If you are familiar with some of the sentences described below, you should think about delving into the topic:
Content marketing is the leading way to promote your brand and acquire customers.
You want a unique and original user experience on many platforms and every shopping path stage
Your web store is serving an international market with several frontend versions supported by the same backend
Your CMS is filled with content, and you want to add an e-commerce
You have separate sites to public content and selling and want to join them
The key to success is building scaled architecture with the minimum functional scope appropriate for the scale of a given business (so-called MVP – minimum valuable product) and its agile development in terms of current needs.
Headless Commerce solutions
With headless eCommerce platforms, you can therefore integrate and test new connections, interfaces, and touchpoints more quickly than ever before – with no disruptive effects on your core business. Here are some of the examples of the best headless eCommerce platforms that you can trust for your company or brand.
Headless eCommerce backend – Sylius
Sylius is an open-source headless eCommerce platform for both SMBs and Enterprise that need custom solutions. Sylius headless eCommerce platform will help you offer your customers the desired experience. It is available in two versions: open-source (Sylius) and paid (Sylius Plus).
Sylius Plus pricing is available here.
It is a robust engine that can help many aspiring entrepreneurs and business owners to build their personalized online stores. In addition, it provides a developer-friendly environment to set up the entire site faster than it can be on other platforms.
The Sylius headless commerce platform is the one that promises stability, easy maintenance, and a robust testing framework for ensuring quality.
Featured customers that trust Sylius headless Commerce platform
More are more brands running their businesses on top of Sylius. Some of them are:
Popsugar
Casa Palacio
BestValue
Tediber
Headless eCommerce backend – Shopware
Shopware is a popular headless commerce platform that helps companies or brands separate their front-end design from the back-end design to make any device platform for their brand.
Shopware helps brands and companies stay ahead of their competitors by offering their customers the best buying experience and personalized shopping path. Shopware offers all the functionalities that are necessary for building an online store and handling its operations efficiently, focuses on marketing, and provides an intuitive interface.
It has a dedicated solution for the front-end – Shopware PWA, which is based on Vue Storefront.
Featured customers that trust Shopware headless Commerce platform
Some of the businesses that decided to run their online store on top of Shopware are:
Aston Martin
BVB – International Online Shop
Intersport Twinsport
Instax
Headless storefront – Vue Storefront
Vue Storefront is a frontend Vue.js application used to display the eCommerce platform to the user. It's a lightning-fast frontend platform and battle-tested bodiless set of modular features that can be easily connected to various eCommerce backend applications in a glimpse of an eye.
What are the benefits of Vue Storefront?
Independent frontend application
Based on the Vue.js technology
Large community
Possibility of separate scaling
Tailored platform to business needs
Seamless integrations with backend applications
Platform-agnostic – various eCommerce engines can be connected
Summary
When looking for the right eCommerce solution, keep business goals at the forefront of your research. There is also worth carefully estimating present and future business requirements to pick the platform that will serve both. As you can see – it is not easy to determine if this solution is for you or not. Your consultant should be able to give you hard arguments about why and whether headless is appropriate in your case. It's also worth comparing costs before you make a decision.
At BitBag, we are working with worldwide customers on various eCommerce projects, including the ones that are an excellent match for a headless approach. If you feel like we might help you deliver a great eCommerce experience using top technology, feel free to reach us out on our contact page or the contact form below.