The Multi-vendor Marketplace is the perfect solution for online stores with multiple independent sellers and virtual shopping malls with various separate departments. The marketplace functionality allows different sellers to manage and sell their products in specific categories.
The marketplace administrator collects a commission on sales, and the entire process of settlements between sellers and the owner is automated. In addition, each vendor has its own administration panel to manage its products and orders.
In this blog, we will look at the following steps that should be taken by people who want to start their own multi-vendor marketplace.
What is a Multi-vendor marketplace website?
What is a multi-vendor website? Depending on the scale and model of operation chosen by its owner, a marketplace store can be a place with a vast and diverse range, but also a specialized one, gathering products from a very narrow group of categories.
If someone wants to understand the online marketplace concept, they can easily find the comparison to an actual shopping center.
Shopping centers' clients see many stores that offer various products in one place.
The Internet/multi-vendor eCommerce website is a place where many people come together to sell goods and services to one another, and there is a physical exchange between them.
Customers are then encouraged to visit eCommerce websites/specific offers from many vendors without concern about "who is the eCommerce owner"
The multi-vendor site has the company's business name, not the seller itself.
Good to know: a marketplace cannot be compared to so-called (price) comparison websites. Although they also aggregate offers from various sellers, they are used to compare them and redirect them to the target store to complete the purchase.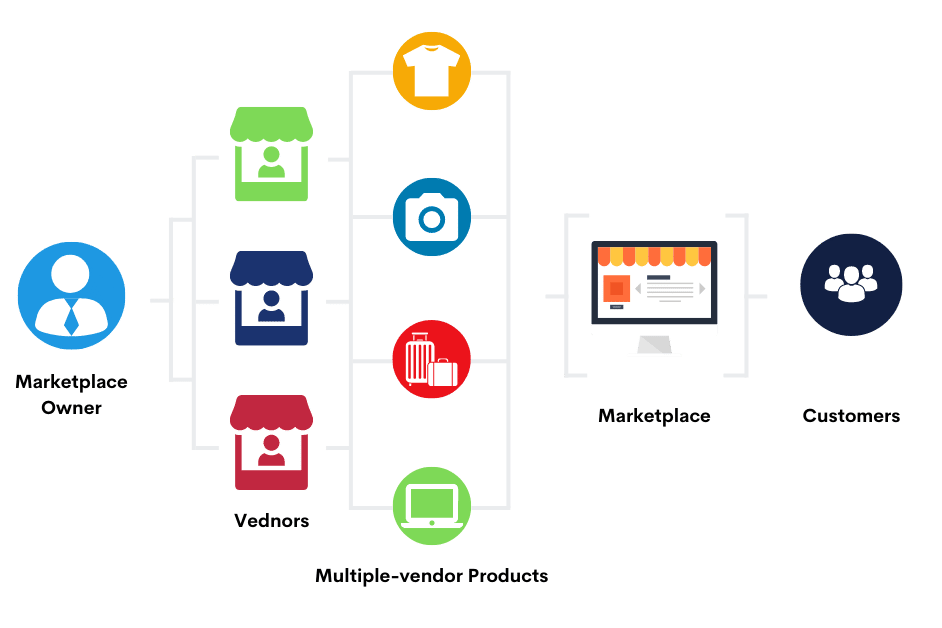 Examples of well-known multi-vendor marketplaces
Amazon
Amazon is the world's most famous marketplace. It generates a lot of revenue and is extremely recognizable. It started selling books, but thanks to marketplace solutions, it allows you to buy anything. In addition, it provides access to a huge customer base from many countries worldwide. The choice of countries for shipping is often limited but is still a huge base of potential recipients.
AliExpress
The giant from China allows sellers to sell their own products virtually all over the world. That is over 200 countries and countless potential customers. AliExpress is extremely popular and recognizable, and its low commissions can be very attractive.
AliExpress also works well in integrations based on dropshipping.
Facebook Marketplace
Facebook is another giant that has decided to enter the eCommerce market. Its marketplace allows for sales by individuals and companies. Its huge advantage is its incomparable customer base. A big plus, in turn, is the ability to sell almost any product. These can be promoted with the tools available within the platform.
eBay
One of the first digital marketplaces offering bid systems and customer-to-customer experience.
OpenSea
A digital marketplace selling NFTs representing digital goods, which could be purchased using cryptocurrencies. Its model is fully virtual and therefore is highly scalable.
Multi-vendor benefits for owners, sellers, and buyers
Marketplace & owner
Marketplace owners can get the most benefit from running them. The effort necessary to run the multi-vendor marketplace is minimal, and the profit is measurable. It all comes down to implementing the proper integration.
The role of the platform operator comes down to controlling the sellers and the products they publish. It is also necessary to develop the platform through its promotion. The more attractive it is to customers, the more salespeople it will attract. As a result, profits from sales generated by it will also increase.
Advantages of marketplace stores for their owners
Increasing your own product offer with an almost unlimited number of products
The possibility of establishing interesting business relationships
An additional permanent source of passive income
Flexibility in cooperation with each subsequent seller (including setting rates and commissions)
Disadvantages of marketplace stores for their owners
The need to implement appropriate solutions (choosing the right multi-vendor website design company and solution)
Implementation of an appropriate promotion strategy
Marketplace & seller
When deciding to use the services of marketplace platforms, sellers count on additional profit. It is pretty obvious. Not from today, the most significant possible diversification of sales is essential.
Advantages of the marketplace stores for sellers
Immediate access to a robust customer base
Additional sales and promotion channels of the company or brand
Low cost of access with a high degree of conversion
The ability to fully control your own products
Increasing your position in search engines
Disadvantages of the marketplace stores for sellers
The need to compete with other sellers on one platform
The need to adapt to its rules
Fees and commissions related to operating within it
Less recognition for customers – they mostly associate the platform
Marketplace & target customer
Consumers drive the popularity of the marketplace solution among platform operators and store owners. As practice shows, they may quickly fall in love with the convenience of the entire solution. However, they also may feel a few shortcomings resulting from its specificity.
Advantages of marketplace stores for customers
All products under one roof, without having to search the Internet for them
Access to the broadest assortment
Finalizing orders in many stores through one account
The platform guarantees payment security and certainty of receiving the product
Disadvantages of the marketplace stores for customers
No direct contact with the store (not always)
Products from different sellers sometimes may be shipped in separate packages – you have to pay for each package separately
How to create a Multi-Vendor marketplace website – what do you need to know before starting?
"How to make a multi-vendor website?"
There are some things you need to take into account before you start building your multi-vendor platform.
What you want to sell – product niche
To get started thinking about setting up multi-vendor online marketplaces, you need to determine what service or product your platform will offer.
There are several options:
Physical Goods (e.g. fashion-related products)
Digital Goods
Services
Appointments and Rentals
RFQs & catalogs
Auctions
Donations & Fundraising
Your business model
Next, you need to define the business model of your online multi-vendor marketplace, whether you want B2B, B2C, or other (they are described later in this article).
It will be crucial later when choosing your marketing campaigns and monetization strategies.
Financial issues in the multi-vendor market
As the owner of this type of model, you should consider approaching settlements with sellers. The most commonly used models are the two listed below.
Based on the commission model
In this model, the seller settles accounts with the marketplace owner for each sale made. The commission may take two forms: fixed and percentage. An adequately designed marketplace system will allow the owner to assign different commission terms to each seller, based on individual agreements, for example, commissions depending on the category, products, and industry.
Membership plan
In the subscription model, the seller pays a predetermined subscription. Usually, the fee is charged monthly, regardless of the sales performance. Depending on the plan level, the seller will have higher or lower limits regarding the number of products displayed or the number of commission-free sales. The marketplace owner can also allow a free membership plan where the sellers can only list restricted products.
You can attract more sellers by offering a free subscription for a limited period or a limited number of products.
Features set
Consider the features and MVP (minimum viable product) you want to have and build a multi-vendor website with those in mind. When you point out the functionalities that are typical for the industry in which you decided to operate – it will help you choose the platform more efficiently (e.g. technical products, NFT sales). It is worth looking at possible competitors (even in different markets).
How to create a Multi-Vendor website – Choose one of the business models
B2C – Business to consumer
B2C companies sell products to their end customers. The B2C model is the most common business model, so many unique methods are under this umbrella. As a consumer, all the goods you buy from an online store (such as wardrobes, household items, and electronics) are part of the B2C transaction.
Buying a smartphone from an Apple Store or purchasing a designer bag from their official websites are a few examples of B2Cbusinesses.
B2B – Business to business
In a B2B business model, one company sells its products or services to another company. For example, a medical software development company provides healthcare solutions to many hospitals, clinics, and other healthcare organizations.
C2B – Consumer to business
C2B businesses allow people to sell their products and services to other companies. In this eCommerce model, a website will enable customers to post the work and get it done by someone who has experience and knowledge of doing it perfectly.
For example, Upwork and Fiverr allow freelancers to work for different businesses and companies. Also, other companies approaching bloggers or influencers to promote their products on their social media platforms exemplify the consumer business model.
C2C – Consumer to Consumer
C2C business refers to an online marketplace that connects customers together to exchange products and make money by charging listing fees. The main goal of the C2C eCommerce business is to bring buyers and sellers closer and ease their commerce.
For example, eBay is one of the popular eCommerce marketplaces allowing consumers to trade with each other anytime. Also, Amazon is another eCommerce platform that enables businesses to sell directly to consumers and consumers to sell directly to other consumers.
---
We won't tell you how to create a multi-vendor website in WordPress; we can't even give a universal plan – all of the cases should be considered and created individually with a focus on specific needs regarding inventory management, payments, checkout process, additional plugins. If you are looking for multi-vendor website developers, check out our dedicated service (multi-vendor marketplace development) or contact us through the contact form.
---
First Steps to Starting a Multi-Vendor website
Getting all vendors on board is the winning edge of this model. Sometimes you don't have to worry about handling product inventories or shipping (of course, it depends on the model you choose), and at the same time, you may still generate high revenues through commissions.
When it comes to setting up a multi-vendor marketplace, there are some general steps:
Do extensive research, process mapping, and create a real business plan – it is about gaining information about the demand, target audience, and how to attract customers and vendors if your current position allows you to build a multi-vendor website.
Select the proper domain name – a short and simple name that resonates with your audience will be easier to remember.
Find robust and reliable web hosting.
Choose the right software [CRM / ERP / Marketing automation / PIM] and multi-vendor marketplace platform (e.g. for cloud – Mirakl).
Take care of a visually attractive and professional-looking website.
Maintain website security.
Check the performance.
Diversify payment methods.
Do the promotion – brand building, rethink marketing.
A multi-vendor marketplace is an online store that makes it easy to sell products and services from multiple vendors, but keep in mind that before you're ready to invite vendors to create their stores in your marketplace, make sure the basics of your site are in place.
How to promote and grow your Multi-Vendor website
In particular, the multi-vendor eCommerce marketplace should have specialized characteristics to beat out competitors. It needs to be responsive to the expectations and demands of modern users (e.g. merchants, entrepreneurs, and visitors).
To expand your business and strengthen your domain recognition, you should establish a strategy that works for you. Here are some general tips, but to launch a marketplace (and its marketing strategy) with success, you may want to think about the support from external marketing agencies.
SEO
Search Engine Optimization plays a crucial role. When your clients are looking for a product, you should rank in the first position in a search result. Online marketplace challenges include both targeting buyers and sellers, so your site's content needs consideration.
Referrals & virals
The more people talk about the website, the more they use it. So encourage your customers to invite people to buy from your website by giving them incentives and promotions or upgrading their eCommerce membership.
PPC
Paid ads help increase your visibility and boost your website traffic. When operating in the niche you can use long-tail/specific keywords to sell particular items to customers. It takes time to explore these keywords and test their effectiveness to choose the most profitable ads, but it is worth it.
Email marketing
Until the first time your marketplace has launched, you can collect the addresses for your customers to send e-mails to them. Give them special offers, share news and stories, and they will be more likely to buy in your marketplace. The most straightforward way to acquire an e-mail address is to encourage users to leave their e-mail address for your company's newsletters (e.g., special promotions and discounts).
Build Community
Make your marketplace a community – provide your marketplace partners with a safe place to communicate about your products and services. You can also contribute videos, blog posts, and forums to help build the community. So you gain more trust in your brand and increase customer motivation.
---
Looking for an open-source solution to set up your multi-vendor marketplace platform? Check OpenMarketplace by BitBag.
---
Summary
If you want to meet your customers' expectations, you should be aware of current trends in technology and consumer behavior. This article provided the basis that may help you with the direction and knowing what essential things to consider before investing in your project. We know that business-related decisions are always the hardest, so let us help you choose a multi-vendor eCommerce platform. We will provide you with professional advice during the non-sales conversation.