---
---
Statista says the revenue of the eCommerce software market will reach $6.79 billion in 2022. This gigantic increase means the (enterprise) eCommerce platforms are gaining traction among businesses today. For sure you are familiar with the most popular eCommerce technologies to start selling online, but things become more complicated if you are looking for the right eCommerce platform to set up your enterprise eCommerce solutions.
An enterprise eCommerce platform is a software that caters to the complex needs of enterprise business. It may be a self-hosted platform or a cloud-based one. Enterprise-level systems are tailored to your company and growth plan. An effective platform should be able to meet the demands you face now and should also grow with your business in the future. Any enterprise business (and not only enterprises) cannot afford to have data breaches, periods of site downtime, or bad user experiences.
This enterprise eCommerce solution needs to manage all sorts of tasks – from providing product catalog management to providing third-party systems. The complexity of these tasks is increased by taking into account a high number of orders, supporting multiple currencies and multiple languages. That's why, when choosing the right enterprise eCommerce solutions, it's so crucial for your eCommerce to cover all of the advanced features you will need.
What is an enterprise eCommerce platform?
Enterprise eCommerce solution carries more functionality than traditional online store software. We can define them as specialized business systems characterized by high efficiency and reliability. Enterprise eCommerce software, by definition, should be 'large software'. By "large", we mean large-scale software: software that supports multiple users, multiple roles, and supports key enterprise goals.
Enterprise eCommerce platforms are used to process large amounts of, often complex data, and to support or automate processes with their use. Thanks to their advanced functions, they improve the work of medium and large enterprises. The best eCommerce platforms should cover the following areas: the ability to add different pricing models, support of multiple currencies, a wide selection of payment gateways, multiple sites support (for example, for different locations, markets, or languages), connections with social media channels and marketing tools, security certificates, inventory management, third-party integrations or multi-store management.
3 features that distinguish enterprise eCommerce solutions
Scalability
The system should be designed with the company's development in mind, which is associated with an increase in the number of users, both in terms of architecture (code extensibility) and performance.
Security
In today's world, it is data that matters, and its security should be a priority for a software vendor. An SLA agreement, a modern and secure server room, hourly data backups, and the ability to restore the database from a backup within a maximum of several dozen minutes – these are the necessary requirements for the software (eCommerce platform) supporting the organization's business processes.
Integrity
The ability to integrate with the organization's IT environment in order to optimize internal work processes and enable work on the same data stream, updated in real-time. This can be done, for example, via an API.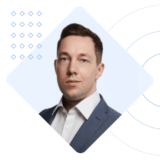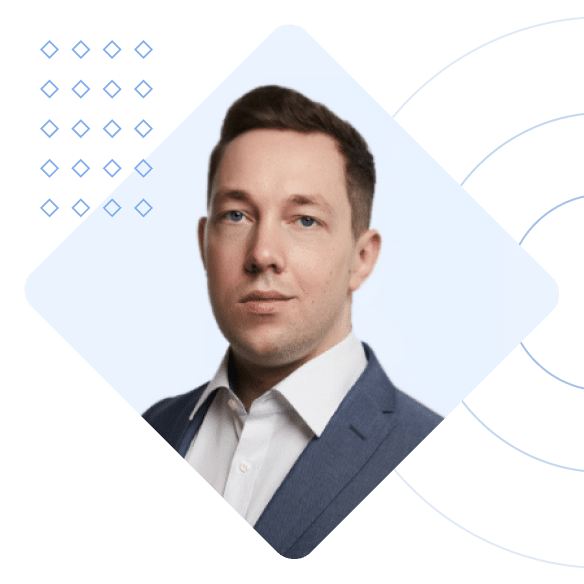 Need help with choosing technology and collecting requirements?
Types of Enterprise eCommerce Solutions (platforms)
The creation of various types of eCommerce (enterprise) platforms is a response to the different needs of entrepreneurs or people who want to do business on the Internet. A small shop will have completely different requirements than a large, mass shop, serving enterprise clients with a turnover of several million euros.
Main types of eCommerce platforms:
Open-Source eCommerce platform(s)
The huge flexibility and popularity of open-source solutions mean that many online stores are placed on such platforms. This solution is often chosen because the installation version is free of charge. The (own) hosting cost is an additional fee.
Open-source solutions allow you to freely modify the store, thanks to full access to the code. Thanks to access to the code, you can not only freely introduce new functions that will only appear in your store but also freely change the graphic design. All open-source platforms have access to a large number of different modules for any type of payment, delivery, or sales support tool. Of course, some integrations require the purchase of modules, plugins, or some work. These will primarily be integrations with ERP, warehouse, and accounting systems, but also all kinds of loyalty programs or CRM systems.
Open-source eCommerce platforms include, above all, hundreds of thousands of stores in the world, which affects the possibility of threats from hackers, but gives a huge field for testing and finding gaps in their security. The scale of such a platform influences the development, available modules, functionalities, and integration on the global market.
SaaS solution (Software as a Service)
SaaS platform(s) are a popular and quick-to-implement solution for creating online stores. Thanks to it, an online store can be set up in a few minutes and the longest in a few days. SaaS platforms are often called cloud/hosted eCommerce platform(s) because they are hosted in the cloud of the company that built them. This solution is especially dedicated to small and medium-sized eCommerce businesses. For enterprise businesses, this solution is not enough. It is insufficient to cover advanced business needs.
Dedicated platforms
Dedicated platforms are created completely from scratch. It is a solution recommended for specific stores whose products or business specifics require advanced configurations. The implementation of such a store is very time-consuming, but if your company wants extraordinary eCommerce and, in addition, tailor-made, this is a good solution.
The decision to choose a dedicated platform should be extremely well thought out. By choosing such a platform, you decide to cooperate with one company – the web development agency that created the platform. Dedicated implementations are relatively expensive, burdened with high risk and the necessity of constant development of the system. For this reason, operating a dedicated platform will also be expensive. It will be virtually impossible to transfer such a complicated and individually designed system to another agency.
How do I choose an enterprise eCommerce solution?
What are the best enterprise eCommerce platforms? Modern/best enterprise eCommerce platforms come with many great features but they require some (advanced) work in order to install and integrate. Deployment and integration in a third-party system and configuring products take time. So you need to get some good advice first to find an eCommerce platform to migrate. Choosing your enterprise eCommerce platform is crucial for company growth (for becoming an enterprise business). If you are looking for advice, we provide Vision-To-Plan eCommerce Workshops – a comprehensive service that involves collecting requirements and matching appropriate technologies for them (in this case – the right enterprise eCommerce platform).
Know your Total Cost of Ownership (TCO)
The TCO can significantly contribute to the success of enterprise businesses. For the implementation, you have to pay some costs: from consultancy fee to development fee, plus many other expenses just to set up the platform. You should review how these changes will affect TCO before deciding on a new enterprise eCommerce platform, including licensing, hosting, support retainers, and more.
Think about the main eCommerce features and integrations you want to have
As you run an enterprise-level eCommerce business, the top enterprise eCommerce platforms apparently do some things well. It's important to note down any (existing) features and eCommerce functionality you need to have in your new enterprise system. You may ask yourself the following questions before choosing enterprise eCommerce software:
Should your enterprise eCommerce software support special integrations (payment gateways, customer data management, etc.)?
Does your business require specific page development features or directory requirements?
Do you need a dedicated account manager?
Do you need support for an omnichannel strategy? Do you want to expand into brick-and-mortar stores, sell on social media, or open other sales channels?
Do you have more than one online store that needs to be hosted on the same platform? Should it be hosted on your own servers? Do your networking capabilities enough?
The absolutely crucial things for the functioning of enterprise businesses should be described here. If you are looking for a checklist on how to prepare for a project launch, click here.
Identify potential restrictions and bottlenecks
If you already have an enterprise eCommerce platform and looking for the new one, you probably know your bottlenecks. Now it's time to outline what specific ways your current platform isn't meeting your needs or it will not work in the enterprise space.
What are your pain points?
Is your current platform outdated, unstable, and unreliable for handling your peak traffic conditions or a high amount of (customer) data?
Do you need a 24/7 customer support team, a dedicated account manager, and customer relationship management?
Are key information systems in your organizations (ERP, PIM, CRM, WMS, etc.) difficult to integrate with your existing platform?
Is your total cost of ownership increasing?
Do you have any concerns about the security of your existing system?
Do you rely heavily on your hosting company for server performance?
Many enterprise businesses operating in the eCommerce industry struggle with problems and bottlenecks. It doesn't matter if it is one of the many enterprise eCommerce platforms such as Salesforce commerce cloud, Shopify Plus, Sap commerce cloud, Magento Commerce (Adobe Commerce Cloud), BigCommerce Enterprise, Oracle Commerce Cloud, or any of the other eCommerce platforms.
Estimate the cost and establish the budget for your eCommerce platform
Enterprise eCommerce platforms may have quite a high cost of ownership but in the long term, a properly-designed solution can cover the investment. The implementation of such an advanced system requires a lot of work and time. As a result, programming a simple functionality is a whole process involving many people. At this stage, it is important to ask the question – "what is my budget, and what do I really care about?" from experience, extensive knowledge, or skills. Remember that by purchasing cheaper services – you can expose the project to its implementation by juniors or an inexperienced team. This is not a rule, but keep in mind who exactly you entrust the project to – it is not implemented (yet) by machines, but by people, and the more experienced ones simply make fewer mistakes.
The turnaround time is very much related to the cost. The higher cost essentially results from the greater workload and therefore more man-hours. Each element of the manufacturing process takes time, but it can be shortened by eliminating process elements or modifying design requirements. You have to remember that if something is to be done right, you need to spend more time on it and thus pay more. To conclude – the issues of costs and working time are best summarized in the picture for years: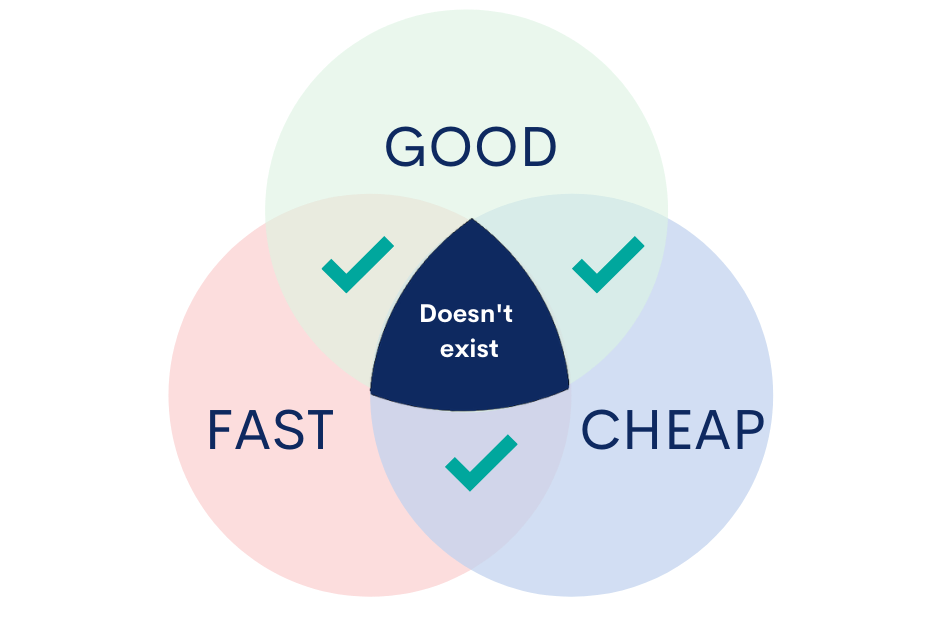 Work on security measures
At each stage of eCommerce solutions development, which stores sensitive (customer) data, you should take care of tests or code reviews by a separate programmer (preferably specialized in this field), who will be much more likely to catch the imperfections (code review). The emphasis on very high standards of security and compliance with published recommendations is associated with a greater workload for the implementation team; greater workload is easy to guess – longer implementation time and higher cost. With security, it is a bit like with optimization of performance – it can be refined endlessly. So let's clearly define the critical requirements.
Performance
Your eCommerce platform must run continuously, especially in the event of active sales, holidays, or other promotional events. If increased online traffic slows down servers and slows down page loading, you will lose potential customers. Your enterprise business eCommerce platform needs to be able to run efficiently every time, but if you know, you're going to have seasonal peaks or heavy daily traffic, choose a platform that will handle the traffic to keep your customer experience as it should.
Integrations
Each company will have unique needs in terms of integrating its website. As we mentioned before – make a complete list of external systems that you want to have integrated with your platform.
Ensure mobile-friendly
Nowadays, the number of mobile users often exceeds the number of users who order from a desktop computer. Companies need to provide mobile versions of their enterprise eCommerce platforms. Your eCommerce platform should fit both desktops and mobile phones. Make sure you create a consistent environment on mobile devices that will be consistent with the desktop version. The intuitive platform will surely increase your sales.
Provide SEO friendliness and website builder
Enterprise eCommerce platforms should offer search engine optimization to help potential customers find your business on the web. While more and more companies recognize the importance of SEO in their sector often, the platforms themselves do not have built-in features and require external integration to optimize their website. Take this into account at the beginning and take care of the necessary integrations.
---
Types of Enterprise eCommerce Platforms
There is no one-size-fits-all business enterprise eCommerce platform, so you should consider selecting an eCommerce solution based on your economic and technological requirements and possibilities. There are many possible solutions available on the market, so we cannot pick one of the best enterprise eCommerce platforms. However, we will introduce you to enterprise eCommerce software that we base our projects on.
Sylius
Sylius is an open-source, flexible software focusing on reflecting business operations into enterprise-level eCommerce platform. Thanks to the headless approach and seamless integration it can be integrated with any enterprise software, third-party apps, etc.
It has two versions: open-source Sylius and commercial one – Sylius Plus.
---
Benefits of Sylius Plus

---
Shopware
Shopware 6 is an open-source eCommerce platform based on Symfony, focusing on customer relationship management and personalized customer experiences. It can be a good choice for one of the enterprise eCommerce solutions as it covers advanced features and business needs being at the same time, marketing friendly.
This eCommerce solution is available in the following editions:
Shopware Community Edition
Shopware Rise
Shopware Evolve
Shopware Beyond
Shopware Rise, Evolve, and Beyond may appear as fully hosted eCommerce platforms or self-hosted ones.
So, what are the best enterprise eCommerce platforms? The answer is: it depends on the specifics of enterprise businesses – needs, budget, time, and many other factors.
If you are looking for an enterprise eCommerce platform or a regular one, we may help you make the choice. If your vision is not clear yet, and you are not sure what your system should ultimately look like, take a look at the Vision-To-Plan eCommerce Workshops. Together, we will define goals, set an MVP, and select the appropriate technologies, thanks to which you will receive a ready eCommerce implementation plan. Do not hesitate to contact us; we are here to help you grow!