Remind yourself a recent conference you have attended. It doesn't matter if there were 10 people or 3000 with you. Each of them had at least one email address, and thus – a potential mailing recipient. It gives a picture of the enormous reach of email marketing.
An email is a form of advertising that cannot be ignored. It is delivered to one of the most private places on the web – an email inbox. It makes email a very personal channel of communication between your brand and its customers.
Since sending large amounts of messages is not costly, the return on investment (ROI) can be huge. There is no second channel of reaching the customer on such a high level on the Internet. Additionally, there is no other channel that we use so often. When are you viewing your email inbox? If you have notifications about new email enabled, you probably use email frequently. And there are a lot of people just like you. It does not matter if you are the owner of a small or large company. Email marketing is a solution for everyone.
What is email marketing?
Email marketing is a part of email campaigns. It refers to sending emails to prospective and existing customers to gain information about a business. The email service provides mainly transactional promotion and lifecycle messaging for eCommerce. We've covered this further below.
Why invest in email marketing?
It's cheap
There is no other inexpensive way to create and promote an ad. Television and radio commercials are worth hundreds of thousands of dollars. At which most of us turn down the set or go to make a second tea.
For small businesses, email is often the only fast way to effective and measurable advertising on the Internet. Therefore, we encourage you to explore the topic.
Email marketing is simple
To create a professional email message, you only need the prepared content because you will build most of it with the help of editors. Lack of HTML knowledge is not a barrier because even without it, you can create beautiful emails.
Email is fast
You don't need weeks of online campaign planning to make email marketing more effective. You also dont' need a team of analysts, specialists, and technicians who will make sure that everything is displayed properly.
An idea for a great mailing can find you everywhere, even on a walk, and after a few hours, it can be a ready idea delivered to your loyal customers.
It is also worth mentioning that the distribution of up to a million messages can take less than an hour! If you properly manage your contact list, thousands of people can see your ad quickly.
Email is measurable
In the admin panel, you can check what happened with your message. Has it been delivered, has someone read it, clicked on links in the content, or has visited your online store and made a purchase? This form of advertising gives you the full and immediate result. And thanks to quantitative and qualitative data, you will be able to plan your next activities and develop your newsletter into a professional communication strategy.
Email is interactive
It is a form of advertising that your recipient can react to. For example, if you get a leaflet on the street, all you can do with it is:
Put it in the rubbish bin immediately,
Put it in your pocket and then in the dustbin.
eCommerce email marketing gives you a lot of possibilities. Your customers can reply to it, click it, view dynamic gifs, and much more.
The response of your customers is essential. Thanks to customers' feedback, you can constantly develop your business and adapt to their needs. If your messages are written interestingly and have the previously mentioned gifs, your subscribers will surely recommend your company to their friends, making you gain new customers.
Types of email communication
Willingness to convey a message, advertising a product, informing customers about a promotion, sending a coupon, guide, or informing about your online store. Email can be used to achieve each of these goals.
Below you will find some of the most frequently sent types of mailing:
Newsletter
The newsletter should be used when your company wants to build customer relationships. A good template design will make this task easier for you in the future. Prepare it in such a way that you can only replace its content without breaking the structure. Your recipient will quickly get used to its appearance and layout and thus – will start to associate it with your company.
The frequency of sending the newsletter depends on many factors, including the industry in which you work. If you don't know what the appropriate frequency of emails should be, specify the day of the week on which you want to send messages and then periodically change the frequency of sending by observing the opening statistics. After a few months, you should get to grips with it and have clear information about what time to send the newsletter.
It is a good practice to send messages rich in premium content that are only available to newsletter readers. Don't put them on the site then. There will always be someone who will want to verify it. Trust in business is the key.
Sales catalogs
If you are focused on selling specific products, you may prefer to send mailings in the form of a catalog. Thanks to it, you will present the entire spectrum of your company's products. You can even divide your catalog into sections that correspond to the types of products you sell, such as household appliances, fashion-related things, electronics, multimedia.
It is worth paying attention to the appearance of such an email. Dividing it into columns with specific sections will certainly make it easier to read. And thanks to the limited number of products, you will improve the customer's decision-making process.
Remember that in order to sell a given product, you need to interest your recipient. The presence of the same products in several subsequent messages will surely result in decreased open and click statistics.
Announcements
All kinds of coupons, and ad hoc needs – promotional emails. The content usually includes urgent additional information that should not be sent in constant communication. These types of messages are created based on the principle of minimalism – one message, one call-to-action button, and the minimum number of characters.
E.g., "Only today for purchases over $ 30, you get a 15% discount. Click here to learn more."
The text is clear and concise, which evokes a sense of urgency in customers, and thus encourages them to buy.
Informative
Communication focused on building trust, and forming an opinion about the company and an attachment to it. They should be created based on good PR practices. In them, you inform your existing customers what is happening in your company, what you plan in a given period. Such emails don't sell directly but build a long-term relationship, which can generate sales.
Transactional emails
These are all kinds of emails sent by your website. Thanks to them, an email service provider can respond to, e.g., abandoned baskets, and encourage your website visitors to your eCommerce. They can also be order confirmations and welcome emails.
Autoresponders
These are messages sent by the system. They allow for the automatic dispatch of pre-planned content. You can even plan them a year in advance.
Don't be afraid to experiment. Over time, you can start to combine different types of messages, e.g., a traditional catalog with a large and personalized sales coupon. Your email should be just your thoughts transferred on the computer. You are the one who knows your customers best. Take advantage of it, and let yourself be a part of your customer journey.
Why email campaigns are key to eCommerce success?
The fact is that most people visiting your eCommerce site will never come back—if they don't make a change for them. Doing email campaigns, building email lists, and delivering compelling stories can help you retain traffic and encourage your subscribers to keep in touch. If your eCommerce company does not use email marketing, it may leave you behind your competition. How could email be a good tool for marketing?
Effective email marketing strategy
Create a database of emails
A good way to gain new subscribers is to place the form on the website. For example, you can use a pop-up message as your newsletter invitation.
In the case of selling products, it is worth considering offering a discount on them. It could be more encouraging for your new customers. It may also be a good move to let your users know what this newsletter is for. Maybe you will write interesting facts about your industry? It could attract a lot of readers and gain new email subscribers.
Personalize your messages
Don't send messages "to the public." You can send personalized emails, i.e., containing the user's first name or adapted to their last purchases. Such emails will certainly be received differently. It builds relationships with clients. And this is what you surely care about. You can use them in every type of email – promotional emails, order confirmations, transactional emails, and more.
Take care of the message order
Think for a moment about what texts would you like to read? Orderly, with graphics, bolts, and headlines? Or chaotic, without graphics and non-personalized? Create a newsletter for your clients, which you would like to read as well.
Set the date
Sending the newsletter too often or too infrequently may discourage people from subscribing to it. Observe, measure, check and adjust the appropriate mailing time to your customers.
Take care of mobile users
Sending messages must be responsive because more and more people check email using their phones.
What role does email marketing play in a successful eCommerce brand?
Email marketing can be very valuable especially in eCommerce businesses today because they give you more personal contact and more affordable services. Using email will influence your audience's experience of your brand, online and offline.
Why Use Email Marketing?
Long-range
According to research by Radicati Group, by the end of 2017, the number of active email accounts reached 4.9 billion. These are more active accounts than Facebook ones (2 billion), and Twitter (328 million) that year.
Low costs
Email marketing is still one of the cheapest types of advertising. It does not require complicated tools and is easy to prepare, so even smaller companies can use it.
High click-through rate
CTR – the ratio of clicks to the number of impressions, is one of the most presidential ways of measuring the effectiveness of email campaigns and activities.
In mailing campaigns, it is a point of 3.5% but on Facebook, only 0.17% CTR.
The perfect eCommerce email
When referring to email campaigns, a list can be compiled of specific emails from a particular category. But we'll get to know what makes perfect eCommerce emails, before putting them together.
Types of emails worth using
Welcome email
The majority of users subscribing to your newsletter can count on a welcome message. It is a perfect opportunity to establish a bond with the new subscribers and interest them with your offer.
In the content of your welcome email, you can:
Thank your new subscribers for being part of your company's community,
Express your gratitude for their customer loyalty,
Present your potential customers your store offer,
Provide useful information about your business, e.g., shipping in 24h, free shipping,
Give a coupon code,
Inform them about your new interesting blog post they can find on your site,
Get your customers an opportunity to use your referral program,
Gather feedback – give the customer the opportunity to tell you more about their experience on your website.
Abandoned cart
Customers often abandon their shopping cart for many reasons, and you certainly want them not to. It is what the newsletter is for! With your tool, you can make a cart abandonment email campaign.
The device automatically sends messages to people who did not complete the transaction, in addition to reminding them about unfinished purchases. You can also encourage him with an additional discount for completing the shopping now or for a promotion for a given product. These types of emails have a high conversion rate.
Response to actions taken
These can be emails confirming the purchase, in which you thank your customers for the purchase and provide the necessary information, e.g., when you will send their products. It also automatically sends messages asking for password change, support, etc.
Promotional newsletters
These are messages informing about a promotion with a time limit. It message is to stimulate the user to act quickly and make his offer seem unique and more attractive.
Messages for special occasions
Holidays, Valentine's Day, and even your client's birthday. It is the perfect time to send a promotional email, and encourage your customers to buy. Especially when you prepare special offers for them. It for sure will make your customer's shopping experience even more successful.
Rewarding messages
Appreciate your customer journey by sending them a promotional email! Rewarding messages are emails that you can send to customers who, for example, spent a certain amount in your store. In such a message, you can not only appreciate their trust in your brand but also present unique offers or offer free shipping.
Referral messages
These are messages containing the most important information about the products available in your store that have recently enjoyed great popularity among other users. By sending information about products, you can generate eCommerce sales.
How to prevent email from being SPAM?
You now know almost everything about email marketing, welcome email, email marketing strategy, eCommerce email and more, but you may consider what will happen if your message goes to SPAM.
You may have noticed SPAM emails in your inbox. Even a tiny mistake in your mailing, e.g., no unsubscribe link, may result in it being considered SPAM. Check what to do and what not to do to comply with anti-spam filters and create messages that recipients want to read.
Choose the sender of the message you want
The sender's name is the key information based on which your recipient will decide whether to open the email.
Unfortunately, many marketers ignore it, and it is extremely important that one unchanging person carries out the email communication and that the sender's name is correctly structured. It doesn't matter if you introduce yourself as John Smith or John Smith from ABC company. In both cases, you specify the sender. The most important thing is that the sender of your messages should not often change because it causes distrust among the recipients. If this happens, your recipients will stop reading your emails or throw them into the trash without opening them, which is a strong signal for anti-spam filters to mark such emails as SPAM.
The same valid is for the sender [email protected]. It message may seem suspicious if you don't want to be answered by default.
Message Subject
Don't mislead people when constructing the subject of your message. It is the place where clickbait won't work. The most popular tricks are to put the abbreviation RE or FWD in the message's subject so that it pretends to be a continuation of communication.
Sometimes they are also emails about winning a competition that does not exist. It's not worth abusing your recipients' trust because with one click "mark as SPAM," they can destroy many months of your hard work. We don't recommend this kind of email marketing strategy.
Don't use phrases and symbols classified as SPAM
There is a set of words and symbols that SPAM filters are susceptible to. It is being developed all the time, so it is worth being up-to-date.
These are, for example, all words related to promotions and the attractiveness of offers, e.g., super, extra, promo. The same is valid for wording related to eroticism: sex, viagra, porn. The appearance of these words will undoubtedly cause it to be recognized as SPAM. Multiple exclamation points !!!!!!! Or question marks ????? will have the same effect. If you want to ensure that your emails enjoy high deliverability, eliminate risky words, phrases, and symbols from your communication.
Importantly, anti-spam filters read the header text and the message itself. They check such ALTs, i.e., text that is displayed instead of photos.
Also, you should pay attention to your email subject line so that the whole mail will form one coherent whole.
Keep the proportions between graphics and text
Balance is the key, so you risk a lot by sending emails that consist of one large graphic. SPAM filters are sensitive to the amount and size of the images you upload. Nobody sends their friends a message with just the picture instead of the content. Therefore, it is considered an advertisement with a high probability of SPAM.
How to avoid it? Replace as much of your message as possible with filter-friendly HTML and plain text. When you need to use graphics, make sure that the ratio to its content is not greater than 1 to 1.
Pay attention to the importance of the email and watch out for attachments
The weight of your message cannot exceed 400KB. The greater its weight, the greater the chance it will be categorized as SPAM. It is also worth noting that in the case of Gmail when exceeding 140KB, there may be problems with the correct display of the content. If you want to send a link to recipients, place it on a dedicated server and provide the link itself. However, please note that it must route to a trusted source.
How to create an engaging message and avoid SPAM?
The second category of rules to follow when creating an email is content related to your recipients' behavior in relation to the message. See how to use your customers' commitment to avoiding SPAM
Ask for help from loyal customers
Free email giants such as Gmail analyze the behavior of individual recipients when interacting with messages to create a definition of SPAM for each user. Gmail Engagement Rate was created based on the recipient's involvement in your communication, which directly impacts the categorization of your message.
It is important how many people replied to the message, moved it to a specific folder, or added your email address to the contact network.
They already have this knowledge, all you need to do is ask your recipients to perform one of the actions, and it is best to send them instructions on how to do it.
Let go of the uninterested
Your audience's tastes are changing, and you have to accept that.
Therefore, you must include a link to unsubscribe from the newsletter in your mailing. You even have to do it! As it turns out, you do it not only because of the regulations in force but also for your own good. SPAM filters always check if it is in the message – if not, your message will be treated as SPAM.
Personalize your communication
70% of companies don't personalize their email marketing campaigns. Personalizing the message will undoubtedly be more effective. It is difficult to find a situation where all your customers are interested in the same content. What's more, by ignoring their needs, you risk that they will become not interested in your mailings and by that sent them … you guessed it! SPAM.
Be systematic
Systematic activities and constant mailing frequency are the key to practical marketing activities. Recipients' email addresses can change, and some are no longer relevant. You won't know it if you communicate with your audience once every six months. In such a situation, you will send many emails to outdated addresses and be treated as SPAM. Moreover, your recipients may forget that they gave you their email address a long time ago, which may result in them marking your email as SPAM.
By sending your messages regularly, you get your recipients used to constant communication. Which means they will be waiting for more announcements. Additionally, you can eliminate outdated addresses on your mailing list thanks to regular contact.
Take care of your base
It point is a bit of a reference to the previous one. It is important that you take care of the database of your subscribers to the newsletter. Check that the addresses are correct, that your database does not have repeat customers' emails.
Don't buy a ready-made recipient base! Unfortunately, many marketers this that this is the best way to collect email addresses, but when you buy a ready-made base, you won't boost sales. You don't reach your target group, so people registered under the given email address will not open your email or mark it as SPAM, which will do you much more harm than good.
Getting started with email marketing
Best email marketing strategies begin with choosing a service that offers a free newsletter to your audience and understanding the legal process for sending a legal message to you. One of them can be MailChimp – a very popular email tool, that can boost your effective marketing strategy.
MailChimp – a comprehensive for your email marketing
Email marketing is the most effective way to build relationships with your customers. MailChimp is one of the most popular email service provider to send mass emails to subscribed customers.
MailChimp does not allow communication breaks between your company and the customer. As a result, it enables you to increase conversions and increase sales. It collects customer opinions, thanks to which it gathers data and information about their preferences. It means that the tool offers products most suited to clients' needs.
Thanks to the possibility of creating a personalized emails, customers' interests are more significant. The customer also has a sense of belonging to the company. As a result, clients feel distinguished, which leads to purchasing the company's products or services and gaining repeat customers.
Moreover, it is an all-in-one marketing platform. It can reach eCommerce customers through various communication channels:
Advertising in the search engine,
Social media,
Landing page,
More traditional means such as paper postcards.
MailChimp is a modern email marketing service provider with many powerful features to help you promote your brand. It is easy to use, has ready-made templates, and allows you to monitor the campaign's progress by itself, so you don't also have to use Google Analytics to measure your effectiveness.
Its main advantages are:
The possibility of differentiating target groups based on specific characteristics,
Many integrations (WooCommerce, Facebook, Canva, Gmail, Google AdWords, Slack, Magento, PrestaShop, Jira, PayPal),
Fully automated, MailChimp allows you to perform activities regularly, e.g., sending welcome emails, promotion emails,
MailChimp has many free and easy-to-use templates that you can build using the drag and drop method.
That being said, we noted the popularity of this tool and decided to meet our customers' expectations. As a result, we have created a plugin that allows you to integrate MailChimp with your Sylius-based eCommerce.
MailChimp Plugin for Sylius eCommerce store
How does the plugin work?
Sylius MailChimp Plugin allows you to integrate the MailChimp newsletter sign-in process with the Sylius platform through customer registration, account updates, or footer/modal join newsletter form.
Why is it worth using?
It adds newsletter sign-in options with very low cost and developer work. Content of newsletters can be managed in MailChimp without the need for developers' attention.
Usage
Once installed users can subscribe to the newsletter during registration.
You can also subscribe or unsubscribe from the newsletter in the profile edition.
You can also unsubscribe via URL webbook if configured and you can add a newsletter sign-up box to your website.

Extend your Sylius with our Plugins.
If you have any questions related to this plugin or want us to create a new one for you, contact us!
Summary
Now you have more knowledge in the field of email marketing. From now on, it is up to you how you will run your marketing campaigns. As you already know, the possibilities are endless.
Let's talk about your eCommerce!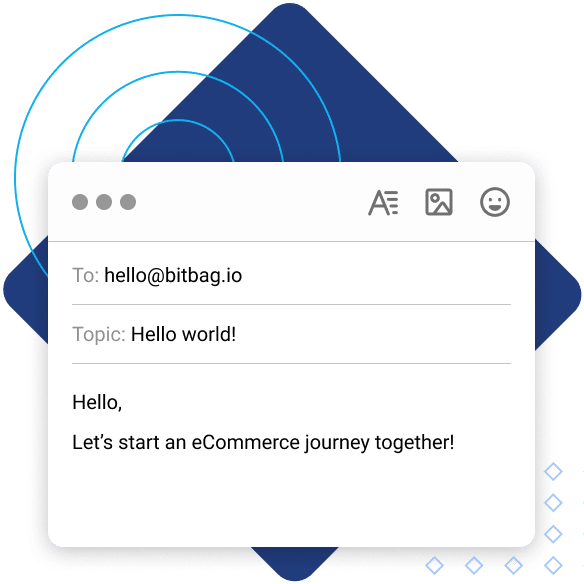 Ps. Remember that receiving too much email correspondence is one of the most common reasons for unsubscribing from the newsletter.