The product bundling approach aims to promote and distribute the product line and can help attract casual browsers and eager buyers in the retail market. On the other hand, retailers aim to generate higher sales through online stores. Obviously, this approach may differ from the other. Usually, the company concentrates on customer loyalty programs while others are expanding their B2B wholesale channel.
One of the effective ways to maximize profits and boosting business is a successful product bundling strategy. How does bundling help to increase revenue? This article shares some good practices about product bundles in general and the method of implementing them in Sylius-based eCommerce (which is based on the Symfony framework).
Product bundles
Mixed product bundling occurs when an individual manufacturer combines popular products sold individually as packaged products with discounted pricing. Customers can therefore buy one item separately or buy multiple items in bundles. This type of strategy provides companies with a way to sell a larger quantity of products than if they were sold separately. The average order value is higher, and customers feel like they're saving money through product bundles, so it is all about a win-win strategy.
Which products can be bundled?
When considering which product to bundle, you should think about the products that combine well or may be used together. You may make up a bundle of complementary products or, less frequently, similar items. Your product bundle should make sense so if you sell a computer, you may add cables (like VGA, HDMI, audio), a mouse, or a keyboard. Another good tip, except "guessing", would be acquiring the exact needs of the consumers directly. It allows you to understand the way that people buy products and what they expect from your offer. It is very crucial for eCommerce, as the bundle can be an effective way of outshining rivals.
3 examples of common product bundles:
Diet food and beverage products
Razor & blades – The razor and its blades make the perfect product bundle as your customer may eventually need a replacement cartridge. Offer them sets for a reduced price.
Shampoo and conditioner – When customers try out the new shampoo, they are likely to buy matching conditioners from the same brand at lower prices, especially if the product comes in the same packaging/ within the same offer. You may benefit from it in your eCommerce by displaying both items which may be combined to the set together.
Product bundling best practices
What makes bundling products, so good is the perceived value. By improving the value of what you're selling, you'll sell more and make your customers happy.
The scope for testing bundles in your eCommerce business is huge compared to testing it at the manufacturing level. More often, sets that have been assembled into one cohesive package cannot be sold individually later.
If you are unsure what product is commonly sold with the other – don't hesitate to experiment with different groupings to find the best results. Below you will find some practices that may be useful for beginner online retailers.
Create separate landing pages for bundles
You could create separate landing pages for your bundle to encourage consumers to buy the bundle. Using InApp promotions, e-mails, social media, or even PPC (pay per click) ads is an effective way of promoting the product.
A landing page should present a complete listing of the products you included as part of your bundle and their prices to show the customer the discount he may get. It provides the perfect solution for buyers looking for discounts or promotions.
Fix your goals, then your bundle price
The discount bundle must ensure the correct discount percentage of the package. Alternatively, you could choose to bundle the product just for a non-cost advantage for the purchaser.
For example, your case is to develop a marathon-focused package. A marathon client would require each product individually. By adding multiple products to the bundle and offering it at a discounted price, your client may save some money on their purchase by buying more – and it is a benefit for you.
Go for freebies during over-stocking
Freebie items can be enjoyed by anyone. However, the free product should be appropriate for products in the cart. Providing random free items might not have sense, however, relevant product recommendations would convince the customer to purchase the item. Freebies can also aid in overstocking. Offer free products to customers to reduce their stock size.
Checkouts are ideal places to introduce product bundles
Adding bundle products during checkout can be an excellent strategy for increasing the average order value. It helps reinforce customers' intent to purchase. It is due to a subtle urgency. A small psychological trick helps people decide what they are going to buy for a special price. The ability to make quick decisions while they are at the checkout increases the conversion potential.
Highlight the savings for customers
How should you convince a prospective customer about shopping bundles? Give them more value, by showing possible savings.
A desire for a lower price for products they are looking for will convince them to buy. It may give the customer a sense of exclusivity. The main concern for most customers is finding affordable products. Saving is an attractive incentive. Show customers potential savings and let them feel special.
3 mistakes to avoid while product bundling
Product bundles are working properly if configured well. However, there are some examples of bundling which do not work well and should be avoided. Sometimes a bundle plan will backfire which may cause the opposite effect: discourage the customer to purchase.
Being restrictive with your bundling tactics
It is more straightforward than it seems. Try to make things a little more varied: include more marketing techniques.
When putting together high conversion bundles, the key point should be to choose combination products that buyers will find useful. How you accomplish this should only improve the ordering process and not decrease its effectiveness. Also, ensure the whole buying process is easy because the buyer will not want to undergo a complicated checkout procedure. (Cross-selling packages or single-page checkout can be very beneficial).
Making your bundled items hard to find
How can eCommerce store help shoppers discover their products? If package deals are hard to find, the possibility of a successful sale will go down.
Product bundle example examples may be usually highlighted on the website site at various stores or promoted via social platforms if desired.
Ignoring target consumer data
First, you should be careful not to bundle items nobody is willing to purchase.
What is the best product that a potential buyer would buy? -The somehow useful one. Consumer data can assist in deciding which product should be added to the bundle.
Logistical challenges of product bundling
Typically, products are predefined, which means multiple items are sold in one unit. Managing and maintaining inventory is difficult, even if it's implemented in a properly equipped way. When the product is not in stock, the bundle should not be available for sale.
If it is necessary to provide bundled packages, it's essential you have enough inventory for every product included to avoid backorders. A third-party logistics partner can assist with these challenges by providing you with the warehousing technology necessary to coordinate packages, manage and update each piece, and monitor inventory.
Why do eCommerce companies offer bundles?
Providing discount pricing is essential to increase revenue from bundles. If your company is spending money to encourage shoppers to buy in your stores, it is your goal for them to spend more on each sale. So, here you may think about discounts and bundles.
Products that are often sold as bundles and encourage clients to meet the minimum spend limits for shipping – increasing average order value compared to free shipping.
Product bundling strategy
How to name your product bundles?
Changing the name of your product may affect your brand awareness. One excellent and effective way to name bundles is to identify the product with the benefits it provides.
For example, the skincare package for dry skin may be named "Your Relief to Dry Skin." At the outset, the bundle shows why it is essential for customers to buy all the products together rather than just one – it is the whole package that will bring relief, not just a single product.
How to decide what to bundle?
The final bundle will depend upon the kind of products you decide upon.
Look at commonly used bundles and choose products carefully.
Choose an approach to ensure you don't overwhelm customers.
Look at the stock-to-sales ratio to identify products that stagnate or have a negative trend for some time.
Sylius-based eCommerce product bundling
Sylius Product Bundle Plugin lets you create bundles out of existing products in your shop. Bundles appear and behave as any other product in the shop.
To create a new bundle go to the admin dashboard, and proceed to the "Products" page.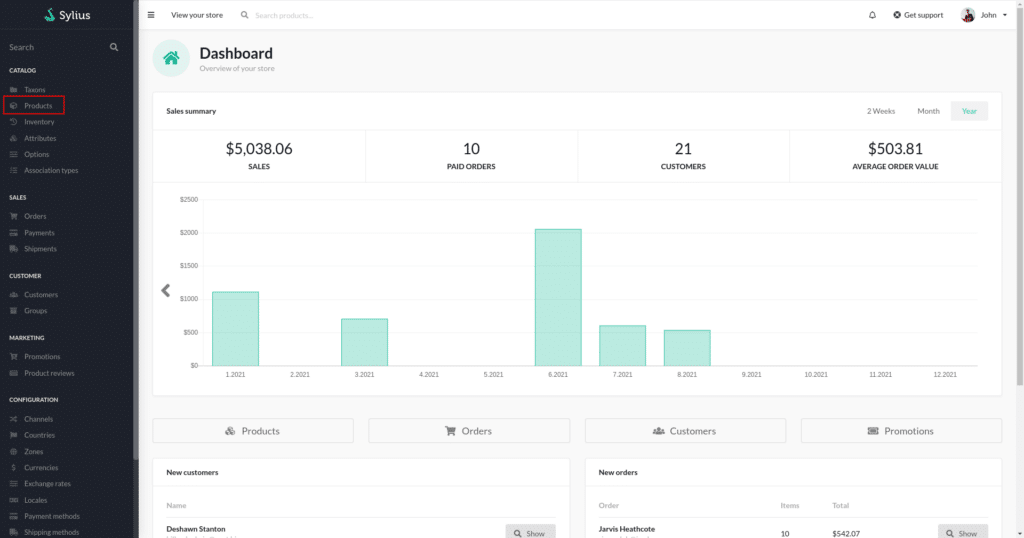 Now click "Create", and you should see the new option "Bundle", select it.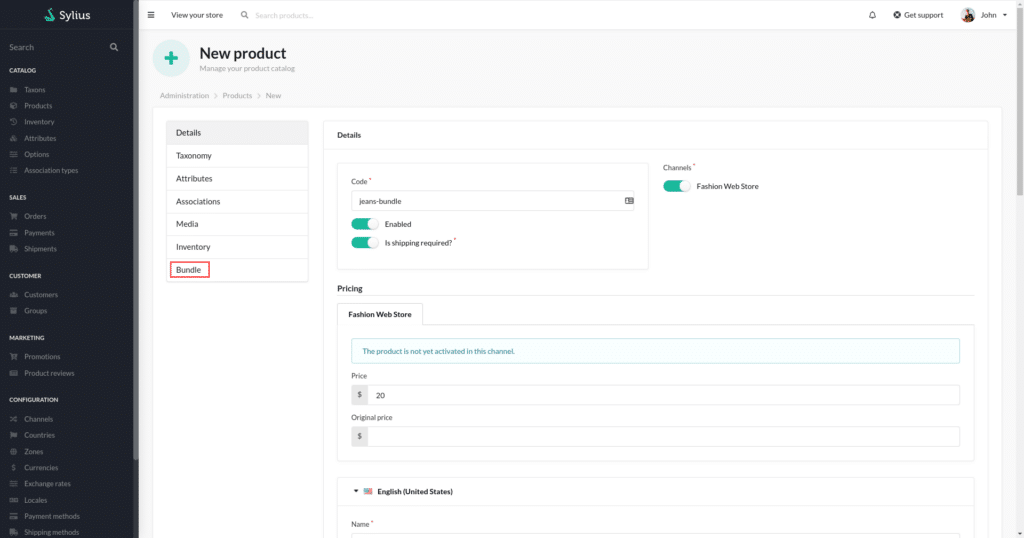 Configure your new bundle as it would be the usual product then proceed to the "Bundle" section.
Here you can add products to your bundle.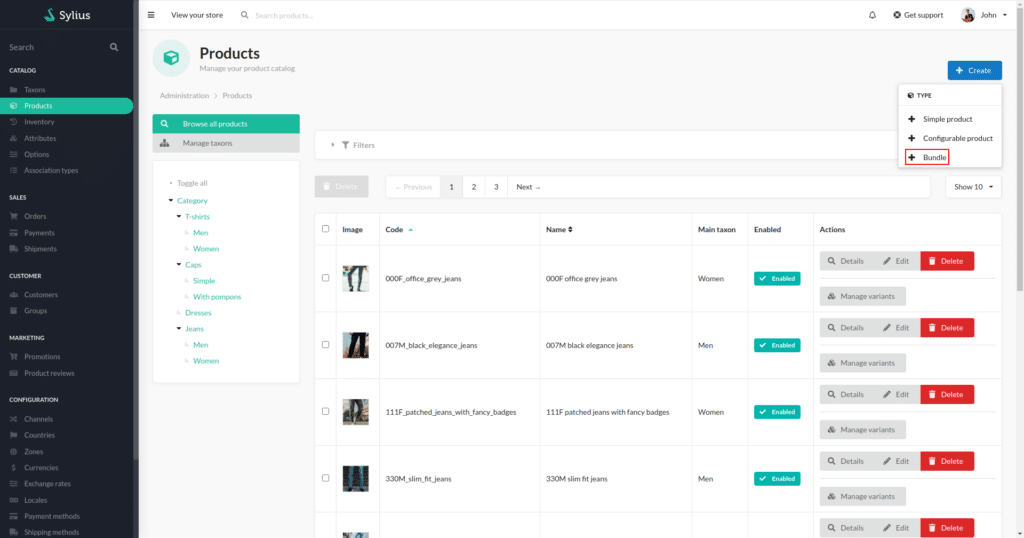 Now just save everything, and your bundle will appear in the shop!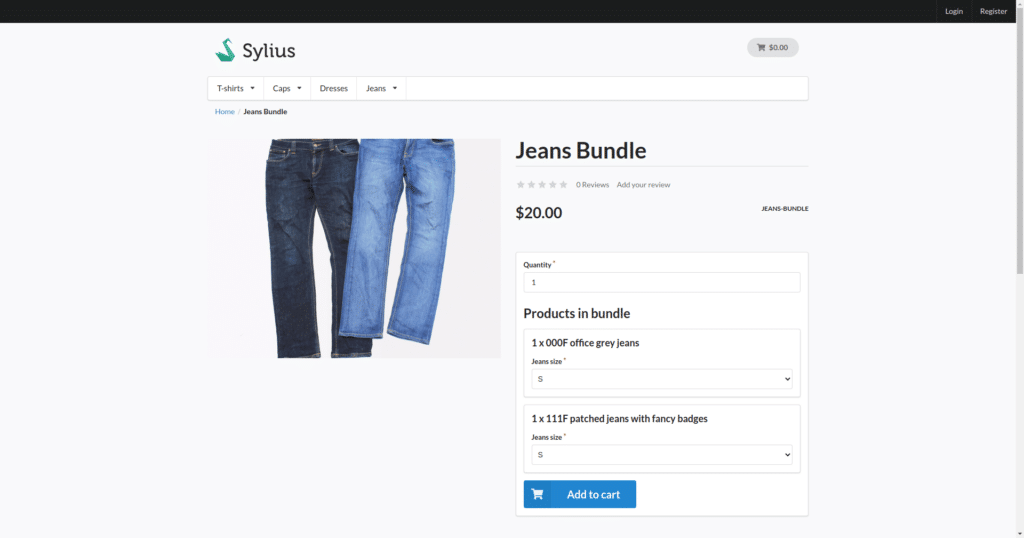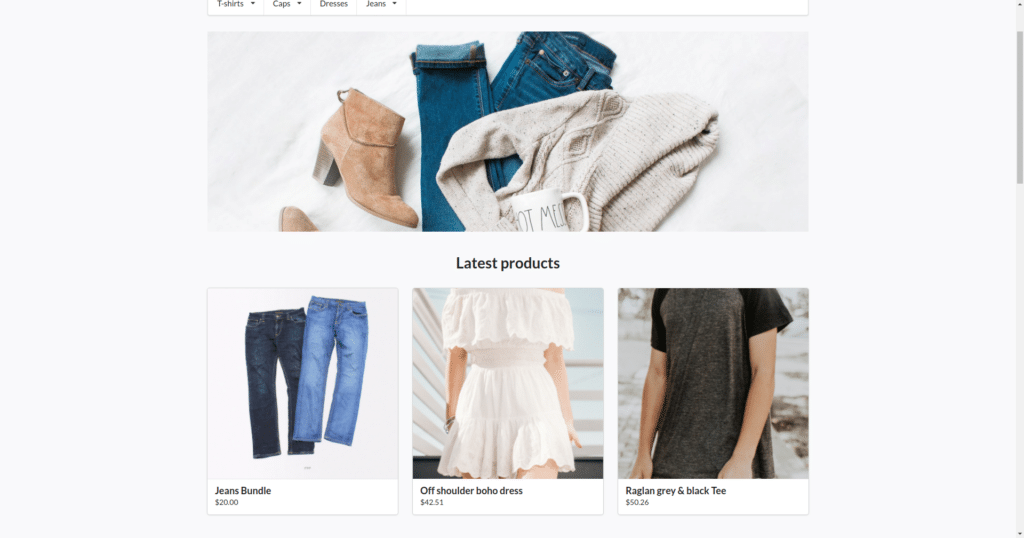 The best methods for marketing your bundle products are numerous, just like the implementation ways. If you are looking for some help with the implementation of product bundles in your Sylius-based eCommerce, contact us!