Managing content and creating new, customer-focused content pages may be a struggle in some systems. A well-designed storefront will be not only one more digital sales channel, but it will let you connect with customers at every touchpoint and express your corporate identity.
When other platforms like Magento were focusing on functionality and complexity, Shopware came up with the idea that online retailing and content management could not be separated. It brings to life Shopping Experiences – an integrated CMS (content management systems) capable of creating amazing content (such as landing pages) without technical knowledge on your eCommerce platform.
In this article, we will look at the possibilities and benefits of Shopping Experiences (shopware CMS) for eCommerce businesses.
Shopping Experiences – Shopware CMS
It is an essential CMS element of the store, serving as a place to create engaging pages, subpages, and categories. It lets you care for the highest quality of consistent text and multimedia content elements. The latest update has extended the module's capabilities with new functions for the individual design of product data sheets. In addition, all elements used on the product detail pages can be reused in other places of the e-store without complications.
Powerful text editor with variables
It is easier to design and personalize store and CMS pages with the editor that allows, for example, the use of variables that can be placed in the content as a placeholder. What is the benefit? You can use a placeholder for a product name that will be applied dynamically. The same principle works for other text boxes, such as category names or category descriptions.
Page Builder
Page Builder is one of the most important functionalities of the CMS system. Its introduction is associated with several significant improvements, such as:
Improved handling of the category tree
Creating Landing Pages outside the category structure
Direct entry points of sales channels to the category
Site navigation moved from the header to the footer to reduce customization tasks in the mobile version or on the cart page
Shopware Shopping Experiences – overview
Types of layout settings
The Shopping Experiences can be accessed from Content in the Shopware administration panel. It lets you design and manage content pages for landings, shopping pages, or categories in a simple way. The designed layout consists of sections where you may find various predefined blocks, and those blocks are created from elements such as text or image element.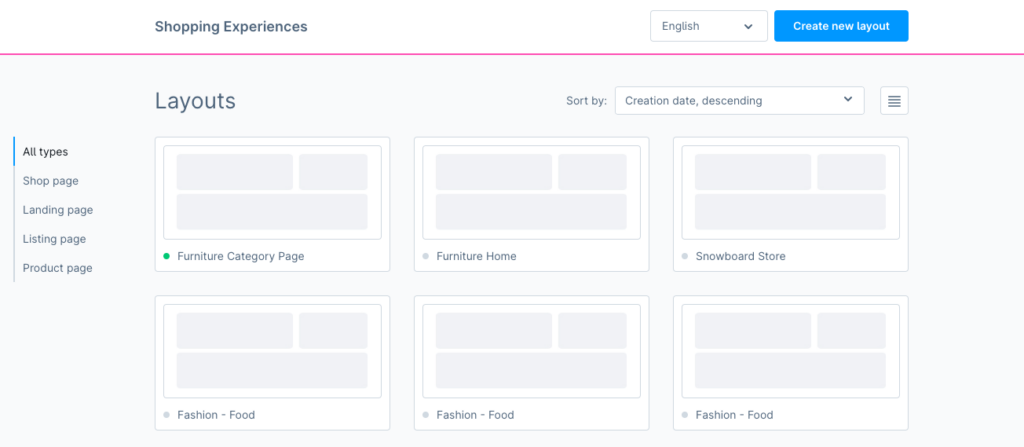 When creating a new layout, you have to define its type. On the one hand, it lets you choose from different blocks. On the other, you can better sort your layouts. What are those types?

Shop page
Under this type, there are all your shop service pages (e.g. shipping conditions, contact form, etc.)
Landing page
It is the right type if you want to create theme pages or pages that your customers land during their visit. It offers a wide range of design and marketing options, so you can provide a custom layout.
Category page
Category pages include a product listing.
Product page
As the name suggests, these are product pages – a layout for the products. You may place all the product information and allow the product to be put in the shopping basket. By default, you will get blocks: product description, "buy box" and gallery picture block, but you can provide a custom layout using multiple blocks.
Types of CMS blocks
You can choose various predefined blocks grouped by categories. You can select them from a drop-down menu. Note that each block consists of one or more elements. You can individually fill each with content (block settings icon).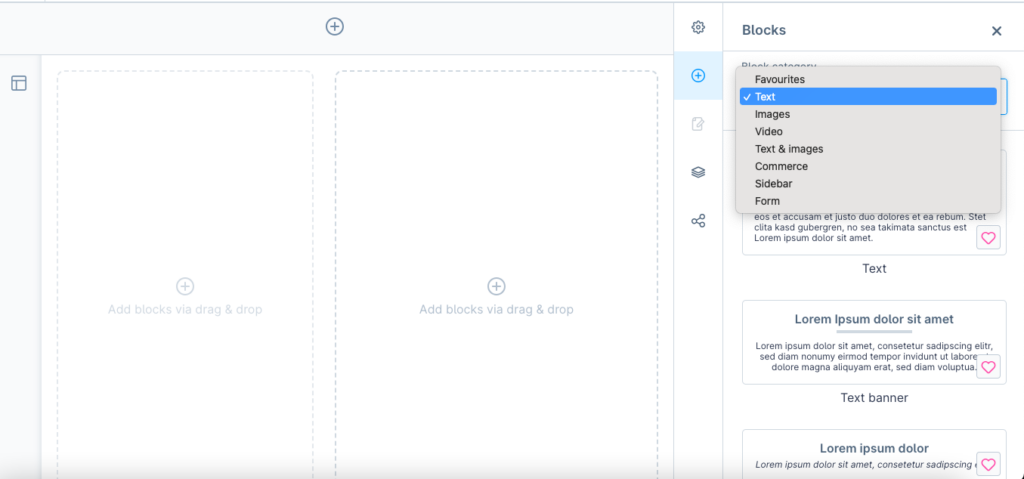 Text
Text blocks contain a text editor. You can add texts in different formats and use variables.
Images
Picture blocks let you add pictures to the layout. Although they contain only displayed image(s), Shopware 6 delivers several different formats:
Slider element
You are able to add sliders with the following display modes:

Standard – the image is displayed completely (all images in the slider should have the same aspect ratio);
Cover – the image fills the element (smaller images are stretched, images with an unsuitable aspect ratio are cut off);
Contain – the highest deposited image determines the height of the element (but it is not adjusted between different images).

Gallery
They are similar to sliders. As in the previous case, you can choose display mode:
Commerce
Commerce is another type of shopping experience block. Such blocks contain various product-specific elements and data. As a result, you can leverage them in promotions or offer products on your storefront in a more user-friendly way. It includes the following:
Product name & manufacturer logo
Three product boxes
Product slider
Gallery and Buybox
Product description and review
Cross-Selling
Video (supported YouTube and Vimeo)
Sidebar
Form
Product Listing
Shopping Experiences: Key features
What drives customers to choose you instead of your competitors is emotion. That is the main purpose of Shopware 6 Shopping Experiences – focusing on emotional storytelling and unique shopping interactions. Handle more with less effort, no matter the device, time, or place.
Drag&drop menu
You don't have to have programming skills. Create shop pages, category page, and others with an intuitive layout editor.
Quick view
Reduce the number of steps in browsing. You may display product details on the same page (without reloading) with a quick view.
Define rules
Show the specific content to the specific customers. Decide about block visibility by setting rules with the Rule Builder (e.g. show promo banners for people who interact with your shop for the first time).
Provide custom layout and add personalized forms
Create a consistent customer journey and brand identification – from category page to individual forms. With Shopping Experiences, you can work with premium themes and use the Form Builder to create forms.
Want to explore the best eCommerce technologies and deep dive into Shopware? Check out our free e-book – A comprehensive guide to choosing the best technologies for eCommerce
Dynamic content
You can add content dynamically with data mapping. It may speed up your work and eliminate potential errors.
One remarkable thing about Shopping Experiences is that it is completely headless. From the POS, the blog, or the Instagram feed, with the help of Shopping Experiences, customers will be shown a consistent product story, no matter their device. Thanks to the headless, it is easy to integrate apps from the Shopware Store.
Guided Shopping
Introduce innovation in your digital commerce. Offer outstanding customer experiences with Guided Shopping.
Benefits of Shopping Experiences in Shopware
Simple to configure
Ease of creating pages
Completely graphical
Variety of page types and blocks
It can be used as a good CMS even for medium-sized projects (flexibility in content elements presentation)
Useful when the presentation is important (e.g. fashion eCommerce websites)
The disadvantage may be that it may not be advanced enough in the case of custom layouts – then it is worth considering integration with external CMS systems.
Shopping Experiences in Shopware 6 is for sure one of the most powerful tools for content management in eCommerce. What makes it unique is its focus on intuitiveness and user-friendliness more than complexity.
Since the release of Shopware 6, the scope of Shopping Experiences has been evolving. Marketing-friendly functionalities, automation based on the defined rules, and modern solutions such as machine learning or artificial intelligence make Shopping Experience a strong competitor and one of the main reasons eCommerce companies may want to choose Shopware over other platforms. Are you curious about all the Shopware advantages and want to see the demo of functionalities? Feel free to contact us!