(+ list of marketing plugins for Sylius)
In today's digital-driven world, the eCommerce sphere has rapidly evolved from merely selling products online to crafting immersive shopping experiences. With an overwhelming number of platforms, tools, and eCommerce marketing strategies at one's disposal, devoting time to understanding the reasons why people are eager to buy certain products and when they usually do it can seem daunting. Yet, those who navigate this dynamic landscape effectively can get immense rewards.
In this blog, we will describe the best eCommerce marketing strategies that can boost your customer base and, as a result, your profits. We will also describe some of Sylius plugins that may be useful in your project.
The role of marketing in eCommerce
Marketing plays a crucial role in running a successful eCommerce business. Nevertheless, it is often a field that is neglected while planning eCommerce projects and business goals. The eCommerce industry is highly competitive, with thousands of online stores vying for the attention of consumers. Marketing helps businesses stand out and reach their target audience amidst the noise. What's more, an eCommerce website's success largely depends on the volume of traffic it receives. Whether through search engine optimization (SEO), pay-per-click (PPC) advertising, or social media, marketing campaigns can significantly increase the number of visitors to a site. Following that, brand awareness is built that fosters trust and loyalty among customers.
Keep in mind that modern marketing isn't just about selling products; it's also about building relationships. Through content marketing, email campaigns, and social media engagement, eCommerce businesses can interact with their customers, understand their needs, and offer personalized solutions. Customer reviews and interactions on social media are a great way to gather their opinions, feedback, and reviews. This feedback is invaluable for businesses looking to improve their products, services, and overall customer experience.
In conclusion, marketing is not just a supplementary function for eCommerce businesses; it's a critical component that drives growth, fosters customer relationships, and ensures long-term success in a highly competitive industry.
Now, let's see how to start working on marketing for your online store.
Begin with preparing for the eCommerce marketing strategy
To make your eCommerce store popular and successful, it is essential to prepare a marketing strategy that is based on defining the target audience and its needs, choosing communication channels, and analyzing the activities of the competition. One effective way to identify your potential customers is by creating a buyer persona that combines demographic and psychographic data. This can be achieved by conducting market research to determine factors like the age, gender, social status, interests, place of residence, education, and marital status of your potential customers. By focusing on the needs of your target audience, you can satisfy them on the internet with the help of published content. You can also use competitors' social media to search for information and see how people view their profiles, as these could also be your potential customers. By following the profiles of these people, viewing photos, what they publish, and what websites they like, you can learn more about their interests and preferences.
Additionally, it would be best to try to find something that will set you apart from other eCommerce websites and say it in advertising messages, for example, abroad shipping, many payment methods, discounts for first shopping, loyalty program, or ecology packing. By using this information, you will be able to choose the appropriate language and compelling messages that will reach and attract the attention of recipients. Remember that everything you do should be supported by market research, competition analysis, and your knowledge of the industry if you want to attract customers and increase the number of orders and turnover.
Always set your marketing goal
When you have the definition of a target audience, you should focus on goals that must be specific, measurable, realistic, and defined in time. The goal may be, for example, to increase sales by 15% by the end of the year. It is important that the goal has the above-mentioned characteristics because only then will you be able to control whether the actions and tools you use to achieve it are effective. When you have goals, you can choose the marketing tools that will help you achieve them. You should use different marketing channels in eCommerce marketing, but what you choose depends on your budget, resources, time, target customer, and eCommerce marketing plan.
Stepping into digital marketing
In terms of eCommerce, online marketing efforts are also described as digital marketing. With the growth of the internet and the increasing consumption of digital content by users, marketers recognized the need to engage with consumers in the digital space where they spent a significant amount of their time. As such, digital marketing encompasses a range of online marketing activities aimed at reaching audiences through digital devices and platforms. The strategies described below revolve around this concept.
7 best eCommerce marketing strategies
In this part, we will explore the best marketing strategies that may give some idea of how marketing efforts can be categorized and used effectively. Some of them might be tightly connected to each other and even work best if they are combined.
1. Content marketing
Let's start with the idea of content marketing. As you may guess, this type of marketing is based on creating content that is valuable for the customers. The role of such content is to support the achievement of a company's business goals by building brand awareness, establishing trust, and driving profitable customer actions. Many eCommerce businesses base their content marketing mainly on product and category descriptions. Nevertheless, by applying other content marketing actions, for example, running a blog, your content can reach more people and educate them about your niche or your company. Fortunately, eCommerce stores can usually create content like a blog easily via the eCommerce platform's CMS.
Take into account that the blog is a great way to express yourself or your company. However, it's up to the company what exactly they want to achieve by producing and sharing content. The best way to start creating such content is to create a blog that answers frequently asked questions or distracts doubts about your products. After that, see if people are interested in it. Be mindful that it usually takes some time to attract readers, so don't be discouraged after a few months. Good luck!
2. Search Engine Optimization (SEO) and Search Engine Marketing (SEM)
As we described the concept of content marketing, the next marketing strategy is based on search engine optimization. SEO stands as the silent sentinel guiding potential customers to the virtual doorsteps of businesses. It's not just about visibility; it's about credibility and user experience. As consumers increasingly turn to search engines to find products and services, a strong SEO strategy ensures that an eCommerce site doesn't just appear in search results but stands out as a quality and trustworthy website.
Optimizing the eCommerce website is crucial for eCommerce businesses. This process primarily involves identifying high-traffic keywords that customers may use when searching for your product. Then, implementing them into the website (e.g., in the product description) to rank higher in search engines and increase organic traffic.
Worth noting is that the website's architecture plays an important role in search engine optimization. Factors like meta tags, internal and external links, URL structure, image placement, or site speed are just a few factors that affect the SEO. Due to that, optimizing the website for search engines should be taken into account during the website's planning, not after its completion. Additionally, always look for SEO features in eCommerce platforms, as it can make the optimization process faster, easier, and even cheaper.
3. Social media marketing
Social media marketing is the pulsating heartbeat of the modern digital landscape, a dynamic environment where brands and individuals alike narrate their stories, foster connections, and shape consumer behavior. Therefore, they are a great place to promote your store and products. Engaging with customers on social media platforms increases your online presence and helps to develop a larger customer base.
Last but not least, influencer marketing can be a great addition to social media marketing. But what does it mean? Influencer marketing is a strategic approach to advertising where brands collaborate with individuals who have established credibility and a substantial following in a specific niche or industry. These individuals, known as influencers, wield the power to impact their followers' opinions, behaviors, and purchasing decisions through their content and social media presence. Due to that, collaborating with the influencer, especially the one who is actually interested in our products or the niche we work in, can be a fruitful method of boosting recognizability and sales.
4. Email marketing
Another strategy worth trying out is email marketing. Although it's been in use for almost 40 years, it is still an effective solution to stay in touch with customers. It can be used to introduce new products, inform about promotions, remind about abandoned carts, and many more. To use it effectively, pay attention to the content you want to share with your customers. Make it interesting and appealing. Otherwise, you will quickly end up in a spam folder.
5. Paid advertising
Paid advertising, particularly through platforms like Google Shopping campaigns, has emerged as a pivotal marketing strategy for eCommerce stores. These campaigns allow online retailers to showcase their products directly within the Google search results, complete with images, prices, and product descriptions. In such cases, no search engine optimization is required to be visible in search engines. When a potential buyer searches for a product, paid shopping campaigns ensure that the retailer's products are prominently displayed, increasing visibility and driving targeted traffic to their online store. This form of advertising operates on a pay-per-click model, meaning that merchants only pay when a user clicks on their ad.
However, remember to track other data, such as conversion rate or bounce rate, to have a broader understanding of customer behavior.
6. Optimizing for mobile
In 2023, a mobile version of an eCommerce website is a must. As more and more people shop online on mobile devices, optimizing your website seems inevitable. A mobile-optimized experience enhances accessibility, navigation, and overall user satisfaction, leading to higher engagement, lower bounce rates, and increased conversion rates. By tailoring your content, design, and checkout process to the mobile environment, you tap into a larger audience and create a streamlined purchase path, ultimately driving your eCommerce business's growth and success. As mobile payment options and mobile apps continue to develop, mobile commerce will be an eCommerce trend for a long time.
To provide the best user experience for mobile users, eCommerce businesses can create a Progressive Web Application (PWA). In short, PWA combines the best of web and mobile apps, offering a high-quality user experience (for instance, offline access or faster loading times) that can lead to increased engagement and sales for eCommerce stores. As more users expect seamless and fast online shopping experiences, adopting PWA technology can give eCommerce businesses a competitive edge. If you haven't established your eCommerce store yet, consider creating your mobile-friendly website on Sylius with our help!
Furthermore, mobile-friendly websites can leverage geo-targeting to its fullest. It allows eCommerce platforms to deliver personalized content and recommendations based on the user's location. This level of personalization increases the likelihood of users finding products and offers that are relevant to their specific needs and preferences. On top of that, customers can get accurate shipping information and check the nearest brick-and-mortar stores when a company has them.
7. Provide the best user experience
Although it is not exactly a marketing strategy but more of a general approach to running an eCommerce business, it certainly positively impacts sales. In online shopping, making things simple and enjoyable for the customer is a top way to stand out. When a website is easy to use, customers are more likely to trust it and come back again. This great experience can turn regular visitors into loyal fans of the brand.
So for online stores, focusing on customer experience is a smart move to increase sales and build lasting relationships. An important step is to provide the customer with easy access to products – organize products into categories, create specific product catalogs, manage descriptions and photos, etc. To ensure a good experience, you can also do it through loyalty programs, cross-selling and up-selling, or email marketing.
More does not always mean better. To improve the user experience on your online store, think about what elements or functionalities on the site may seem too complex for a customer and can be done more clearly. For example, look at the search functionality on a website and see if searching for products is simple and gets you to the particular product you chose. If there is some trouble in searching for specific items, consider implementing an auto-suggestion feature for search bars or search filters like "price range" or "type of product." Another example of improving user experience and, in turn, increasing sales is a OnePageCheckout. By applying this solution, the whole checkout process is faster, and the cart abandonment rate is significantly reduced, as all the necessary steps in completing an order are on one page, and finalizing the purchase can be done with one click.
BitBag's products and services
From creating personalized online stores to developing plugins, here are the products and services we specialize in as a BitBag.
Shopware
Shopware is a feature-rich eCommerce platform for B2C and B2B companies. However, Shopware promotes openness and accessibility and helps to scale every business, no matter the size. Based on the Symfony framework, it focuses on providing the best user experience and meeting the expectations of miscellaneous eCommerce businesses. Moreover, it is filled with great features dedicated to supporting marketing actions and sales activities.
Shopware's marketing features include:
Search engine optimization
Cross-selling
Reviews
Promotions
Product Streams
Customer Segmentation
Flexible API
Digital Publishing, and more…
Shopware Shopping Experiences
The Content Management System in Shopware is named Shopping Experiences. It allows admins to easily design and manage content on landing pages, shopping pages, as well as product categories. The great advantage of it is that its full potential can be utilized without technical knowledge of your eCommerce platform. Functionalities like Page Builder and flexible text editor allow you to easily customize your website without changing the code.
Nonetheless, in order to better understand this CMS, let's take a look at the other robust features it provides to the user.
Key features of Shopware Shopping Experiences:
Drag and drop functionality
Quick view
Define rules
Custom layout and personalized forms
Dynamic content
Easy integrations
Guided Shopping
Shopping Experiences in Shopware is for sure one of the most powerful tools for content management in eCommerce. Its focus on intuitiveness and user-friendliness more than complexity makes it a unique CMS that was appreciated by many.
Want to explore the best eCommerce technologies and deep dive into Shopware? Check out our free e-book – A comprehensive guide to choosing the best technologies for eCommerce
Sylius CMS Plugin
The Sylius CMS Plugin is a specialized content management system tailored for eCommerce applications built on the Sylius platform. This plugin seamlessly integrates with Sylius, eliminating the need for external CMS platforms like WordPress. It boasts a range of user-friendly features, including the ability to add dynamic blocks with images, text, or HTML, create informative pages, and manage FAQs. Users can effortlessly edit content using a WYSIWYG editor and directly upload images in the admin panel. Furthermore, the plugin allows for the grouping of content blocks into various sections, facilitating diverse displays such as slides, blog post lists, and promo banners. One of its standout benefits is the capability to link products to any page or blog post, enhancing product visibility and potential sales. With its emphasis on Sylius code quality, flexibility, and Behavior-Driven Development (BDD), the Sylius CMS Plugin offers a holistic solution for content management in eCommerce applications.
Plugin available here: GitHub and SyliusStore
Other Sylius marketing-oriented plugins
As a proud partner of Sylius and open-source enthusiasts, we develop and take care of various plugins for this platform. Take a look at some of them and see if they would suit your business:
Sylius Cross-selling Plugin
The Sylius Cross-Selling Plugin is crafted to elevate the user experience on Sylius-based eCommerce websites by recommending related products. When customers browse a product, they are presented with a "Related Products" section, highlighting items that others have frequently purchased with the viewed product. If there's a lack of data for such recommendations, the plugin smartly defaults to suggesting products from the same taxons or categories.
It is a strategic tool for Sylius-based online stores, designed to boost customer engagement and drive sales by presenting them with pertinent product recommendations. With BitBag's expertise behind it, online merchants can trust its efficiency and reliability.
Benefits of Cross-selling plugin:
Increased income with a simple plugin
You can offer your clients suitable products for their interest
The tool will allow you to build a "customer profile"
Modernizes your eCommerce
Plugin available here: GitHub
Sylius BonusPoints Plugin
The second plugin that suits great for marketing efforts is the Sylius BonusPoints Plugin. It is an innovative addition to the Sylius eCommerce platform, designed to foster customer loyalty. This tool enables online retailers to award bonus points to their customers for each purchase, which can subsequently be exchanged for discounts during checkout. With the flexibility to determine the awarding criteria, whether fixed per order or as a percentage of the product's price, the plugin ensures adaptability to various business needs. Moreover, it incorporates features like point expiry dates to encourage timely redemptions.
Benefits of BonusPoints plugin:
Customers are motivated to buy your products as they get additional points in return.
Points have expiry dates that can also motivate customers to place another order to use them.
Plugin available here: GitHub and SyliusStore
Sylius MailChimp Plugin
The Sylius MailChimp Plugin seamlessly integrates MailChimp's newsletter sign-in process with the Sylius eCommerce platform. This integration allows users to sign up for newsletters during customer registration, account updates, or via footer/modal forms on the website. As a result, businesses can effectively reach their customers with the latest news, promotions, and special offers directly in their inboxes. With over 44,079 installations and an MIT license, the plugin stands as a testament to its reliability and flexibility.
Benefits of MailChimp plugin:
The possibility of differentiating target groups based on specific characteristics.
Many integrations (WooCommerce, Facebook, Canva, Gmail, Google AdWords, Slack, Magento, PrestaShop, Jira, PayPal).
Fully automated, MailChimp allows you to perform activities regularly, e.g., sending welcome emails, and promotion emails.
There are many free and easy-to-use templates that you can build using the drag-and-drop method.
Plugin available here: SyliusStore
Sylius Catalog Plugin
The last plugin mentioned here is Sylius Catalog Plugin. As the name indicates, it provides additional features and functionalities related to product catalog management. With this plugin, store owners can enhance their product listings, organize products into categories, and create specific product catalogs tailored to their business needs. It's designed to make product management more efficient and user-friendly on the Sylius platform.
Benefits of Catalog Plugin:
Boost average cart value
Boost complementary sales for products
Suggest best-selling products to the customers
Highlight the products you want to sell
Integration with Doctrine and Elasticsearch
Plugin available here: GitHub
Sylius/Shopware Plugin Development & Customization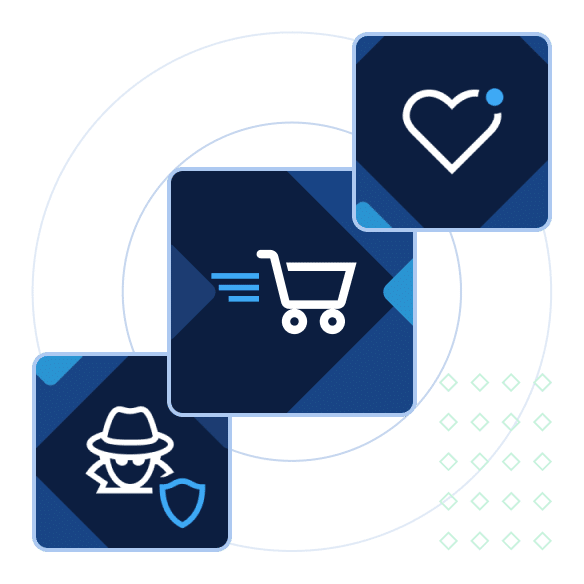 Summary
eCommerce marketing is a vital component of running a successful online business. Try to test different strategies and combine them together to see what brings the best results and works best for your target audience. Stay updated about current trends and closely monitor your website to make changes accordingly. Keep in mind that it's a long game with a lot of testing and optimization. As a famous saying goes – Rome wasn't built in a day. However, it is certainly worth the effort.
To speed up this process, check out Shopware and Sylius, as they can be a great foundation for online stores that focus on marketing. If you have any questions, don't hesitate to contact us!