Starting an eCommerce website begins with choosing a platform that will meet your requirements. Many platforms on the market offer advanced functionalities; however, not many of them can be extended easily by applying custom solutions. Moreover, the customers' needs are growing rapidly, and they demand the best shopping experience on the website. Luckily, when it comes to eCommerce project(s) with extraordinary needs, Sylius is the right answer.
Sylius is a modern eCommerce solution based on PHP Symfony Framework. It is an open-source platform that offers a range of features and benefits for businesses looking for a flexible and easily customizable platform. In addition, Sylius developers created an even more powerful version of Sylius Standard named Sylius Plus.
In this blog, we will explore the features, benefits, and pricing of Sylius Plus to help you determine if it is the right fit for your eCommerce project.
What is Sylius Plus?
As mentioned above, Sylius Plus is an extended and paid version of an open-source headless eCommerce platform Sylius Standard, based on the PHP Symfony framework. They are fully compatible with each other, and Sylius Plus or its chosen modules can be implemented in any existing project. Although both are focused on delivering numerous customization options, limitless scalability based on workflow, and great performance – Sylius Plus was developed to meet the needs of even the most demanding companies that go through rapid growth or operate on a large scale.
But what exactly does it mean?
While both versions are the most modern and stable foundation for professional eCommerce projects, Sylius Plus additionally provides many out-of-the-box functionalities dedicated to rapidly developing companies and technical support for each project from experienced Sylius developers. Thus, it's a great choice for businesses that require more advanced features, customization options, and peak performance at all times.
To better understand the purpose of Sylius Plus, let's look at what this version has to offer.
Key features of Sylius Plus
Advanced multi-store and multi-source inventory management
First of all, Sylius Plus helps businesses to operate internationally by creating many business units within a platform and assigning chosen channels to each of them. Enterprises that have many stores like corporate chains or franchises can manage inventories via an application programming interface (API) and give access to them to specific administrators that can be assigned per channel or globally. Then, such administrators can, e.g., configure different invoicing details or track each shipment status separately.
Moreover, Sylius Plus also offers creating many inventory sources, for example, a warehouse in Warsaw and in Paris. Then, you can assign and keep track of inventory for each of them per product variant. This makes selling through multiple channels much easier and more effective, as products can be shipped from the most optimal source to the customers.
Recommended use-cases:
Stores selling internationally
Plans to expand warehouses or to new markets
Shipping from more than one location
Multi-brand international setups
Managing staff members and customer base
When a company rapidly expands, and the number of employees is rapidly growing alongside the business complexity, it is crucial to manage your team properly to ensure safety and efficiency. As mentioned in the previous paragraph, Sylius Plus enables to assign specific staff members to specific channels. Nonetheless, it is also possible to assign them to specific roles and manage their access to different sections of your application. For example, they would be able to edit just product descriptions, categories, and orders. This approach makes working in multi-brand or multi-country stores much easier.
Furthermore, Sylius Plus enables to swiftly manage the customer base and assigns them to specific customer pools and channels. By doing so, customer accounts can be separated per domain, business unit, or country. In the same way, customers can also be assigned to multiple channels, which means using the same account on many domains of many brands. It's all up to you.
Recommended use-cases:
Multi-store website selling internationally
Cross-continental eCommerce that needs to comply with regulations
Returns management (RMA)
Customer service is a very important element of running a successful eCommerce website. Apart from helping the customers before and during the purchase process, it is equally important to take care of them after the purchase is done. In other words, a company or a website owner should have the tools to efficiently manage the returns. Depending on the industry, the returns percentage hovers around 20%. However, industries like fashion or car parts can face more than a 40% return rate.
Taking this into consideration, Sylius Plus offers a Returns Management (RMA) feature to manage the return process of a customer sending back previously purchased item(s) and in turn receiving a financial refund, repair, or replacement. To do that, customers can request returns from the "My Account" section, which makes the whole process faster. Then, such requests can be managed from the Administration Panel by you or an assigned staff member. RMA feature also provides chat to communicate with a customer, basic reporting regarding your return rates, auto-generating shipping labels, and more.
Recommender use-cases:
Stores with a high return rate
More than one return resolution is needed or desired in the store
Large-scale online businesses in need of maximal automation
Splitting shipments
Some industries or just complex orders might require splitting the customer's order as sending it all at once is impossible. Sylius Plus is designed to help businesses manage their orders more efficiently and effectively. In just a few clicks, the product's order can be split via API and User Interface (UI). Then, individual units can be shipped and tracked separately to see which items are sent and which ones are still pending. Moreover, Enterprise Resource Planning (ERP) integration can split orders via API.
It is worth noting that the modules in Sylius Plus fully cooperate with each other. To give an example, there is no problem in splitting shipments while using the multi-source feature in the process.
Recommended use-cases:
Home & garden industry stores
Stores shipping orders over time
Large number of items per order
Loyalty system
A loyalty system is a great element of an online marketing strategy. It's an effective way for eCommerce businesses to retain customers and increase customer lifetime value. Loyalty programs encourage customers to return to your store and make repeat purchases, as they feel appreciated for using your eCommerce website. In Sylius Plus, Reward Points work as a loyalty program. As the owner, you can create reward rules (e.g., 100 points for 30 EUR spent) in the Admin panel and decide how customers can spend points for orders in your store. To do that, create and manage Loyalty Coupons and enable customers to make Loyalty Purchases from their accounts.
Naturally, customers can track the number of loyalty points in the total counter and each order summary view in My Account and in the Checkout. And you, as the owner, can manage and oversee customers' Loyalty Purchases from the Admin Panel.
Recommended use-cases:
Merchants with big customer bases
Content & Commerce – blog-based eCommerce with regular readers
B2B features
The B2B kit comes equipped with a suite of features specifically designed for the B2B business model. This includes options for organization management options, enables quick shopping for wholesale orders, and improves search engines. The B2B kit streamlines order management, providing specialized functionalities to formulate and modify customer orders effortlessly, allowing for easy changes or reorders with just a few clicks. Moreover, it enables the crafting of customized pricing lists for distinct customer groups, allowing for the addition of products and the establishment of individual prices for each.
Recommended use-cases:
B2B stores
Stores that deal with wholesale and distribution
Stores that offer products or services that require specialized knowledge or customization
Additional benefits of Sylius Plus
Apart from the enterprise-grade functionalities described above, Sylius Plus offers other great features. The goal is to lead your online store to success.
One contact person
First of all, the Plus edition provides a dedicated contact person for your project. Their job is to ensure that you are taken care of. Whether you need technical support with some issue on the platform or business consultancy, all your requirements will be properly sent to the Sylius team. Such a person gathers feedback and makes sure that you will receive the best Sylius experience possible. It's extremely important to communicate with experts and report any problems or concerns right away in order to realize the same vision of the project.
SLA-backed technical support
To add peace of mind to your project, the technical support team of Sylius is available to assist your development team or an external solution partner in solving issues, both during the development process and after going live.
Access to new features and security updates
Sylius Plus is constantly developing and getting new features. As a subscriber of this platform, you receive immediate access to new features and security updates as they are developed. Of course, free of charge. Each line of code that wants to be added to Sylius is thoroughly tested.
Modular components
As flexibility and customization are part of this platform, Sylius Plus offers a modular model to meet even the most advanced needs. Modular eCommerce separates backend services from each other, allowing them to operate individually. In the context of Sylius Plus, it allows us to choose and buy particular modules that are currently needed for the project instead of buying the whole package. This approach make Plus version more versatile and cost-efficient.
Want to know more about Sylius Plus?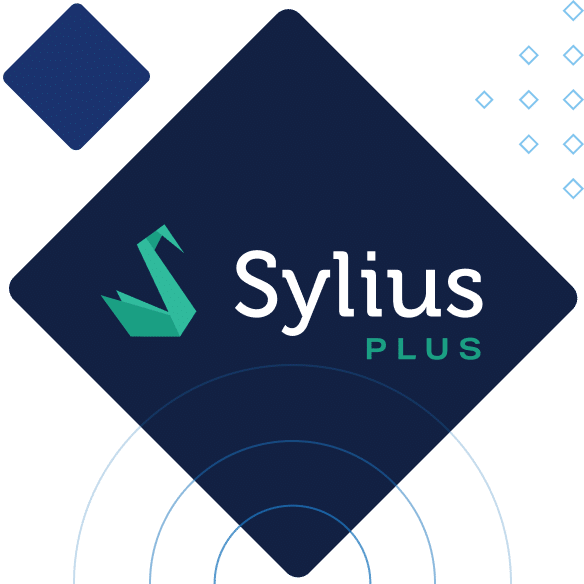 Pricing of Sylius Plus
Payments for Sylius Plus are also flexible and can be made monthly, yearly, or through buying a lifetime product license. The final price is based on Gross Merchandise Volume (GMV) you make through Sylius software and many other factors like the number of modules chosen, business model, the scale of a business, etc. The price covers all the chosen features and technical support that was mentioned above. It's very important to note that the purchase of Sylius Plus still provides access to the source code. Due to that, developers have complete freedom to customize it to particular needs and provide the best customer experience possible.
To find out the exact price of the project, directly contact the vendor.
When "Plus" is the best choice?
Sylius Plus offers a powerful set of enterprise-grade features that are designed to streamline various processes in large or complex online stores, reduce their business costs, and minimize risks. This solution is very flexible and easily customizable, allowing businesses to adapt it to their needs and develop their business freely. This platform can be used for B2C, B2B, Multi-vendor marketplace, or a headless microservice powering, for example, VOD platforms. In fact, Sylius Plus can be the foundation of any type of eCommerce website that is needed. Additionally, it provides excellent scalability and performance as the platform is based on a high-quality PHP Symfony framework and uses headless architecture. REST API in Sylius can be connected with front-end solutions like Vue Storefront in order to create a robust progressive web application (PWA) that broadens the possibilities of your website even more and enhances its security. When it comes to the growth of your eCommerce store, Sylius Plus provides ease of integration with any solution and plugin developed by the Sylius team, its partners, or a passionate community. Last but not least, the functionalities of Sylius Plus described earlier in this article make it an excellent tool for enterprise-level companies to manage many sales channels from a single place. Staff members can be easily assigned to specific channels or their sections and focus on their tasks, resulting in improved workflow within a company and better data security.
Sylius Standard vs Sylius Plus – differences
| | | |
| --- | --- | --- |
| | | |
| Good performance out-of-the-box | | |
| Great security | | |
| Good for Enterprise | | |
| API | | |
| Advanced multi-store management | | |
| Returns management | | |
| Partial order fulfillment | | |
| Multi-source inventory | | |
| Advanced user permissions | | |
| Admins per channel | | |
| Loyalty system | | |
| OnePageCheckout | | |
| Organization Management | | |
| Customer Groups Pricing Lists | | |
| Organization Pricing Lists | | |
| Quick Shopping | | |
| Efficient search engine | | |
| Order Management | | |
| Multiple Wishlists | | |
| Import/Export Integration Layer | | |
| Support | Community | Backed by an SLA |
| Impact on the product | | |
As seen in the graphic above, both versions of Sylius provide a good performance of the online store, great security, and managing the platform via API. Although these features are sufficient for many small and medium businesses, large companies that sell multi-store and multi-country usually need a robust platform that has all elements necessary to effectively run the complex eCommerce website and provide the best customer experience at the same time. Due to that, Plus version encompasses all tools required to run a successful enterprise-level store in this highly competitive market.
Summary
In conclusion, if you're looking for an eCommerce solution that offers advanced features for seamless advanced-level operations, Sylius can be the right choice. As presented in this article, this platform has many excellent functionalities required to manage an eCommerce website with advanced and extraordinary needs. Apart from creating an online store exactly tailored to your expectations, Sylius Plus provides great scalability and performance with almost no technical debt and no limitations along the way. What's more, apart from commercial support from the vendor, there are over 60 Sylius partners and the devoted Sylius community that can help you with many issues throughout the project. To stay in touch with the community, consider joining the Sylius community on Slack.
The vendor of Sylius offers support at all stages of the project to ensure that your website is secured and working without any interference. Your contact person is responsible for making sure that all your concerns are properly sent to the Sylius team. As previously mentioned, always communicate your ideas and concerns to developers, as some changes cannot be done or undone in the later stages of the project.
If you want to learn more about Sylius Plus platform, contact the vendor for more details. On the other hand, if you want to learn more details about the implementation and case studies of using Sylius Plus on a large scale from the perspective of an implementation company with over 100 projects done on the Sylius platform, feel free to contact us!